Camp Activities
Besides the scheduled lectures and religion classes in the morning, a wide variety of both planned and informal activities happen at camp.
River Activities Other Outdoor Activities Indoor Activities
Age-Specific Places Work Day Outing Day
The Banana Hunt Evening Activities Sales Table
Sing-Along & Choir Crafts

RIVER ACTIVITIES
There are plenty of activities down on the Saco River.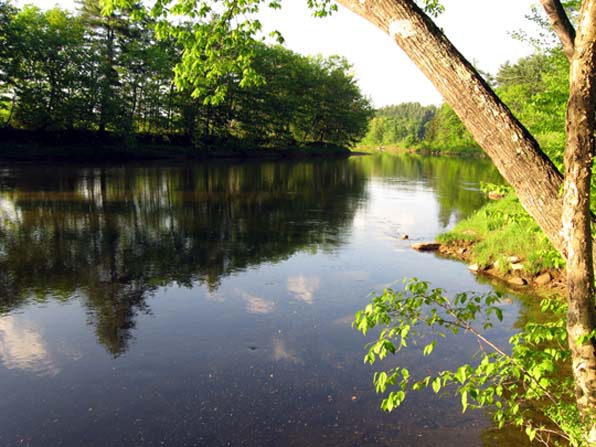 © Nancy F. Little 2009 We have Polar Bear Swim each morning before breakfast and lifeguarded swimming time each afternoon from 2:30-5:00. Flames and Bonfires may swim at other times in groups of at least three with the Waterfront Director's permission.
As campers follow the path down the embankment to the river, they quickly catch sight through the trees of the clear, cool waters flowing by. The approach to our waterfront includes steps cut into the bank down to the water with railings on both sides, and a ramp with railings over to a small dock floating in the water.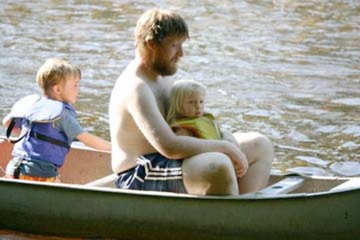 © Beki Greenwood 2009 A safety line runs across the surface of the water from one bank to the other to keep our swimmers in the swimming area. Several canoes are moored on the downstream side of the dock. Our beach is on the far side of the river. Able-bodied swimmers are required to swim across, with ferry service is reserved for families with young children, the elderly, and those who aren't strong swimmers.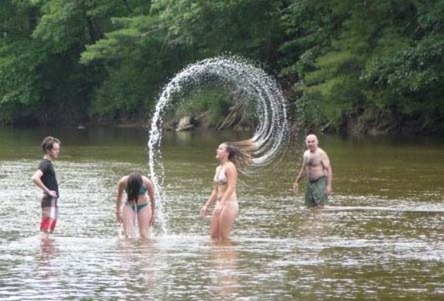 © Tobin Grams 2009
Water play. Sand play. Sunbathing. Sand Castles. Channels. Moats. Swimming. Diving. Snorkeling. Splashing. Frolicking. Games with frisbees and balls. And lots of adults just standing around in the river gabbing watching the children play.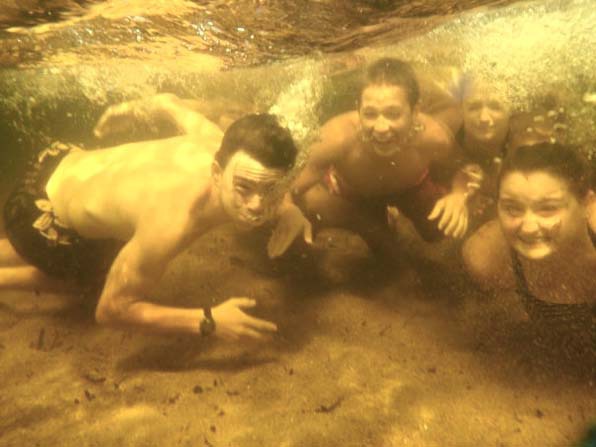 © Kristina Maria Madjerac 2009
Canoes may be taken upstream by groups of three or more. For longer trips, we either drive canoes to a put-in point upstream and paddle down to camp, or else paddle downstream with a pre-arranged pick up at one of the many put-out points down river.
The Assembly owns inner tubes for those who might like a more leisurely float down the river. There is also an excellent fishing spot downstream from the swimming area, too.
A special river activity just for Embers and their entourages is: The Alice F. Vigerstad Memorial Old Lady Canoe Trip! It doesn't happen every year, but when it does, the group is always very appreciative of being paddled down the river on a special trip designed just for them.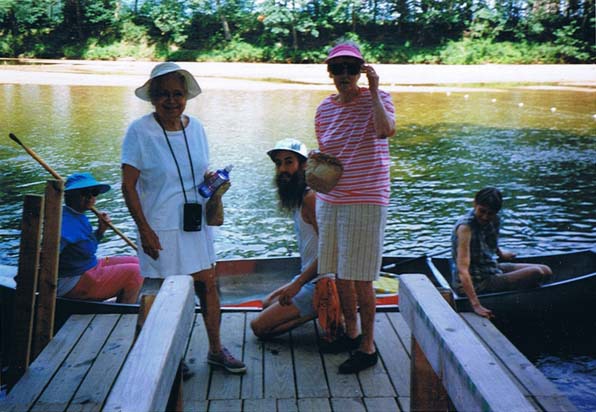 © John Swanton 1998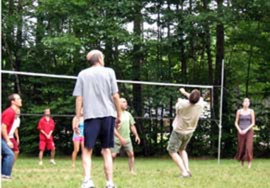 © Nancy F. Little 2009
OTHER OUTDOOR ACTIVITIES
We have a volleyball court that gets lots of use by the Flames, and is the site of the traditional Flames vs. Bonfires Volleyball Game. A regulation horseshoe pit is set up behind the Main Building as well as a standard 4-Square court on an unused cement tent platform. Plus, we have bocce, football, baseball, badminton, lots of frisbees, and other recreational equipment available.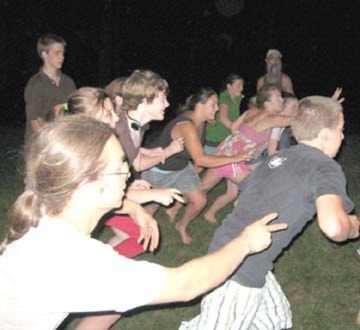 © Nancy F. Little 2009 The Sparks have "Sparks Games" --- an hour of active games --- on the lower lawn each night after supper while a large crowd of adults watch from the porch and deck. The Flames have their own "Flames Games" three nights a week, too. The Sparks occasionally go on a special trip together to Jockey Cap (a local 10-minute climb to a fabulous view) or other nearby scenic attraction. The Flames take regular trips to Emerald Pool, Lower Falls, and other outdoor sites.
And then there is the time honored tradition of porch-sitting.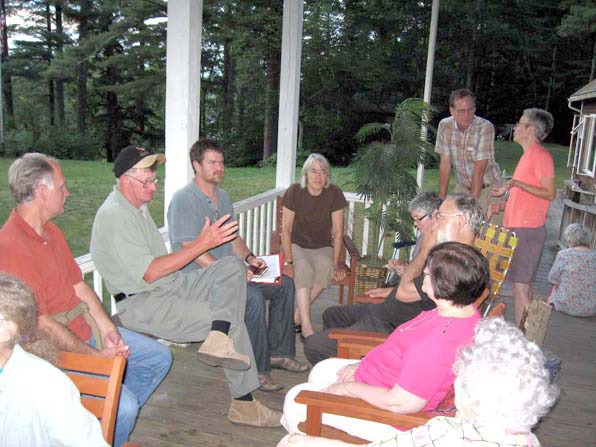 © Nancy F. Little 2009
We have a gorgeous view of the White Mountains from the front porch. On a clear day, some say you can even see the tip of Mount Washington poking up in the far distance! During any unscheduled time, there's a pretty good chance that several people will be relaxing on the front porch of the Main Building or on the attached deck. Many a conversation; many a good book; many a sunset; and many quiet, peaceful moments.


INDOOR ACTIVITIES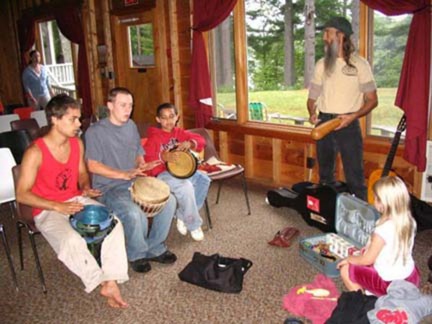 © Emily Woofenden 2006 We have a well-stocked "Game Closet" with a wide variety of board games, strategy games, playing cards, puzzles, and other fun supplies. Impromptu games of Scrabble, Trivial Pursuit, Boggle, and other popular pastimes happen regularly.
A wide variety of card games are enjoyed by all ages. Sparks and Flames are often found gathered around in front of the main fireplace playing I Doubt It, Slap, or that all-time favorite with this age group: Mao! Groups of Senior Flames and Bonfires are often found in the Dole Wing playing Spades, Hearts, Canasta, and other more advanced card games. And it's not unusual to see Bonfires and Embers playing Bridge, Whist, Rummy, and other traditional card games.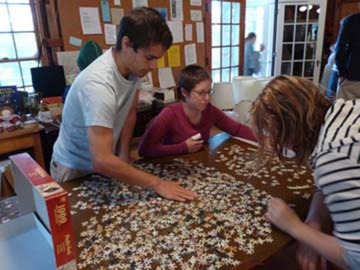 © Anna Rich 2009 Members of the FNCA Puzzle Club gather at all sorts of random times around the Puzzle Table at the near end of the Dining Hall where there is always a good-sized puzzle relentlessly calling to be put together.
There is a sizable religious library in Whitehead Lecture Hall that gets regular use during the camp session. In various other places around the grounds, there are field and trail guides, an assortment of popular novels (regularly restocked by our camp librarian), children's literature, and reference books.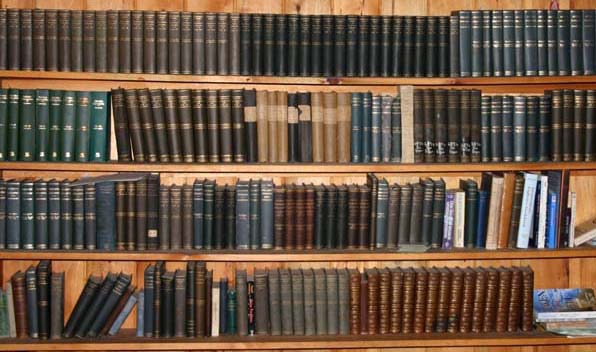 © Beki Greenwood 2010
AGE-SPECIFIC SPACES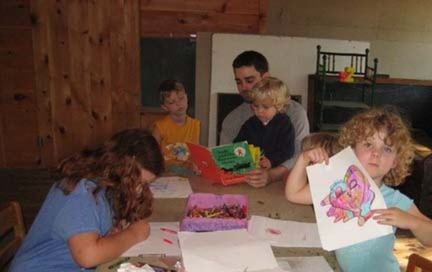 © Emily Woofenden 2008 The Goddard Annex and the adjacent play yard are reserved for the use of the Sparks. It includes a wide variety of toys and play equipment for the children to enjoy. This is also the site of childcare during morning lectures.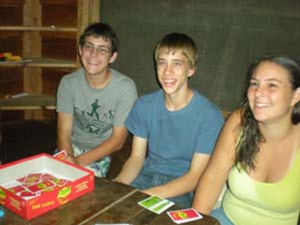 © Cassie Young 2009 Chalmers Lodge was given to the Assembly specifically for the use of the Flames. It is the teen lounge as well as the location of their morning religion class. It has a ping pong table, foosball table, built-in benches, and, if the Flames provide it, the only music sound system without headphones allowed on campus.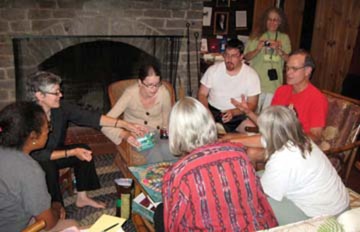 © Nancy F. Little 2009 The Dole Wing is the adult lounge, reserved for the Bonfires and Embers use --- Sparks and Flames are not allowed to hang out here. It's usually a place of quiet conversation, animated board and card games, reading, spontaneous discussion, and a haven for any adult wanting a break from the crowd. It also holds the camp computer, a large well-stocked book case, several information tables, the camp treasurer's desk, and a large fireplace.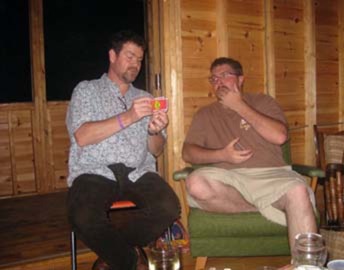 © Beki Greenwood 2009 Adrienne Frank Fellowship Hall is the newest building at the FNCA. It is purposely sited at a secluded spot in the woods out of earshot of most of the rest of camp. It is sometimes used for early morning yoga, children's religion classes, and impromptu Flames projects; but it's dedicated purpose is an after-hours site where adults can gather without worrying about keeping other campers awake. Therefore, it is a terrific place for evening soirees, night owls, and the like. It is also the site of the Opening Weekend Program.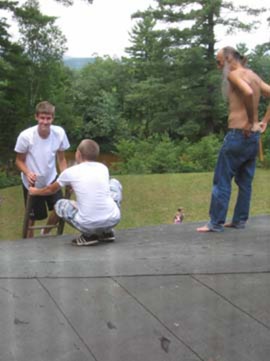 © Nancy F. Little 2008
WORK DAY
Each Tuesday afternoon from 2:30-4:30 is Work Day. Everyone gathers on the front porch after Rest Hour where the Buildings & Grounds Committee divvies up a list of work that needs to be done among the able bodies available. The list includes minor repair jobs such as fixing a sticking door or replacing a broken screen, cleaning jobs including sweeping and vacuuming the Main Building, mundane tasks such as collecting fire wood and kindling, bigger chores such as painting and/or staining various buildings, and sometimes a larger project or two like tree work or replacing plumbing if we have campers with the appropriate skills.

© Nancy F. Little 2008
OUTING DAY
Wednesday is Outing Day: a full morning and afternoon set aside for day trips. There is no morning or afternoon program. Instead, after breakfast, the cooks put out lunch fixings, everyone packs a bag lunch, and then sets out in small or large groups on various excursions exploring the local wonders of both the natural and the human-made world.
Traditional nature trips include all-day canoe paddles and tubing floats down the Saco River, visits to one of Maine's wonderful ocean beaches, mountain climbing in the White Mountains of New Hampshire, or one of Maine or New Hampshire's beautiful state parks, pristine lakes, stunning waterfalls, or other regional natural attractions including the Kancamagus Scenic Highway, Lost River, and Silver Cascades (pictured at left).
There are also several tourist attractions within a reasonable drive from the Assembly including: Story Land, Conway Scenic Railway, Mount Washington Cog Railway, Attitash Alpine Slide and Water Park, and a host of others.
THE BANANA HUNT
For dessert at the end of supper on Thursday nights, we have our weekly Banana Hunt. As diners enter the Dining Hall at the beginning of the meal, they find a pile of bananas and some markers on their table. Each person writes their name on a banana. Then the bananas are all collected and hidden around the Main Building by a crew of volunteers. When everyone is done with their meal, the Banana Hunt begins! When you find yours, you head back to the dining hall where all the fixings for banana splits await. YUM!

© Cassie Young 2009
AFTERNOON AND EVENING ACTIVITIES
We are blessed with a very talented group of campers. Each year several of them offer special Afternoon and Evening Activities on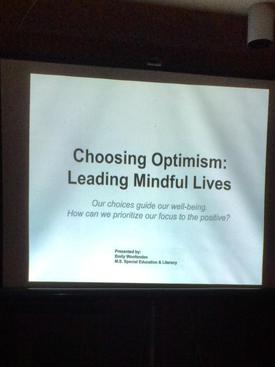 © Emily Woofenden 2015 topics of their choice. We've had everything from special evening lectures to swing dance lessons; presentations on beekeeping and horseshoeing to slide shows of Jordan and China; viewing of the Gathering Leaves dvd to updates on the In Company with Angels Tiffany windows exhibit; classes on string figures to presentations on Choosing Optimism. We also periodically have music concerts, skits, talent shows, and comedy nights. We invite you to consider leading an evening activity yourself.
SALES TABLE
Although not a scheduled activity or a planned event, there is enough going on at the FNCA Sales Table that it qualifies for inclusion on this page. There is always a wide variety of items on the Sales Table at the near end of the Dining Hall, from ancient relics and kitch to handmade crafts by campers and fine art, from old books and unusual what-nots to various snacks and real maple syrup. Campers visit it regularly, pore over what's offered, marvel at certain items, and generally enjoy themselves.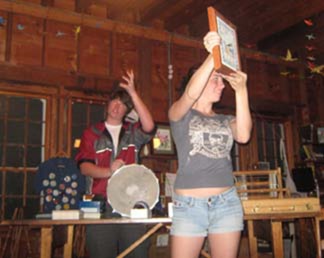 © Nina Sasser 2009 The Annual Sales Table Auction is one of camp's most popular and funny events! We all gather in the Dining Hall where our entertaining auctioneer and able assistant have gathered an assortment of unsold items together.

There are always several special items of value that appear as well. In recent years, this has included a pair of tickets to a New England Patriots game, a refurbished and re-caned FNCA chair rescued from the dumpster, paintings by various New Chuch artists (including Anne Cary Bradley, Florence Whitehead, and Mary Keating), gift certificates to the Elephant Walk restaurants, and a gorgeous book and three small paintings by author/illustrator Anna Rich.
The Sales Table is a fundraiser for camp, and it's wonderful to report that some years it brings in over $1000! Now that's activity!
SING-ALONG & CHOIR
One of our most popular activities is the morning Sing-Along of religious songs in Whitehead Lecture Hall before chapel each morning. Everyone from rank beginners to skilled singers enjoy belting out "Michael Row the Boat Ashore" and other traditionals, "Jesus Loves Me This I Know" and other songs from various Swedenborgian hymnals, and various spiritual tunes selected by our resident song leader.
We also often put together a camp choir of voices to sing for morning chapel. Our camp choir also sometimes joins with the local church choir for Sunday morning worship service at the Fryeburg New Church in town.
CRAFTS
We have a fairly well-stocked crafts closet in the Goddard Annex. Although we don't usually have a formal crafts program, those materials regularly make their way out to various places on the grounds where they are enjoyed by everyone who participates.
It's also not unusual on a rainy day when the Waterfront is closed for someone to quickly put together an afternoon crafts project for the camp to enjoy as an alternate activity.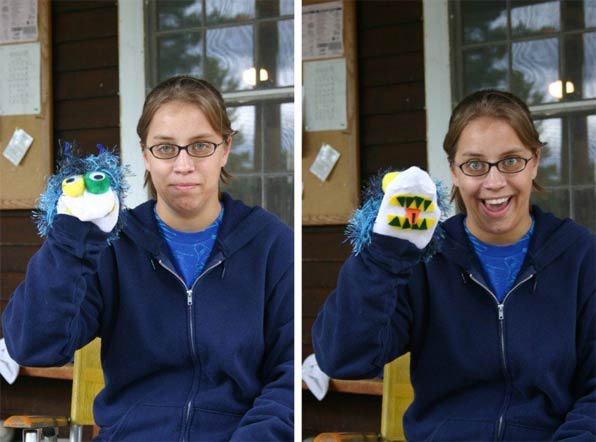 © Beki Greenwood 2007The third photo in this series is here.