Cast of Characters
Sparks Flames Senior Flames Bonfires Embers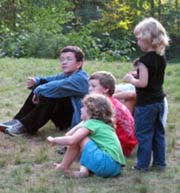 © Nancy F. Little 2009Sparks are children ages 12 and under. Sparks have a daily religion class for ages 3-12 , childcare in the Goddard Annex and play yard during lectures, Sparks Games each night after supper, as well as other activities. Parents or sponsors are responsible for their supervision at meals and all non-scheduled hours.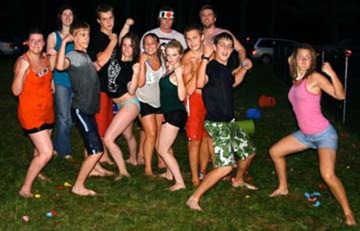 © Beki Greenwood 2009Flames are teens ages 13-17. Flames attend one lecture of their choice each morning followed by their own religion class. They have their own rec hall, the Chalmers Lodge, and plan their own program of activities with the help the Youth Coordinator. Some of their favorite traditional activities include volleyball, swimming, canoeing, tubing, Flames Games, the Spark Hunt/Flame Hunt, Capture the Flag, bowling, hiking in to Emerald Pool, visits to the ocean, and their traditional end-of-the week bonfire on the beach: the Corn Boil! And in exchange for low rates, the Flames work in the kitchen setting up for meals and washing dishes afterwards.
Senior Flames are young adults ages 18-22. Senior Flames get the best of both worlds: they stay in adult housing and enjoy all the privileges of adults, but work in the kitchen with the Flames, participate in all Flames activities, and pay Flames rates, too!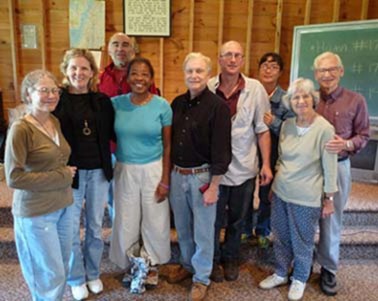 © Anna Rich 2009Bonfires are adults 22 and up. The Bonfires attend two daily lectures followed by an optional Adult Discussion Group each morning. There are many formal and informal activities throughout the rest of the day including canoe trips, hikes, mountain climbs, bike rides, trips to local attractions, shopping, card games, board games, slide shows and other special presentations, evening gathering in Frank Hall, and a traditional favorite of many: sitting on the front porch or the Dole Wing (the adult lounge) with a beverage, a good book, and/or good friends.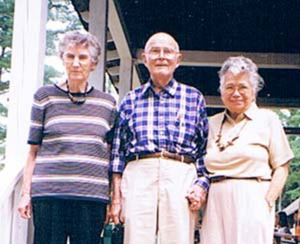 © Nancy F. Little 1998 Embers (the hottest part of the fire!) are our camp elders, the most respected group of our community. The Embers hold a special place in our hearts at camp. They participate in all the Bonfire activites, plus there are occasional events planned just for them including the somewhat annual Alice F. Vigerstad Memorial Old Lady Canoe Trip! The Main Building has a wheelchair ramp; and we have two first floor rooms with private 1/2 baths in the attached Perry Wing that are reserved for Embers.