vFNCA 2020
Afternoon &
Evening Activities
(and one morning activity second Saturday, too!)
Daily Schedule
7:00 Sparks Games
8:00 Evening Activity (all ages)
9:00 Adult Activity and/or Flames Program

NOTE: Most of these are activities presented by campers. Any blank spaces are available. Would you like to share something with us?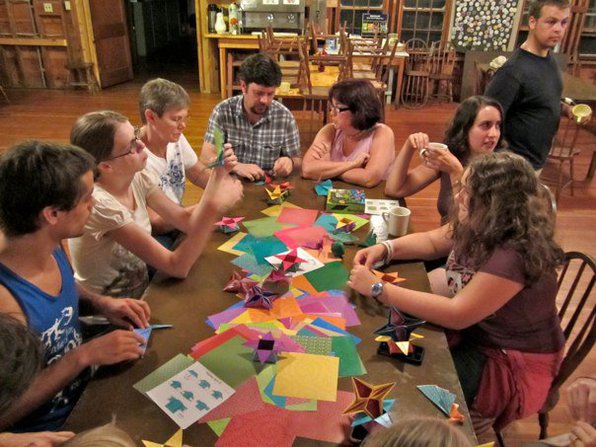 © Nancy F. Little 2011
All week: LALLA Scrabble Tournament games
(pending finding an online platform for it)

Saturday 7:00 Sparks Games
8:00 "Welcome to vFNCA 2020"
and a Special Presentation
by vFNCA Director, Trevor
9:00 Jason's Grownup Games
with Jason Greenwood

Sunday 7:00 Sparks Games
7:30 Evening Chapel
7:45 Camp Orientation
8:00
9:00

Monday is Favorite Clothing Day! Wear your favorites!

7:00 Sparks Games
8:00
9:00 Flames Games

Tuesday is Purple Day! Show us your purple!

7:00 Sparks Games
8:00 Origami Class
with Jason Woofenden
9:00

Wednesday is Destination Clothing Day! Travel clothes!

7:00 Sparks Games
8:00 Games Night
9:00

Thursday is Tie Dye Day! Sport your best tie dyes!

7:00 Sparks Games
8:00 New Zealand slide show
with Herb Ziegler
9:00 Flames Games

Friday is Vintage FNCA T-Shirt Day! Got one to share?
6:30 All-Camp Group Photo
7:00 Sparks Games
8:00
9:00 LALLA Scrabble Tourney Finals party
(pending a platform is found)

Saturday is Dole 3-Miler Shirt Day! An oldie or 2020's?
8:00 a.m. The Dole 3 Miler road race
7:00 Sparks Games
8:00
9:00 Flames Games


Sunday is Church Clothes Day! Wear your Sunday best!

10:00 Worship Service
with the Fryeburg New Church
click here to join the service
11:00 Closing Ceremony