Opening Weekend Program
The Opening Weekend Program is held on Saturday and Sunday of the first weekend of camp. It is a special series of events on a different theme each year that is apart from our regular weekday lecture series. It can be religious or secular in nature, and is an optional program for adults and teens.

2022 Theme:
"Getting to Know Ourselves and
Each Other Better"
Presenters: TREVOR "The Games Man",
Rev. Susannah Currie, and Carol LeBaron,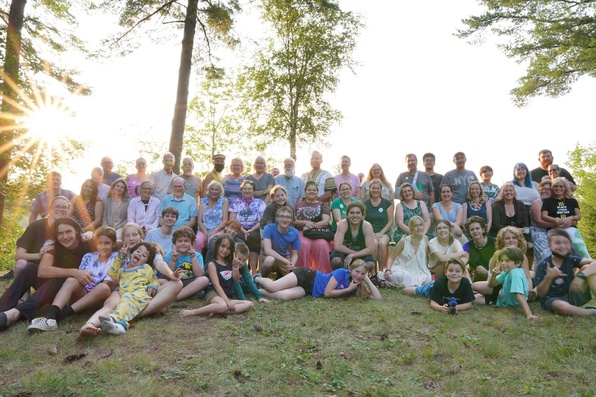 © Beki Greenwood 2021
Saturday, July 30, 2021
2:30-4:30 pm
Getting To Know You Games and Activities
presenter: TREVOR "The Games Man"
Using a wide variety of "everybody wins" games and activities, we will learn about each other, how we approach things, personal work styles, and maybe a few I-didn't-know-thats. After our ice breaker, will be getting to know yous: name games, details games, and talking games. Next, working together: brain games, partner games, and team-work. Then it's creative thinking: sleuthing, working together, and lateral thinking. Nearing the end, group problem solving: a tangle of physical awareness and sheer tenacity. And our closer is full group cooperation: everyone work together to achieve the goal of full restfulness together.

© Doug James 2019TREVOR "The Games Man" is a certified New Games Leader, Cooperative Play Specialist, Professional Stiltwalker, Cooperative Games Trainer, and full-time entertainer. He started leading New Games & Cooperative Play at age 16 in 1972 and never stopped! He is the FNCA's Activity Program Coordinator.
8:00-9:00 pm
Sharing the Warmth, Light, and Life
presenter: Rev. Susannah Currie
Around a campfire has been a long-held time and place for stories to be shared. Weather permitting, we will meet around the campfire to tell stories of the experiences that helped us to become who we are. As the correspondence of the flame reveals God: the Love, Wisdom and Activity of the Divine, we will share what intentions, understandings and actions have connected us to God and each other in our own lives.

© Beki Greenwood 2012Rev. Susannah Currie is a retired Swedenborgian minister who most recently served the Bridgewater (MA) New Jerusalem Church, as well as 3 terms as treasurer and 5 years as recording secretary of Convention. She is the FNCA's Religious Program Coordinator.

Sunday, July 31, 2021
2:30-4:30 pm
Connection and Storytelling through Art
presenter: Carol LeBaron
Come and join us for a series of visual storytelling activities — individually, in pairs, and then in groups — culminating in a fun connection activity that involves everyone. Come equipped with an imagination! We will begin in stillness, connecting to the land and trees as we arrive, and end in the same way. Our program will involve all five senses, from visualizing in our minds eye to visualizing in the world. Materials will be supplied.

Carol LeBaron is a textile artist and educator with an MFA from Rhodes Island School of Design who also studied at Smith College and Brown University. She teaches fiber arts at East Tennesee State University. She is the FNCA's Art Program Coordinator.
NOTE: This program is open to teens and adults. It is part of the regular FNCA schedule; there is no extra charge for it. You may attend any or all sessions. Local attendees not staying overnight at camp are welcome.
Questions: Contact scurrie@fryeburg.org