Webmaster's Choice
© Jim Perry 1950
Since becoming the FNCA Webmaster in 2010, I've looked at literally thousands of FNCA photos taken by more than 60 photographers for use on this web site. Here are my all-time favorites.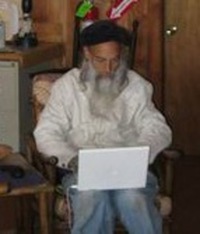 © Jesse White 2013If there's text below a photo, it's pretty much the same as where the photo originally appears on the site, with a very few exceptions that needed light editing and/or don't have titles and/or captions where they originally appeared and needed one and/or the other here for clarity.
Enjoy!
—Trevor

P.S. Don't be surprised if my relatives turn up in a bunch of them (I like my relatives), or if I'm the photographer for a bunch of them (I like the stuff I photograph). These are my favorites.

NEW photos on this page in recent months:
Title or Theme Year Posted
Goddard Cabin Alone 1931 3/26
Webmaster's Choice Photo Awards
awarded 11/23/18

Grand Prize
1st Place
2nd Place
3rd Place
4th Place
5th Place
Honorable Mention
Honorable Mention
Honorable Mention
Honorable Mention
Honorable Mention
The Photos
2010 2011 2012 2013 2014 2015 2016 2018
2000 2003 2007 2008 2009
1991 1993 1994 1997 1998
1983 1986
1972 1973 1977
1950 1952 1956
1940something 1948 1949
1930 1931 1937
2018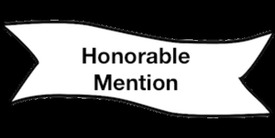 "DINOSAUR! AX! CAVEMAN!"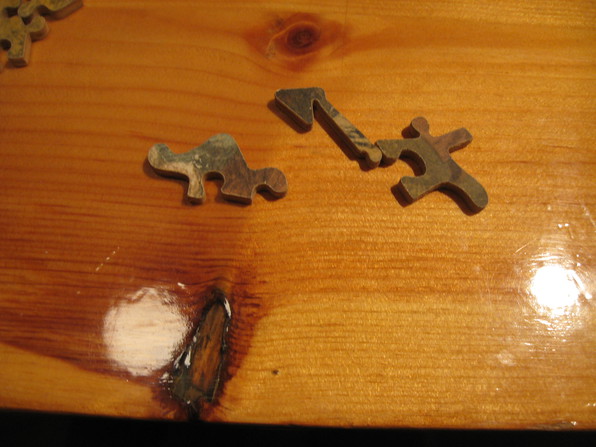 © Trevor 2018
The FNCA Puzzle Club's first puzzle of the session has some very unusually-shaped pieces.
"Arms Table"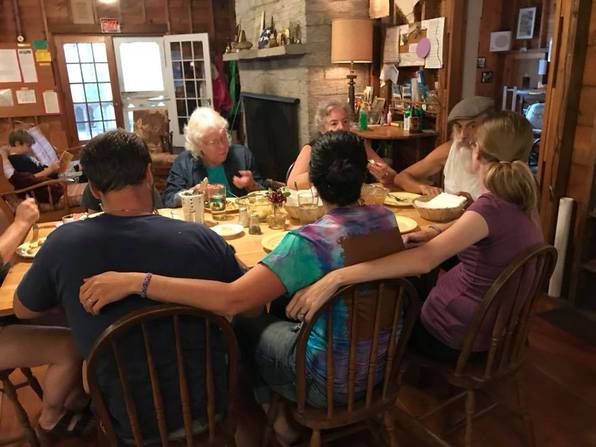 © 2018 Jason Greenwood
And neither of them knew the other was doing it until they saw the picture.
"Newlyweds with a View"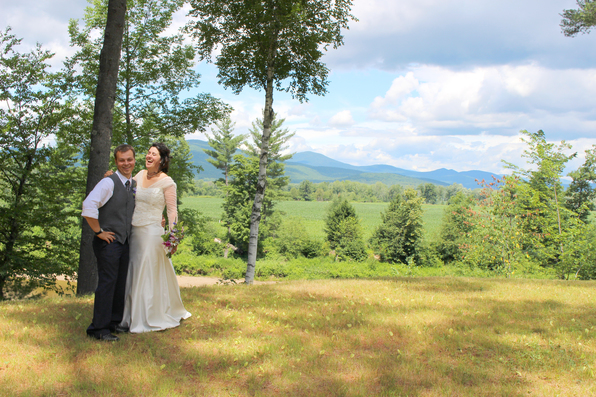 © Beki Greenwood 2016
Troy and Sarah Grams rented the FNCA for their wedding party in July of 2016. A lot of Sarah's very colorful relatives from the U.K. came over for the event, and the Assembly fit the bill perfectly for the wedding reception as well as a place where everyone could stay a few days and experience the beauty of New England. It also introduced her family to this place which she has grown to love so much.
"Little Tiny Flowers
at the Bottom of the Perry Wing Steps"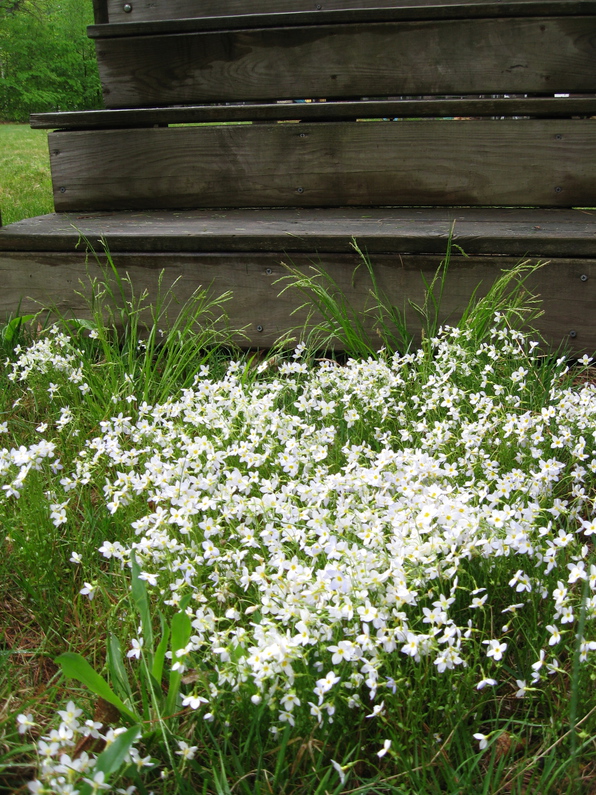 © Trevor 2016
These flowers have been growing here in the back field for decades, but only the lucky few ever get to see them because they always get mowed down a few days before camp starts. Luckily, I got here early this year.

"I Love Ya Honey
But I Just Can't Make You Smile"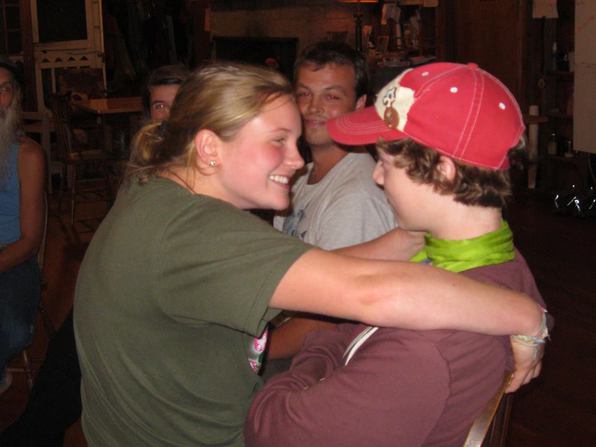 © Jesse White 2016
A great game that the Flames love to play whenever we're forced inside by rain during Flames Games. Here, Elise Richardson is trying to make Brendan Crowe crack a smile.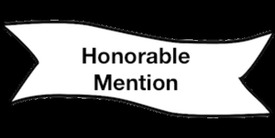 "Wheelbarrow of Pine Needles"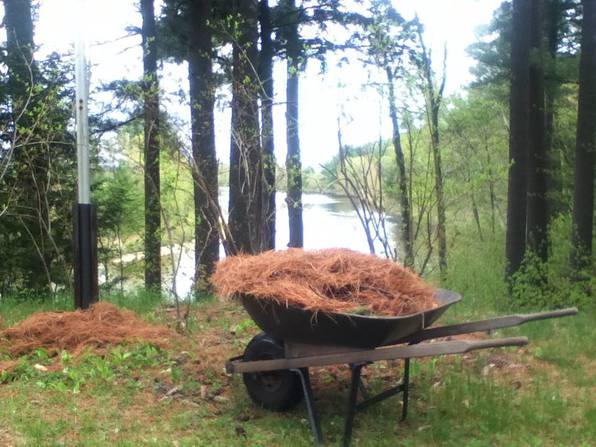 © Jon Crowe 2016
"Colgate Searle Ringing the Bell in the Rain"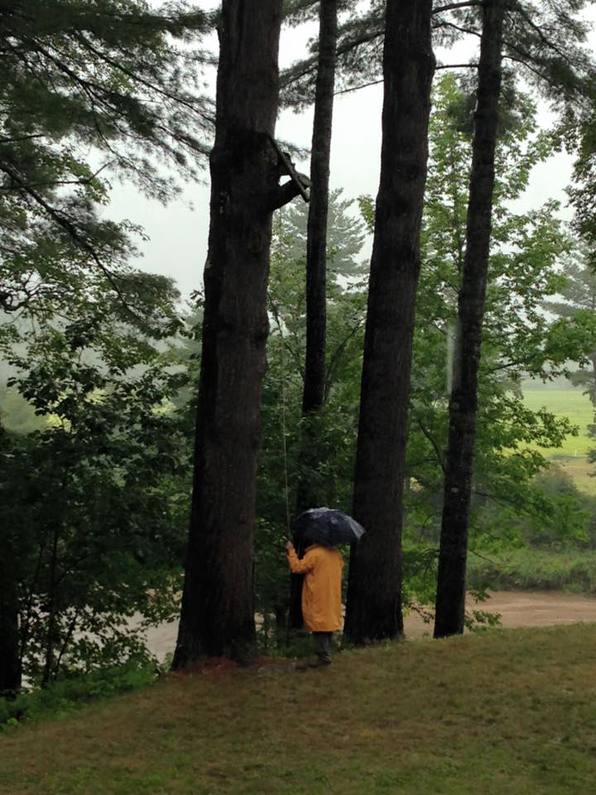 © Nancy F. Little 2015

"Kitchen Colors"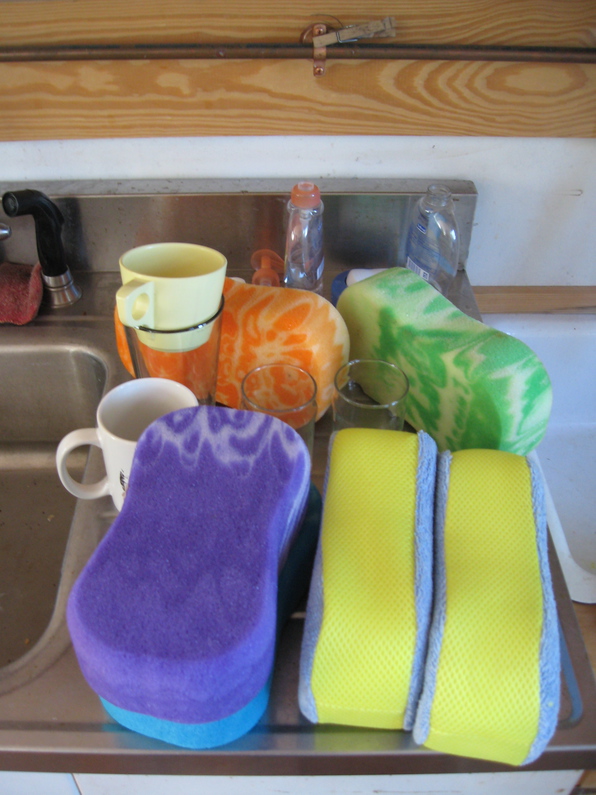 © Trevor 2015
"Sparks Tummy Laugh!"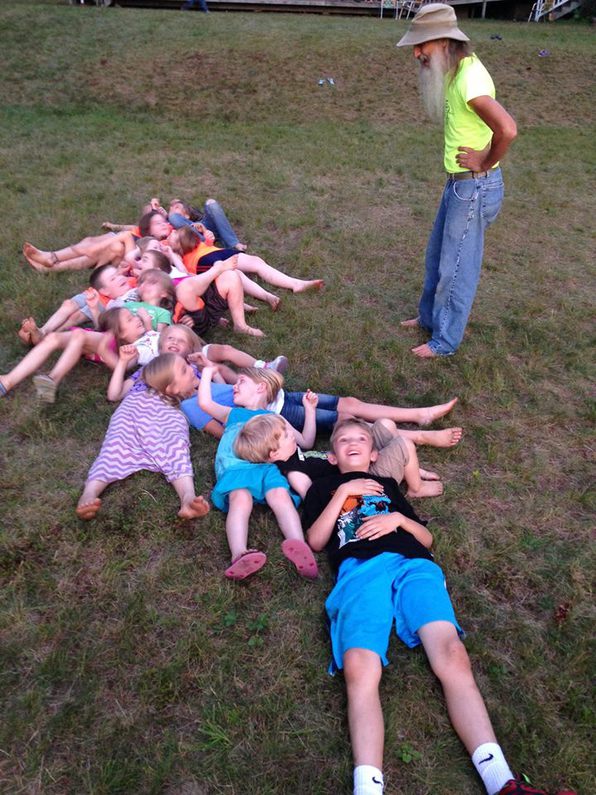 © Beki Greenwood 2015
The person at the top starts laughing. When the next person feels them laughing under their head, they start laughing... and so on. This group couldn't stop. And they wanted to do it again... several times!
"Leave Light Plugged In!"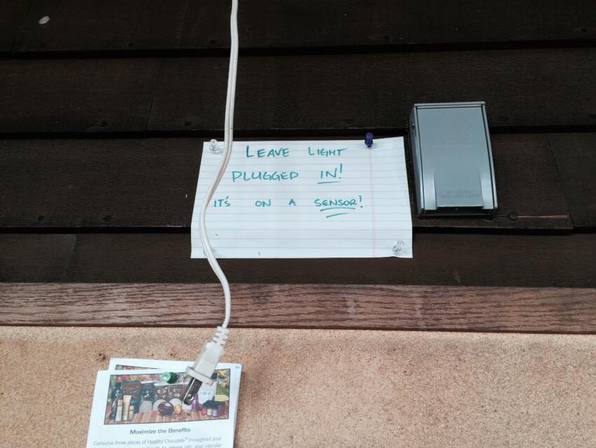 © Emily Woofenden 2015
Mea culpa.
"George in His Designer Running Suit
Warming Up for the Dole 3 Miler"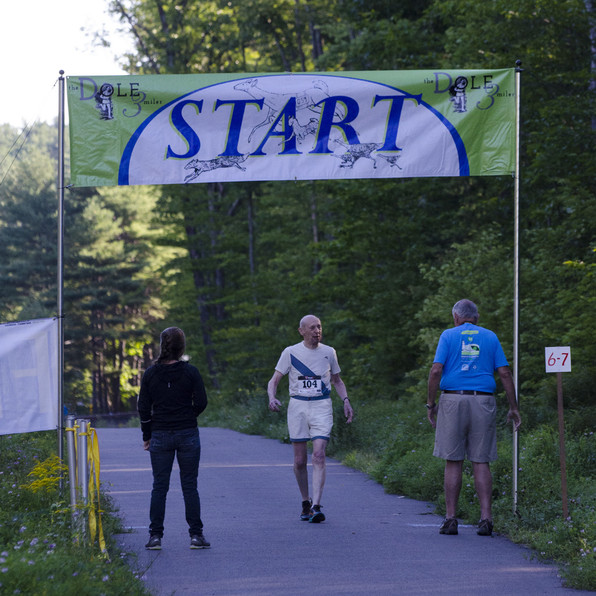 © Bob Perry 2015
We are delighted to announce that TrackSmith sporting apparel company has created "George Dole Editions" of the running suit George wore in the original race in which Roger Bannister broke the 4-minute mile in 1954. So now you, too, can wear that sporty outfit: George Dole Edition running shorts with either a George Dole Edition t-shirt or George Dole Edition tank top. Check it out here, along with a nice story of George reminiscing about that historic race and his part in it.
2014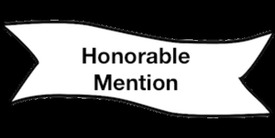 "Phoebe"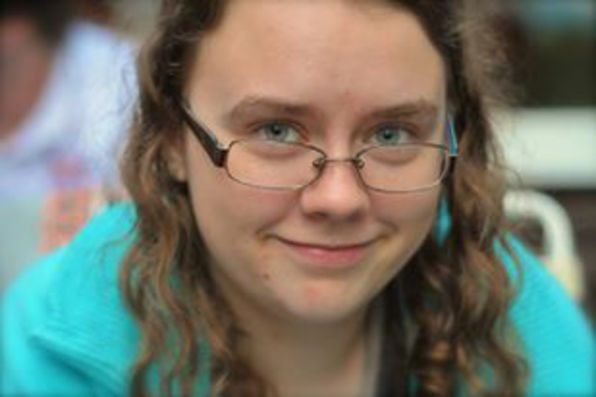 © Beki Greenwood 2014
2013


"Get Trevor Over the Line!"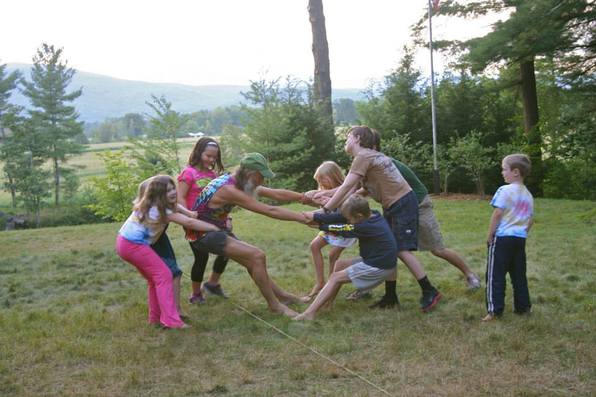 © Beki Greenwood 2013
"Off to a Good Start"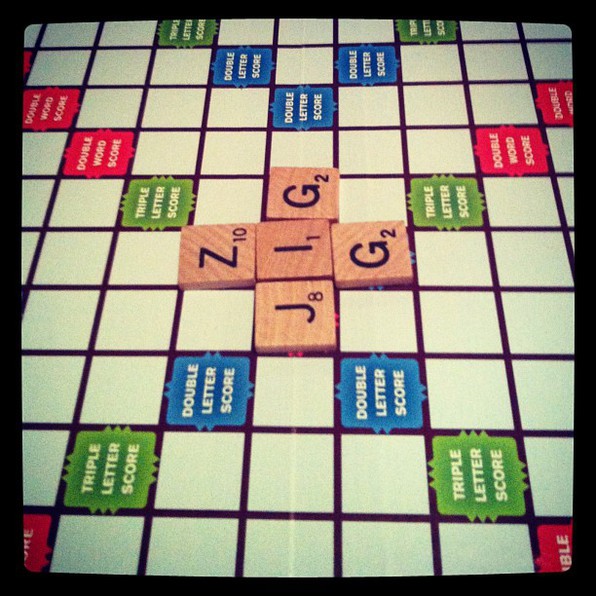 © Nancy F. Little 2013
This one makes this Scrabble player laugh out loud every single time.
"Boots with the Tops Turned Down"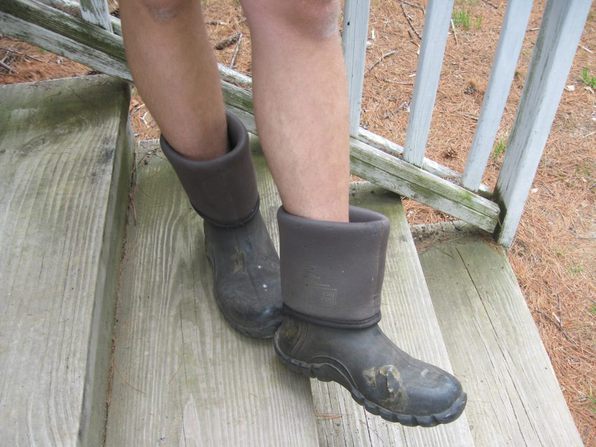 © Trevor 2013
"Dragonfly"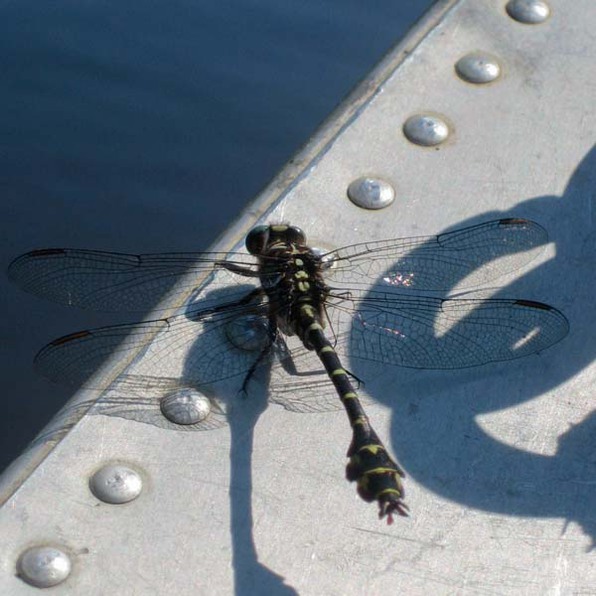 © Jon Cousins 2013
"Betty & Jim are Just SO in Love!"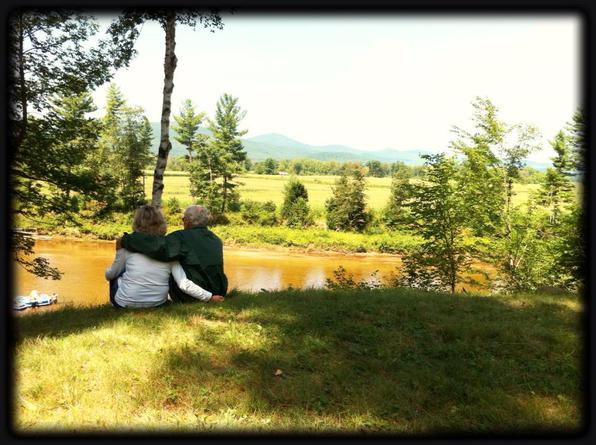 © FNCA 2013
2012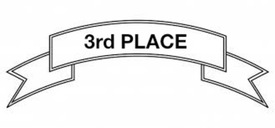 "Officer Alex Trying to Make a Sale"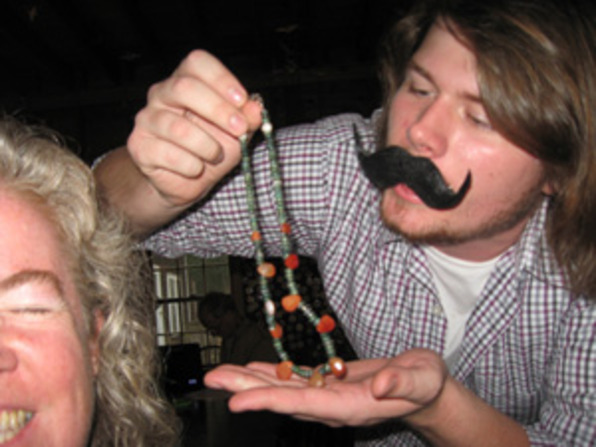 © Trevor 2012
When Officer Alex is the Sales Table Auction auctioneer, he doesn't mess around.
"Break It Fix It Changes a Lightbulb"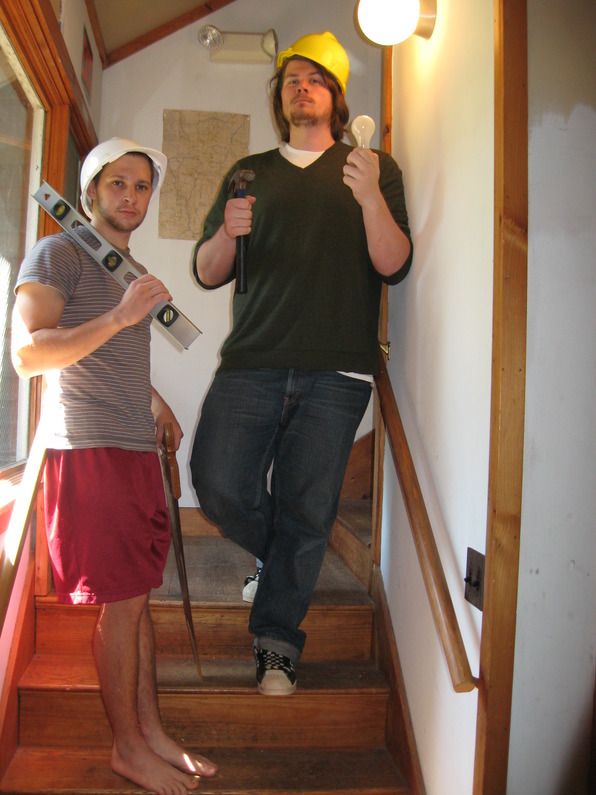 © Trevor 2012
The Break It Fix It repair company is Dan Cook(l) and Alex Dyer(r). Here they demonstrate the tools of their trade and the excellent results of their work.
"Flames of Hell Hat"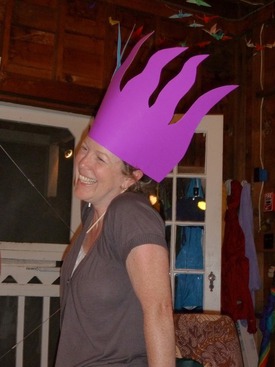 © Kurt Fekete 2012
The Sparks' religion classes put on a great shadow puppet show for the entire camp's enjoyment. It was a re-enactment of the pathways to the spiritual world. Each of the children decorated and manipulated their own character. Here, Wendy Little is wearing her daughter Chloe's "flames of hell" as a hat.
"All Ages Can Help"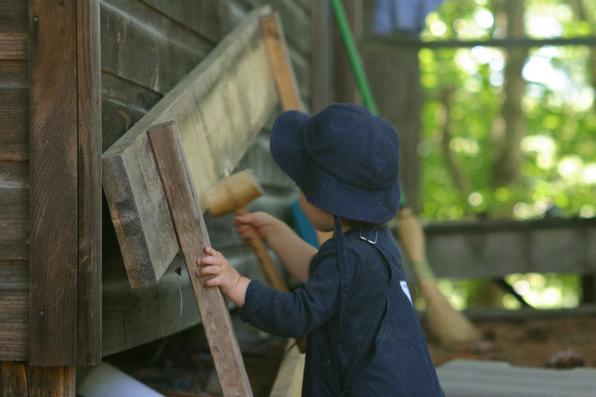 © Beki Greenwood 2012
It's Work Weekend!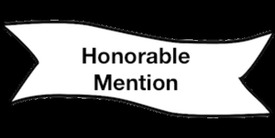 "Lightning!"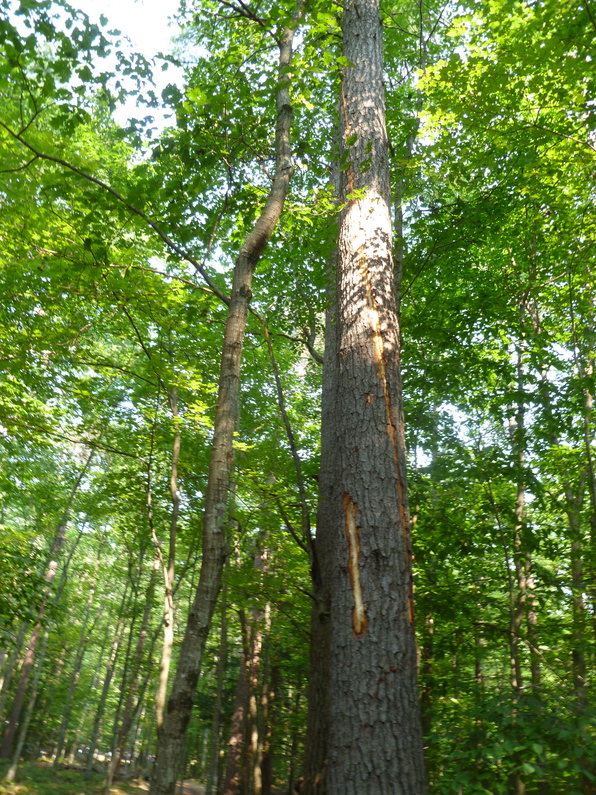 © Herb Ziegler 2012
During a huge thunderstorm one night, this large pine tree near the Bath House was struck by lightning! The lightning travelled down the trunk of the tree, leaving huge scars in the bark, then went horizontally through the ground, making a large furrow through the topsoil and pine needles. (See more photos here.) The electrical shock was felt by everyone who was awake in the nearby cabins as well as by the tenters who had moved into Frank Hall because of the heavy rain (who were very glad they had), and the jolt was felt as far away as the Main Building. The air was crackling, the electricity in it palpable, and the intensity and nearness of it made your skin prickle. WOW!
"The Competitors Cheer the Winner"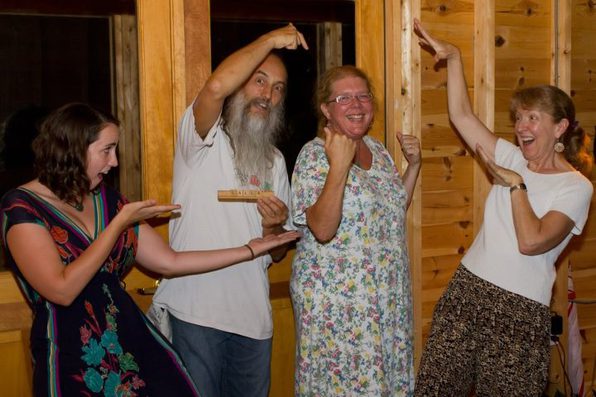 © Jon Cousins 2012
Miriam Lexie, Trevor, and Jane Perry give kudos to the 1st annual Lalla Searle Memorial Scrabble Tournament winner and champion: Rev. Susannah Currie! Both her initial and her final play were bingos (i.e., using all 7 tiles) and received the standard 50 point bonus. Her resounding win won thunderous applause from everyone present.
"LALLA"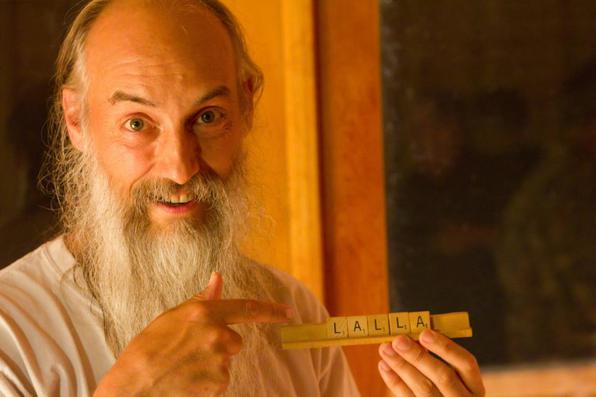 © Jon Cousins 2012

On his final turn, Trevor played the tourney bonus word LALLA to lots of smiles and good cheer. It is very fitting that someone got a "LALLA" in the inaugural year of this tournament.

2011

"Sparks Caterpillar about to Roll"
© Jon Cousins 2011
Right now they're amused by the instructions. In a moment, they'll all put their heads down and Brendan on the far end will roll over all the backs of everyone and quickly line himself up snuggly at the near end before the next roller gets to him!

"C3's Coathanger Creation"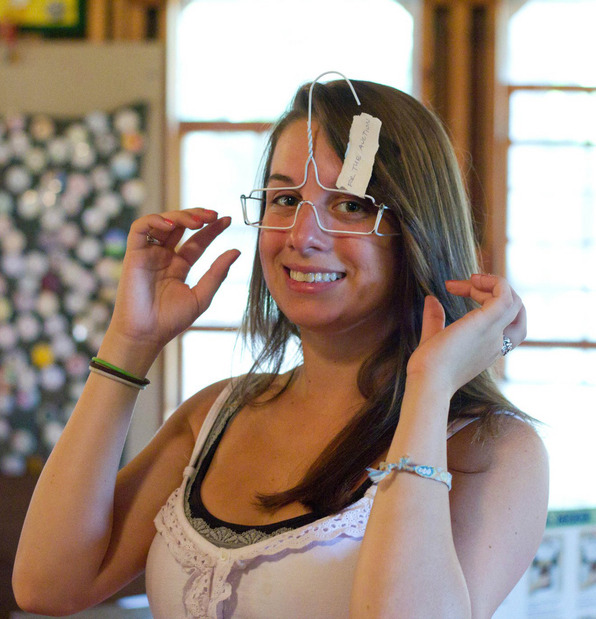 © Jon Cousins 2011
MaryBeth Bernier sports Colgate "C3" Searle III's coat hanger glasses during the annual Sales Table Auction.

"The 7-Headed Dragon of Revelation Piñata"
© Nancy F. Little 2011
Emily Woofenden and Brendan Crowe created this awesome 7-headed dragon piñata as part of their class study of the Book of Revelation. Then, one afternoon, everyone gathered in the Dining Hall for a "Slaying the Dragon!" party! All the Sparks took turns with the whiffle bat while being loudly cheered on by the entire room. An amazing creation and an amazing event!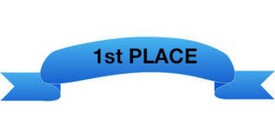 "Aerial Photography 3"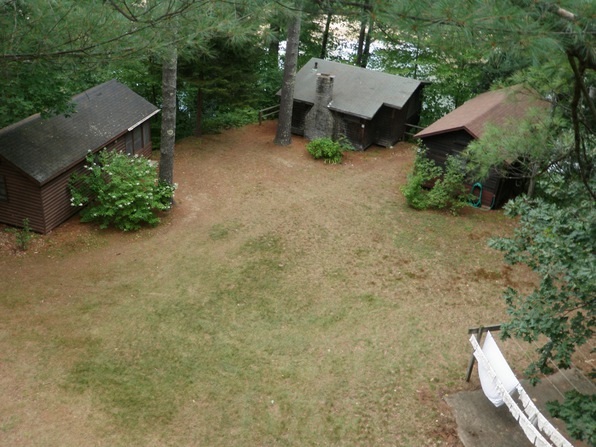 © Ian Woofenden 2011
The Claxton, Goddard, and Bellows Cabins
"Oldest / Youngest"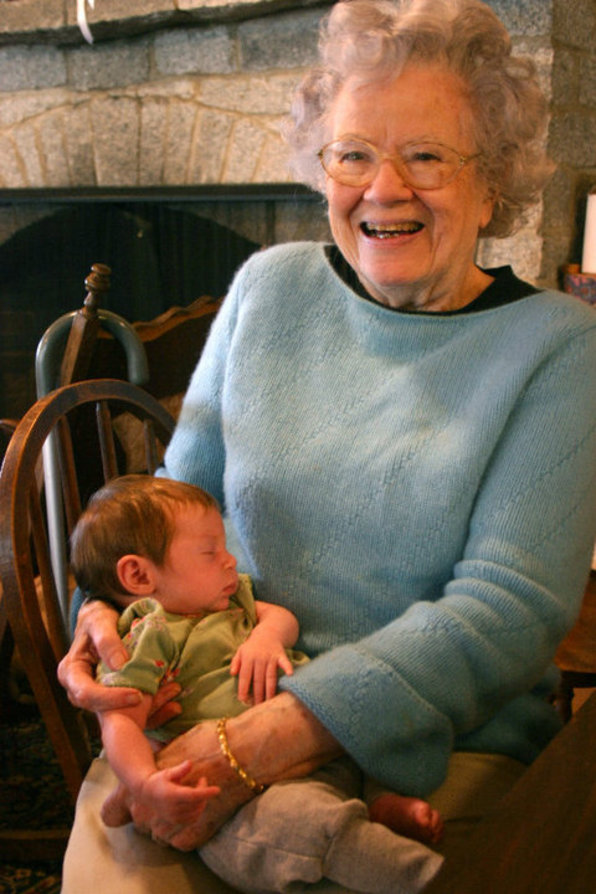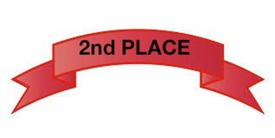 "Oldest / Youngest Hands"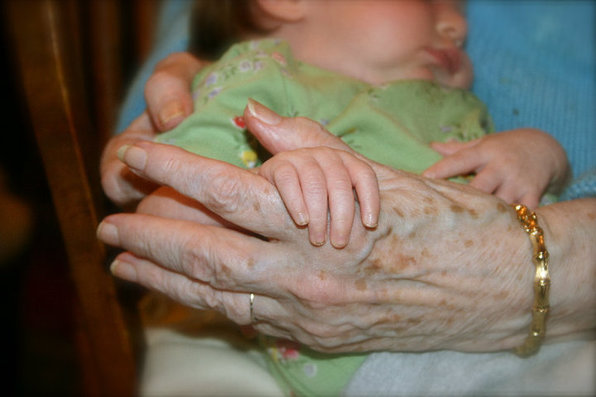 © Beki Greenwood 2010
Betty Guiu and her great-granddaughter Ada were the oldest and the youngest people at camp this year.
"Merrilee"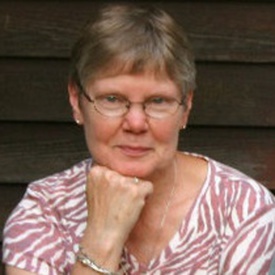 © Beki Greenwood 2010
"Dish Window"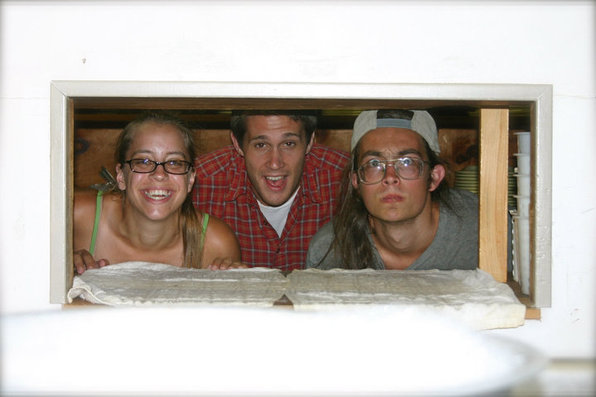 © Beki Greenwood 2010

"Little Mtn"
© Trevor 2010
My lovely wife claims what's hers. This is only funny if you know her name is Nancy Little. This photo was taken at the "mountain finder" on top of Jockey Cap Mountain in Fryeburg ME. (And the concept of Jockey Cap being called a mountain is only funny if you know it only takes 10 minutes to get to the top!)
"Accordion"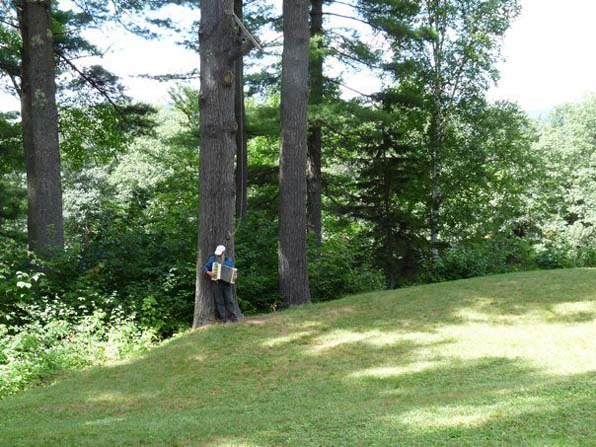 © Anna Rich 2009
"A Spark's Sculpture"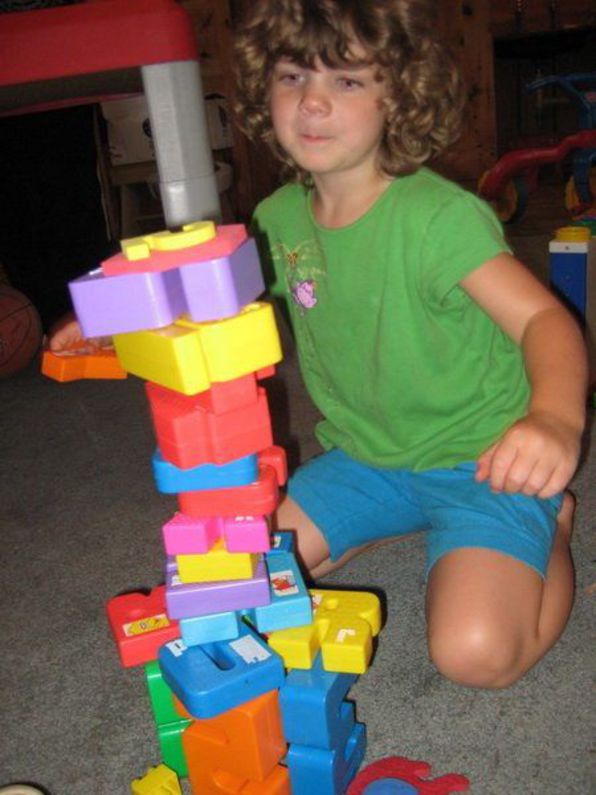 © Emily Woofenden 2009
Caleigh Crowe working on a fine art sculpture during the Sparks' morning play time in the Goddard Annex.
"Pear"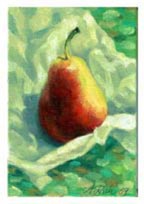 © Anna Rich 2009
Anna Rich painted several small 4" X 6", topical paintings like this for the Sales Table Auction. I was delighted when the other bidders let me buy this one for my lovely wife.

"Gramma Tina and Ada"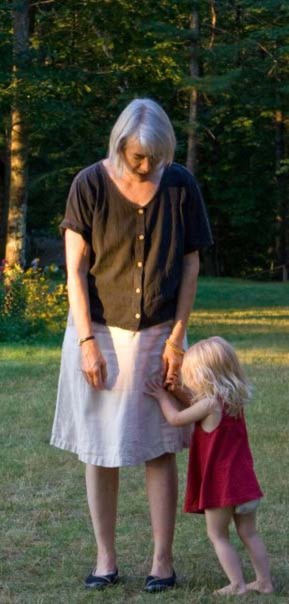 © Jon Cousins 2009
"Irresistible!"


© Emily Woofenden 2009

© Emily Woofenden 2009

"Deck Chairs at Sunset"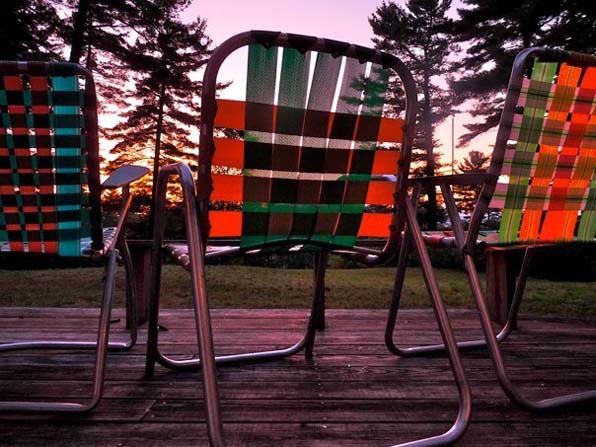 © Anna Rich 2009
"B&G Sunset"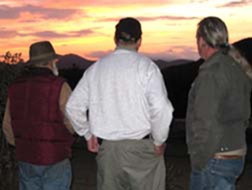 © Beki Greenwood 2009
"Three Cabins"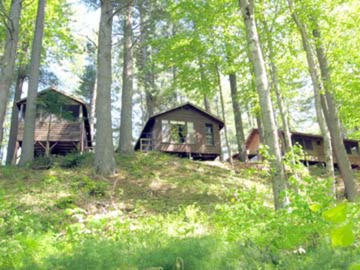 © Nancy F. Little 2008
"Caleb Gets Crazy"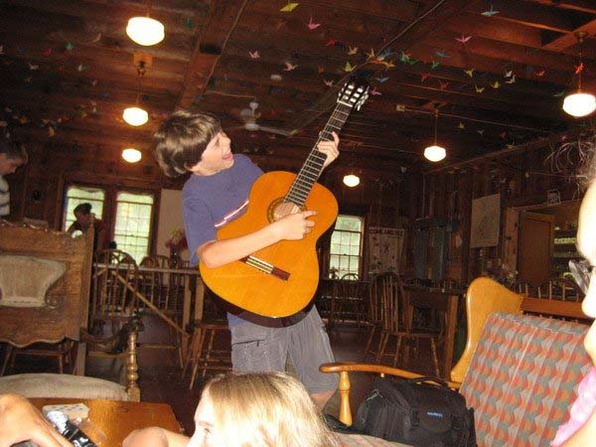 © Emily Woofenden 2008
Caleb Woofenden going nuts on the guitar.
"Everyone Loves Parachute Games!"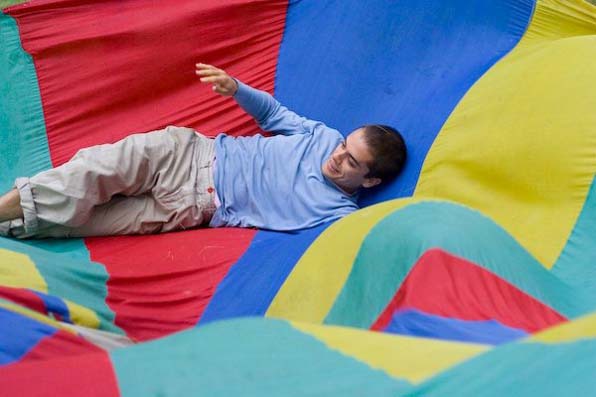 © Jon Cousins 2008
Jason Woofenden gleefully rolling around on top of the parachute.
"Silver Cascade"

© Nancy F. Little 2008
My lovely wife and I went here for Outing Day. It's on Rte 302 in Crawford Notch State Park in Hart's Location NH. This is plain and simple the most amazing waterfall I've ever seen. It's not wide, but it sure is tall! Pictured here is just the part you can see from the highway... and it does come down right to the edge of the road! Then the brook goes under the highway. There's actually a lot more of it that you can't see from here: it goes on for a long, long, long ways up the mountain. One year when I was a Flame, several of us spent most of a day climbing the falls, and I never did get to the top!
Even more amazing is that about 100 yards up the road is another tremendous waterfall just like this one: the Flume Cascade. Not quite as much of it is visible from the road, but it's still mighty spectacular!
P.S. Just to give an idea of the scale of Silver Cascade, can you find me in the above picture?
"The Claxton Computer Lav"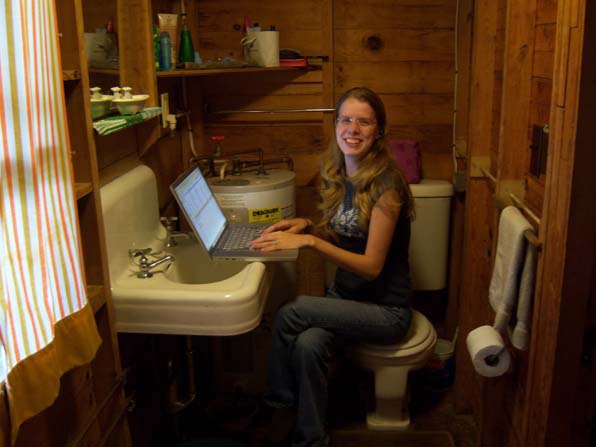 © Nancy F. Little 2008
One corner of the Claxton Cabin is just close enough to the modem in the Main Building to pick up the Assembly's Wifi --- it just happens that that corner is in the bathroom! So here's Beki Greenwood hard at work cheerfully doing her daily telecommute not in a computer lab but in the Claxton Computer Lav.
NOTE: Just a few years after this, we highly amped up our Wifi and it now reaches the whole camp... including the entire Claxton Cabin.
"Fruppet Attack!"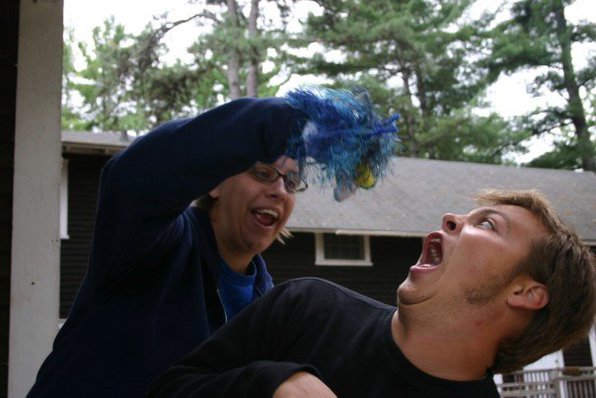 © Beki Greenwood 2007
This photo actually goes after these two.
2003
"Josh Cook at the Flames 75th Reunion"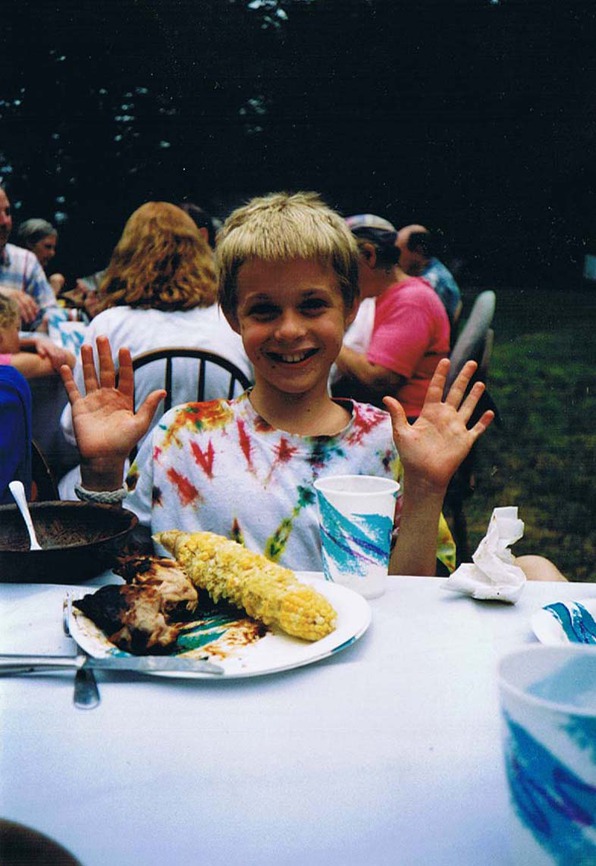 © Nancy F. Little 2003
2000
"Two Canoes"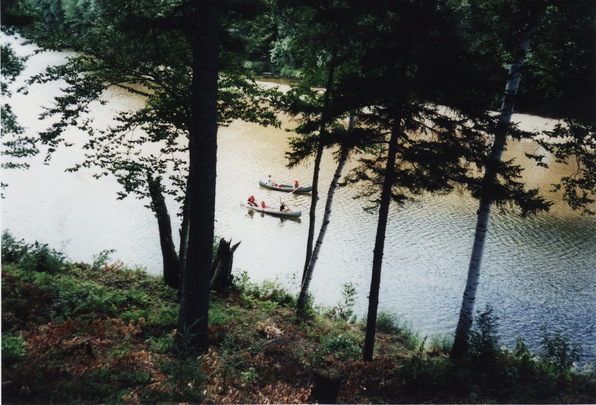 © Nancy F. Little 2000
1998

"FNCA Polar Bears"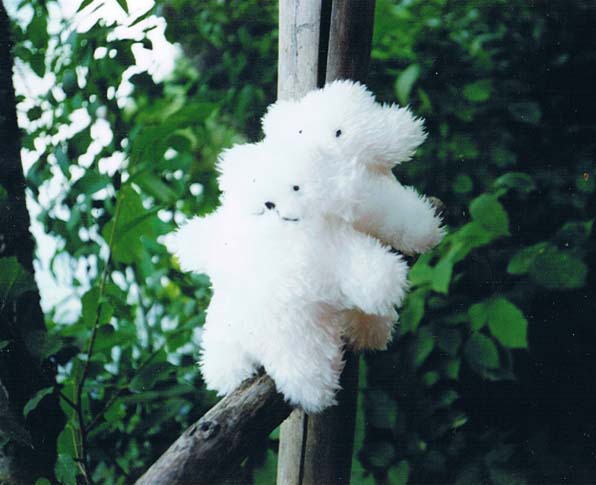 © Nancy F. Little 1998
Louise Dole "Mom Woof" Woofenden created these FNCA Polar Bears in honor of the FNCA Polar Bear Club. They sold out quickly on the Sales Table, however we have the original pattern, so you can make your own! Shown above down at Polar Bear Swim one morning in 1998 are two unique FNCA Polar Bears which Mom Woof made in a slightly bigger size than the rest. They are carefully marked on their tags: "FNCA PAPA POLAR BEAR" and "FNCA MAMA POLAR BEAR".
"On the Way to the New Polar Bear Record!"
(How many are there so far?)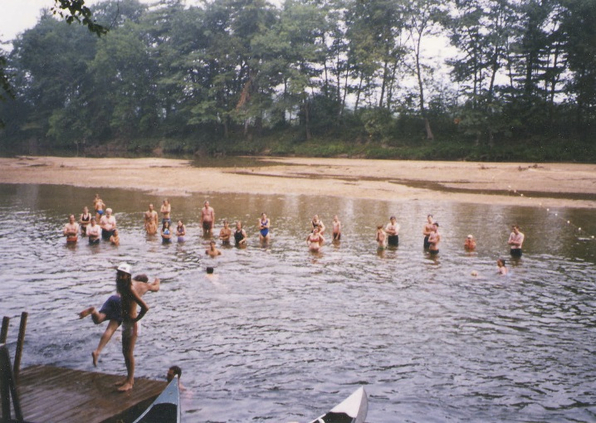 © Nancy F. Little 1998
Friday of First Week, the Polar Bear Club set an all-time high record of 41 Polar Bears and an all-time low PBQ of 0.87, just barely beating out Monday of Second Week in 1994's PBQ of 0.88!
1997
"Sisters Reading Back to Back"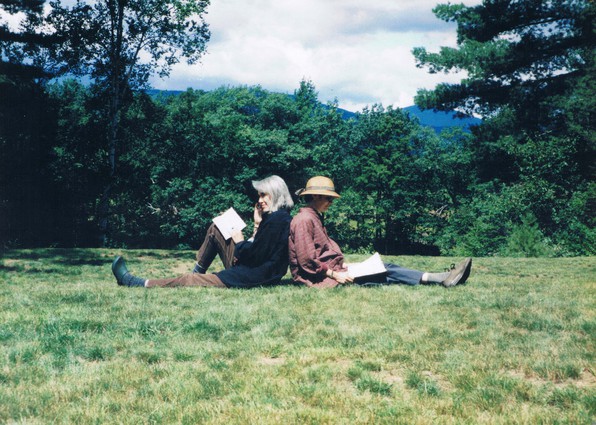 © Shannon Costello 1997
1995
"Paper Cranes"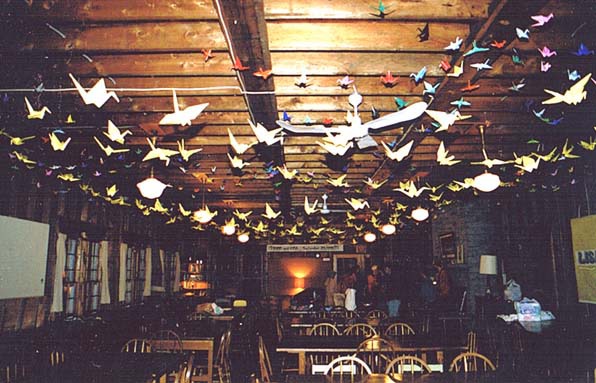 © FNCA 1995
These were made by lots of relatives and put up for Todd Woofenden & Lisa Wesel's wedding. And they've been there ever since!

"Lap Sit"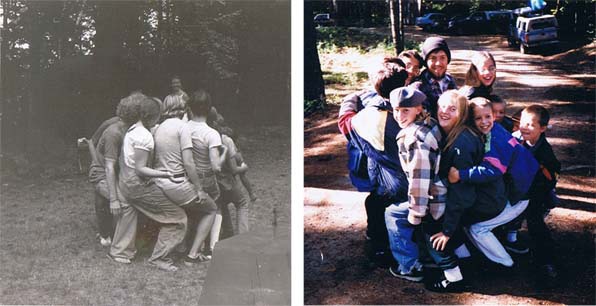 © Trevor 1973 & Todd Woofenden 1995 One of the many wonderful New Games we play at camp is the incomparable Lap Sit: everyone stands in a very, very tight circle and then they all sit down on everyone's lap together in unison! That's the Flames during Flames Games in 1973 on the left, and an even dozen Woof cousins with Uncle Ian in 1995 on the right.
"Josh & Dan Cook"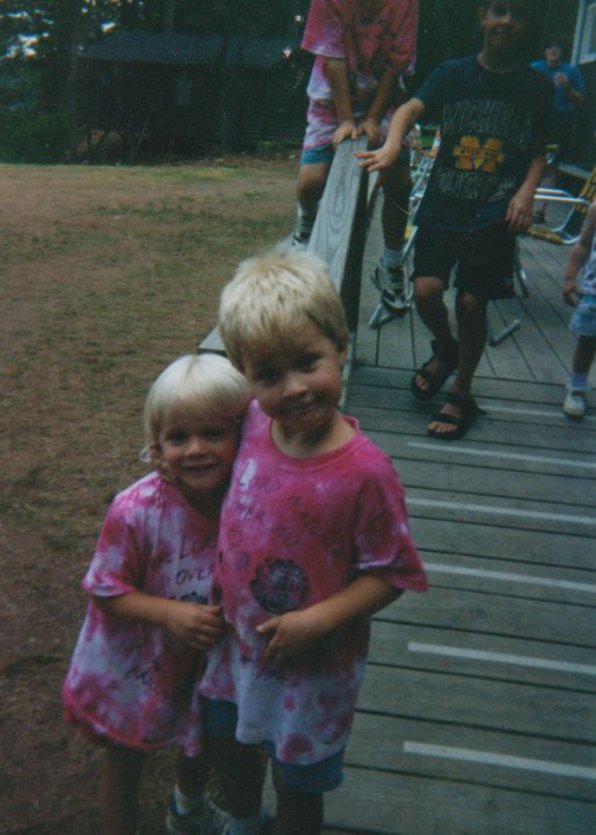 © Emily Woofenden 1994
That's their older brother Ryan coming down the ramp, Ross Grams on the railing, and Alex Dyer in the background.
1993
"Cousins at Breakfast"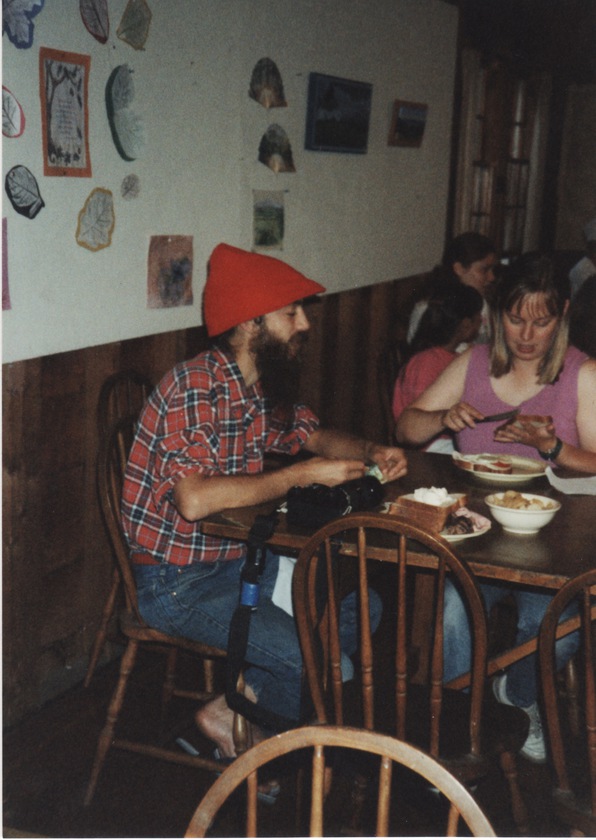 © FNCA 1993
That's me and my cousin Sarah Dole. To this day, that's still my preferred seat in the Dining Hall.
1991
"Grand Pop!"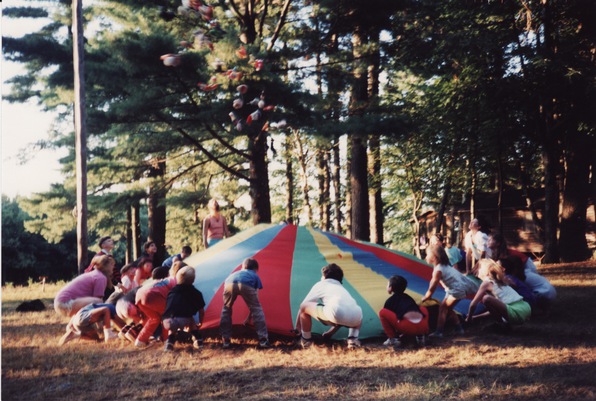 © FNCA 1991
Check out all the stuffies we just launched into the air!
1986
"Birch Trees and Railings"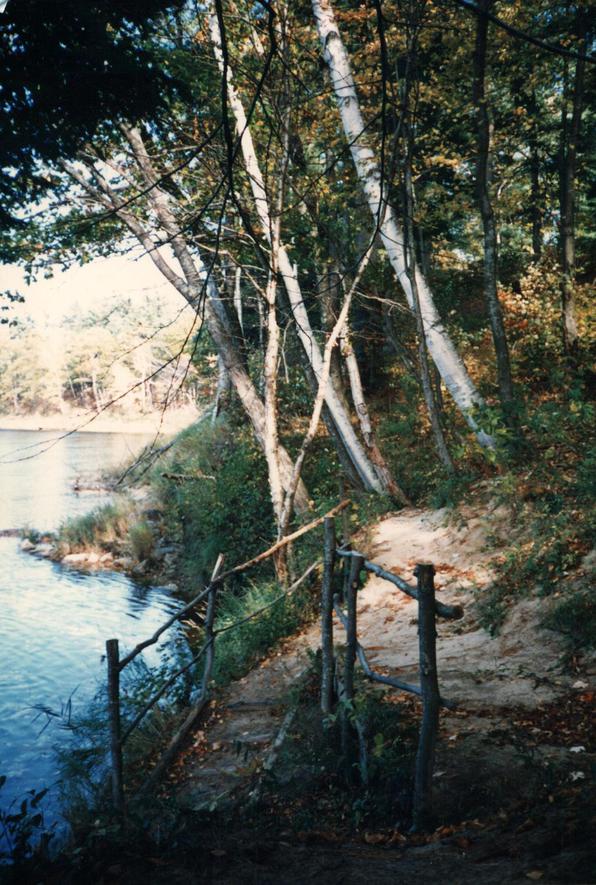 © FNCA 1986
I'm pretty sure this photo was taken by Larry Young, but I don't have any proof of that.

1983


"Sparks Watching the River"
© Nancy F. Little 1983
l to r: Mike Woof, Jason Woof, ??, Amy Perry(??), ??
1977
"Woof Line-up"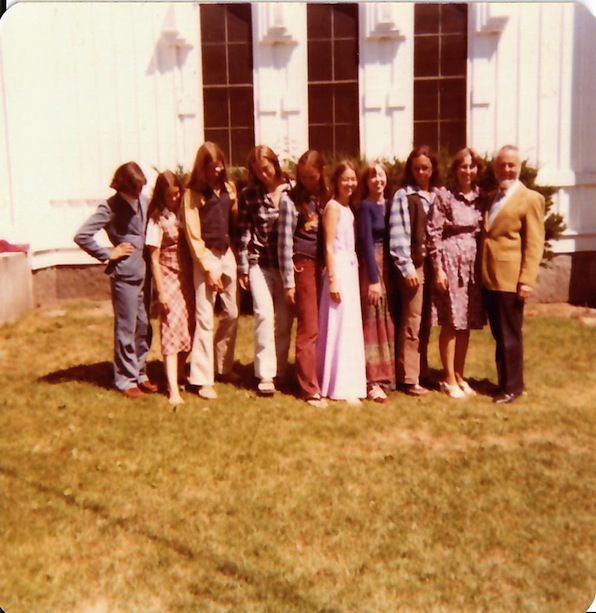 © FNCA 1977
Woofendens in age order from right to left: Pop, Mom, Ross, Jane, Laura, Trevor, Ian, Lee, Ellen, Todd. There's something going on there with the shoes.
1973
"Kank Tank"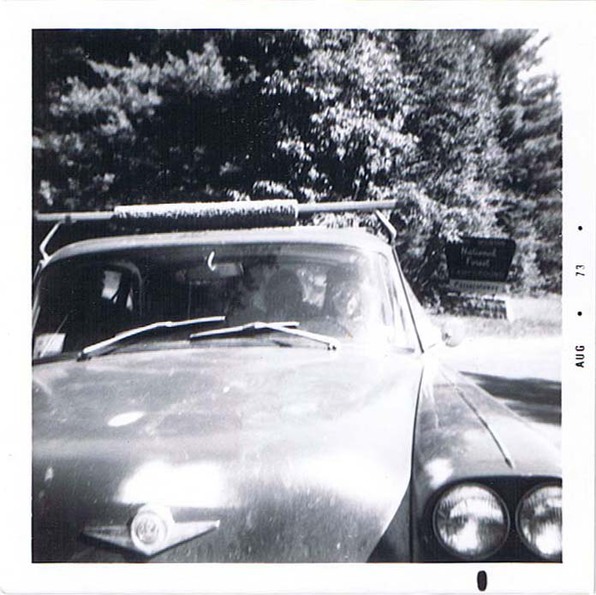 © FNCA 1973
"Kankin'" (driving along the Kancamagus Scenic Highway and stopping at all the sites along the way) was a popular Outing Day trip for the Flames in the 1970s. Pop Woof's Checker sedan — here driven by his teenage son: me — had full width, fold-down jump seats in the middle row, and could fit in a dozen teens... it was a really tight squeeze, but they really could all fit!
1972
Remember When...
the Flames ate in the kitchen before meals?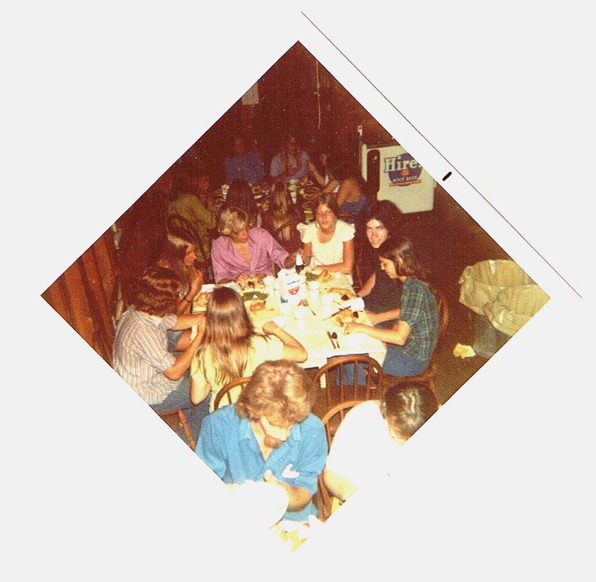 © FNCA 1972
That's Doug White and Alice Wood (now Ames) in the foreground.
The next table (clockwise): ?? with her back to us, Malcolm Gale, Joy Fekete, Gerrit White, ?? Geis, Ed Schnurr, Laura Woofenden.
And the far table (clockwise from left): Trevor, Lynn Zimmerman, Ian Woofenden, Debbie Sjostedt (now Cook), Ben Philibert, ??, ??, and Marion Gale.
1956
"Pop and Baby Trevor"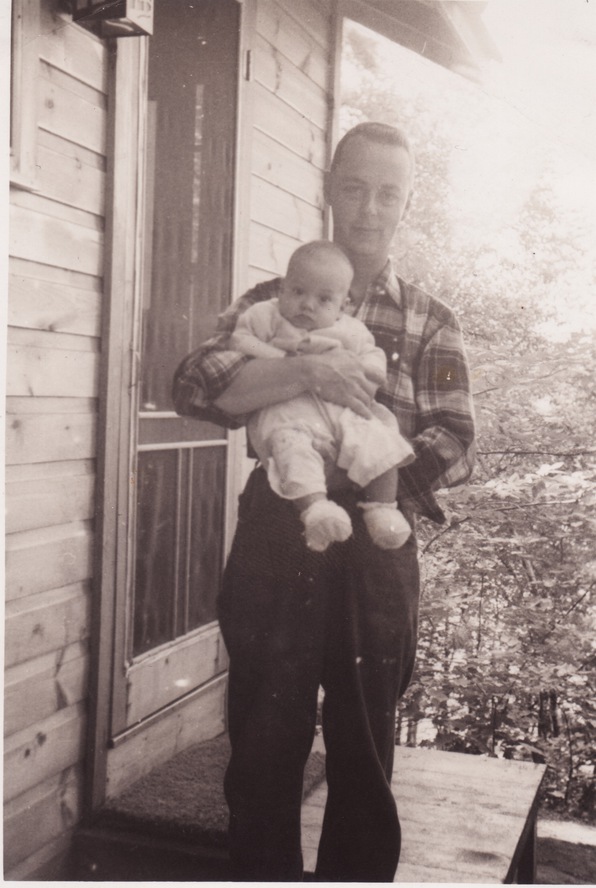 © FNCA 1956
Rev. Bill & Louise Woofenden built the Woofenden Cabin in 1955, and Trevor was born the following March, so here's the two of them with the proud father of both!
1952
"Family Dining FNCA-Style"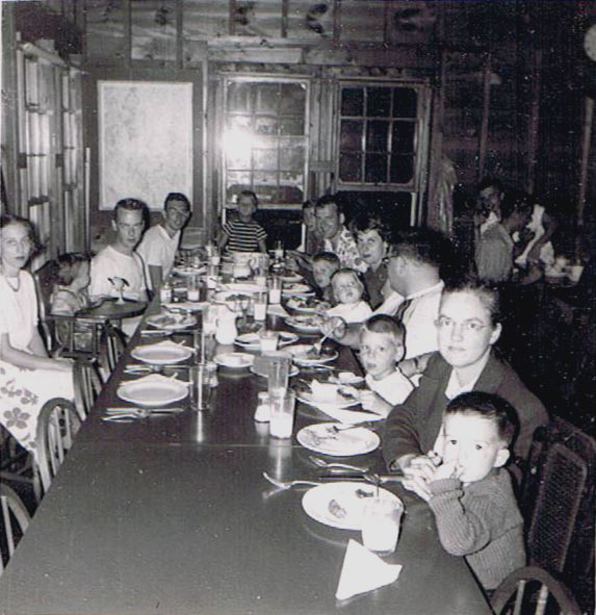 © FNCA 1952
on the left, l to r: Louise Woofenden, Ross Woofenden, Bill Woofenden, Ted Foster
on end: [unknown]
on right, r to l: Torgny Vigerstad, Alice Vigerstad, Clark Perry(??), Dexter Nichols, Aurelie Nichols, Annie Nichols, Richard Nichols, Fred Perry, George Dole
at other table: [both unknown]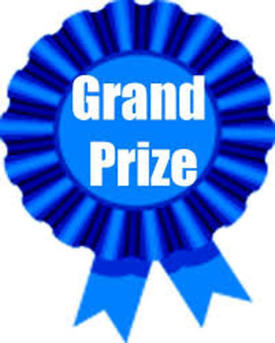 "WOW!"
© Jim Perry 1950
That's John Perry diving off the diving board with Joan Flynn on his back.
After that (l to r), it's George Dole, ??, ??, (possibly) Jim Perry, (possibly) Noyes or Phil Lawrence, ??.
1949
"Crafting in a Canoe"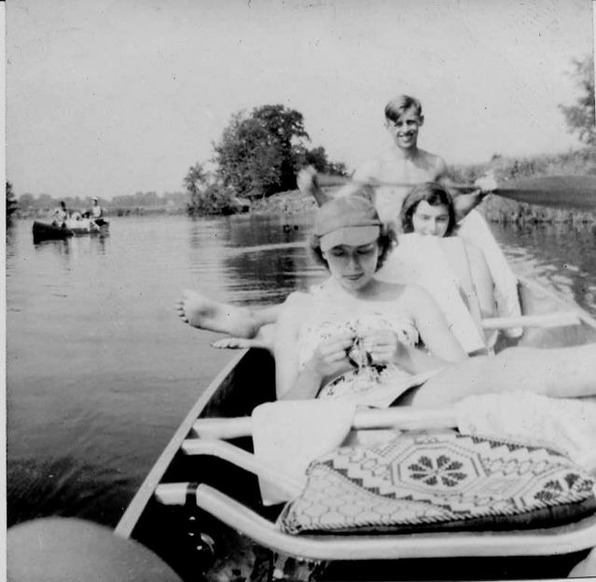 © FNCA 1949
Carolyn Judson does handwork on the river. That's Priscilla (Pat) Alden behind her and George Dole at the helm.

1948

"Alice in Her Tent"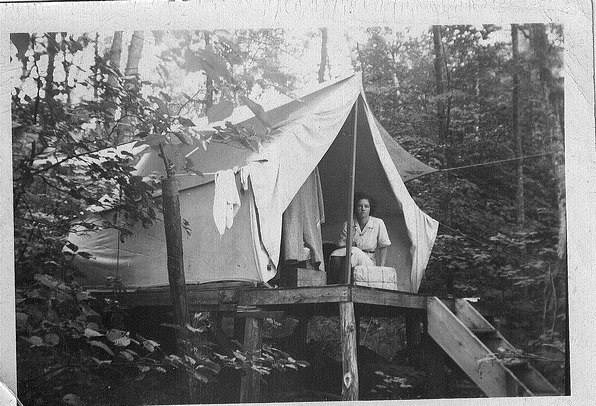 © FNCA 1948
Alice Vigerstad looking out from her tent platform down in the ravine near the river.
1940something
"Reading on the Front Porch"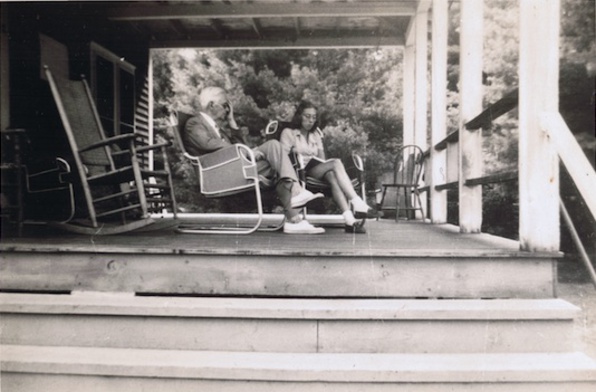 © FNCA 2018
This photo of my mom, Louise Dole Woofenden, reading to Rev. Everett K. Bray on the front porch hangs in our room at camp.
1937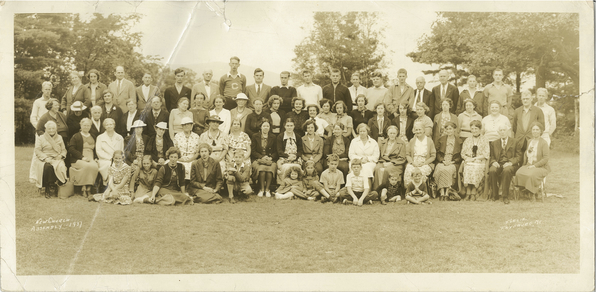 © F.W. Fergie 1937
This is the infamous All-Camp Group Photo in which Gordon "Gordo" Blackmer, the young gentleman in white standing in the back row all the way to the left, knew that the photo was being taken by a fairly slow moving pan camera. He very carefully stood still on the left until the camera had moved beyond him, then swiftly ran behind everyone, and got in position on the right before the camera got there, and hence appears in this photo twice!
Gordon Blackmer was a life-long camera buff, so he knew what he was doing and obviously planned this stunt ahead of time. You can read a bit more about "Gordo" here.
1931
Asa Goddard (left) and family in front and on top(!) of his newly built cabin: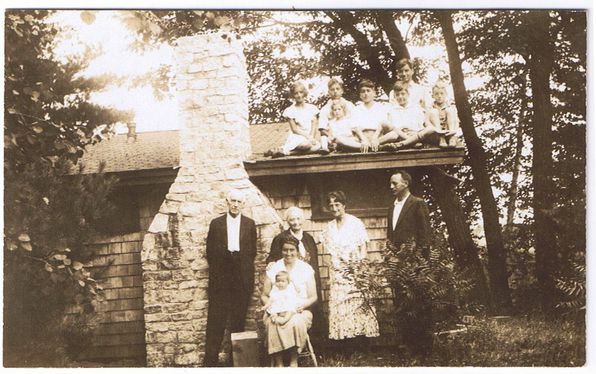 © FNCA 2015
The Camp Historian (me) is fairly sure this photo was taken in 1931, the year the Goddard Cabin was built.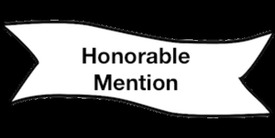 "Goddard Cabin Alone"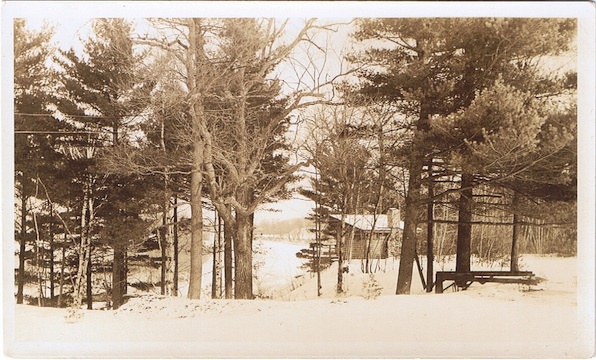 And the Camp Historian is also fairly sure this photo was taken in the Winter of 1931-1932.
1930
"The New Dining Hall"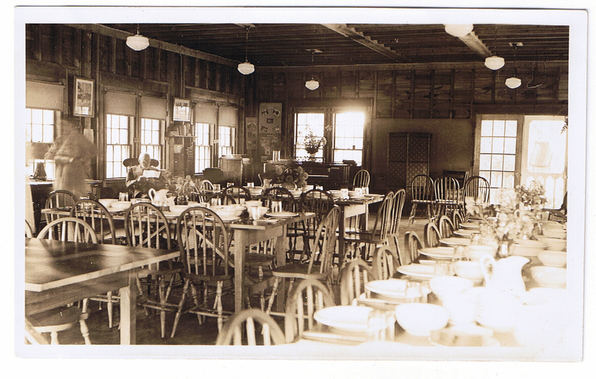 © FNCA 2017
The Camp Historian (me) has strong reasons to believe that this undated photo was taken in 1930, the year the Dining Hall was built and also the year the piano seen at the rear of the room below the windows was donated to the Assembly by the Fryeburg New Church.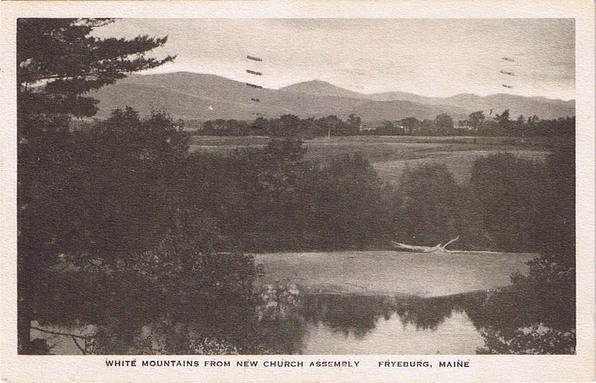 © FNCA 2014
One of the early postcards made shortly after we bought the property in 1928. By the turn of the century, those trees lined up on the far bank of the river had grown so high that they nearly completely obstructed our view of the mountains from the front porch and lawn. So we were delighted when the tree company across the river was allowed by the town cut down those trees in 2013 and we got suddenly got our view back!

*** *** *** *** *** *** *** *** *** ***
Favorite Diptychs
In photography, a diptych is a pair of closely associated portraits, images or themed pictures. So this section is pairs of related photos.
"Sparks Serenading You with Peaceful Healing Sounds"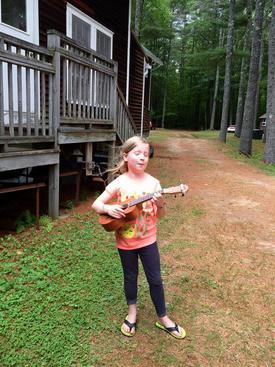 © Elise Richardson 2017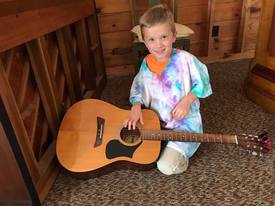 © Nancy F. Little 2018
Serena and Nate are siblings.
*** *** *** *** *** *** *** *** *** ***
So, there you have it! Hope you enjoyed my favorite FNCA photos!
-Trevor
d:{D>>>
FNCA Webmaster
_____________
/ /
/ FNCA /
/ /
%%%%%%%%
%%%%%%%%
%%%%%%%%