[Cabin and Addition Donors and Namesakes]

Asa E. Goddard
(1854-1944)
donors of
built in 1931
ED NOTE: This page is still a work in progress.
Birth
Asa Eldridge Goddard was born April 2, 1854 in Brockton MA to Rev. Warren Goddard & Sarah Eldridge Goddard. His father was the pastor at the Brockton Church of the New Jerusalem in Brockton MA.
Jenny Beaman was born in 1867(?) to Edmond A. Beaman and Sarah V. Parsons Beaman. She was the fifth of six children.

Education
Asa Goddard graduated from Brockton High School in Brockton MA in 1872. In 1873, he entered Brown University, earning his bachelor's degree in 1877.

Residences
Throughout his childhood and college years, Asa Goddard lived with his parents and 9-12 siblings (the record is unclear) in Brockton MA. It is unknown where he lived from 1878-1881. He lived in or near St. Louis MO from 1882-1888. He and his wife lived in Waltham MA from 1889-1899, followed by one year in Taunton MA. In 1900, they moved to 473 Walnut St, Fall River MA and lived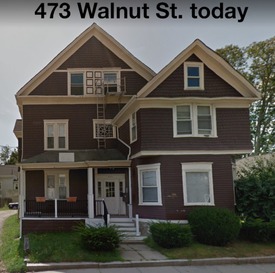 there until he retired in 1921. According to a "Memorial" in the December 25, 1955 issue of The New-Church Messenger: "After this time, they spent most of their time at their summer home in Monomet, Mass., wintering for a year in Providence and then in New Bedford, Mass., until they moved to [C]ambridge, Mass."

Marriage
On June 13, 1888, Asa Goddard married Jennie B. Beaman of Cincinnati OH, the daughter of Rev. Edmund Addison Beaman, a Swedenborgian minister, and Sarah Beaman.

Careers
Asa Goddard was a teacher. From 1878-1881, he taught math at Fall River High School in Fall River MA. From 1882-1888, he was at Smith Academy, a college preparatory school run by Washington University in St. Louis MO, where he first taught the "Fifth Class" (11-year-olds), gradually moving up to the "Third Class" (13-year-olds), and finally teaching Greek and history to the Second, First, and Advanced Classes. From 1888-1899, he taught at the Waltham New-Church School in Waltham MA. Then from 1900-1921, he was back in Fall River MA at B.M.C. Durfee High School (which may or may not be the same as Fall River H.S.), where he also taught geology and astronomy for at least one year. In 1921, Asa Goddard retired after 42 years of teaching.
During his time at the high school, he served on the executive committee of the Fall River Teachers' Association in 1902.
© 1917
1917: Asa Goddard with bow tie, front row, 3rd from right

Jenny Goddard was a teacher at Washington University in St. Louis MO, and later became assistant principal at Waltham New-Church School, a Swedenborgian prep school in Waltham MA.
The Goddards and the Church
Asa Goddard was a regular attendee at New Church church services from earliest infancy until old age.
As a child, Asa Goddard attended services at the Brockton Church of the New Jerusalem where his father was pastor from 1839-1865 (and after 11 years without a pastor, Asa's next younger brother, Rev. Henry E. Goddard, was the pastor from 1876-1901).
When Asa and Jennie Goddard moved to Fall River in 1900, they began attending the Fall River Church of the New Jerusalem. While there, he served at least one year, 1905, as president of the church executive committee.
Asa Goddard was a member of the New-Church Club in Boston and, at least in 1902, participated in its meetings and discussions.
Asa Goddard was a delegate at the 1904 Convention held in Washington DC, the 1905 Convention in Boston, and the 1910 and 1928 Conventions in New York City NY.

The Goddards at the FNCA
The Goddards were involved with the Assembly from very near the beginning. Asa's father, Rev. Warren Goddard, was on the lecture staff as early as 1925. In 1927, Asa Goddard served as chairman of a committee to draw up by-laws for incorporation. His signature is on our first constitution in 1928 as vice-president of the newly incorporated Fryeburg New Church Assembly. He helped with funding the purchase of the first half of our present property in 1928. In 1929, the construction of the Kitchen, the first building on the grounds, was financed by a loan of $1500 from Asa Goddard.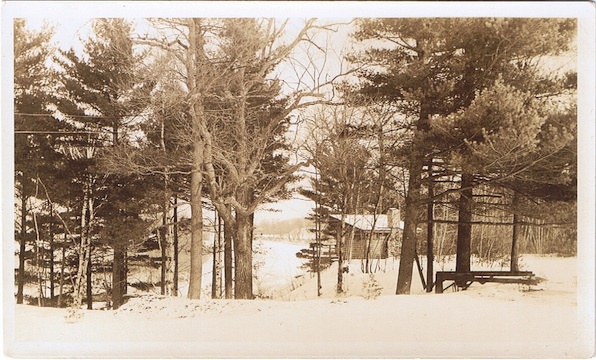 The Goddard Cabin in the Winter of 1931
when it was the only cabin

In 1930, Asa Goddard gave two lectures on astronomy at the Assembly. In 1931, the Goddards built the Goddard Cabin, the Assembly's first cabin. The same year, Asa Goddard again delivered two secular lectures, one of them on astronomy. In 1932, he lectured on the solar eclipse that occurred during the camp session. He wrote this article about the Assembly in the October 11, 1933 issue of The New-Church Messenger. In 1934, he lectured on "The Ministry of Beauty" and also led a class on "Marriage and Divorce".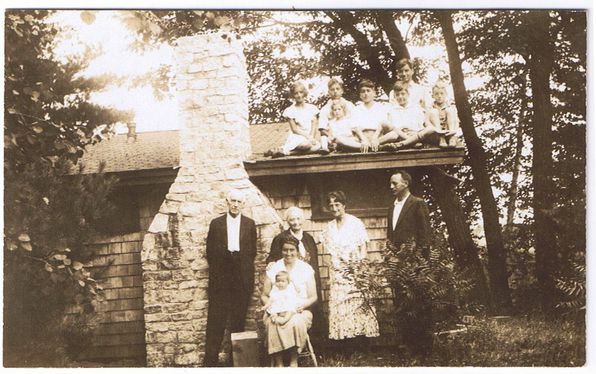 © FNCA 1931
Asa Goddard (left) and family in front of and on top of(!) his newly built cabin in 1931. [NOTE: The original photo is crooked like this.]
In 1959, the Goddard Annex was named in his honor.

Death
Asa Goddard died at age 90 on December 2, 1944, predeceasing his wife by nearly 11 years.
Jenny Goddard died on October 1, 1955 at approximately 88 years old.

The Goddard Annex
Jenny Goddard's will bequeathed a substantial sum to the FNCA which was used to build the Goddard Annex an 1959, which was named in their honor.
[Cabin and Addition Donors and Namesakes]