A Note from the Webmaster
2018 Webmaster's Report
WANTED: Old (& New) Camp Photos
WANTED: Current Cabin and Room Photos


2018 Webmaster's Report
7/31/18

This report is going to be very short.
In the past 12 months, I've put in 169.25 hours into the website, 1/2 hour less than last year. The work included: 111 new photos; 17 new pages; more than 100 new mid-page, internal, and external links; countless updates, corrections, deletions, format changes, and more.
To quote directly from the 2018 Outreach Committee Report:
The FNCA website continues to increase in usage significantly. On a monthly basis in calendar year 2017, our website averaged 2,746 visits per month, 914 of them "unique visitors". This represents 126% and 57% increases respectively. Put another way, our average visits per day went up from 44 to 92 visits a day (a 109% increase); and "unique visitors" average went from 20 a day to 32 per day (a 60% increase).
On a personal note, I love doing this work for the Assembly and am delighted to be able to continue doing it in the future.
Respectfully submitted,
-Trevor
FNCA Webmaster
<http://fryeburg.org>
_____________
/ /
/ FNCA /
/ /
%%%%%%%%
%%%%%%%%
%%%%%%%%
PHOTOS WANTED!
WANTED: Old (& New) Camp Photos
I'm still looking for camp photos from other sources (meaning YOU!), especially older photos from the 1960s and earlier. If you have old FNCA photos that you'd be willing to have included on this site, I would love to see them. You can get them to me in several ways:
1. Bring them to camp.
2. Scan them and email them to me at the email address at the bottom of the page.
3. Put them on Facebook. You can either put them on your page and let me know, or else join the FNCA Facebook page or the FNCA Members & Friends Facebook page and post them there. Be sure to tell me they're there!
4. Put them on one of the many photo sharing sites (Flickr, Shutterfly, Instagram, Pinterest, etc.) and send me a link/login/whatever-it-is-I'll-need to access them.
5. Mail them to: P.O. Box 463, Haydenville MA 01039. If you select this option, I promise to take excellent care of your photos and if you'd like them returned, I'll pack them carefully and either mail them back to you after scanning them or else bring them to camp this summer if you're planning to attend.
Any information about them you might have about them would be very much appreciated, including: the year the photo was taken; who took the picture; names of people, places, and relevant things; and so on. As much info as possible, basically. On the other hand, if you don't know (or don't have the time), I'd be very happy just to get the pictures.
There are some very specific photo images I'd like to add to specific pages on the website:
* = fairly current photos only

1. All-camp group photos for years we don't have on the All-Camp Group Photos page
2. Photos of all the various camp committees
3. Opening Weekend Program
4. Handwork & Crafts done at camp
5. Morning chapel*
6. Just Senior Flames*
7. A picture of someone with their sponsor*
8. Salad bar*
9. Sales Table*
10. People on the beach (Saco, not ocean)
11. Multi-generational photos of all kinds
12. Photos of the following cabin donors to go on the appropriate pages:
A. Mary A. Bellows
B. Helen C. Claxton
C. Mrs. Jeanette C. Chalmers and her daughter Elizabeth "Bette" Chalmers
D. Frances Twitchell
E. Ron & Dorothy Davies and their son Laird


WANTED: Current Cabin and Room Photos:
Your friendly webmaster is also looking for new cabin photos of the following:
14. Bray Cabin - full interiors
15. Bunkhouse - full interiors
16. Chalmers - more better exteriors & interiors
17. Claxton Cabin - full interiors
18. Faxon Cabin - full interiors
19. Girls Dorm - full interiors
20. Goddard Cabin - full interiors
21. Taft Cabin - full interiors and current room photos in the Main Building:
22. Perry Wing - full interiors, new sign photo
23. Dining Hall - Upstairs rooms, full interiors: Room 2, Room 4, Room 6/8, Room 7, Room 9, Cook's Quarters
24. Frank Hall - full workout at Frank Fitness! with a wide variety of different people
If you have any of the above or any just plain delightful photos of camp you'll let us use, please get them to me via one of the methods listed above along with the name of the photographer and the year the picture was taken (if known) for copyright purposes.
If you have any additions, deletions, corrections, updates, suggestions, etc. of absolutely any sort for this website, please send them along to me at the address below.
Thanks everyone for making the FNCA so wonderful!
Your friendly FNCA Webmaster,
-Trevor
<trevor@trevorthegamesman.com>
______
/ FNCA /
/ /
%%%%
%%%%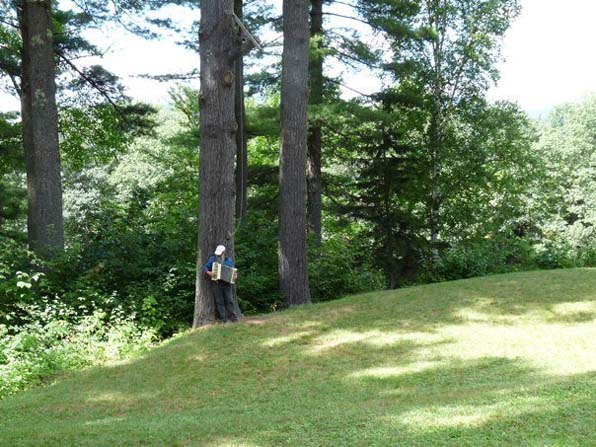 © Anna Rich 2009