[Cabin and Addition Donors and Namesakes]

Mary A. Bellows
(1851-1946)
donor of
built in 1939

ED NOTE: This page is still very much a work in progress.
Birth
Mary Anna Clarke was born August 4, 1851 in Providence RI to Dr. John Lewis & Mary Robinson Clarke. Her father was a homeopathic physician.
Residences
In 1854, the Clarkes moved to Fall River MA, where her father set up a medical practice.
Marriage and Family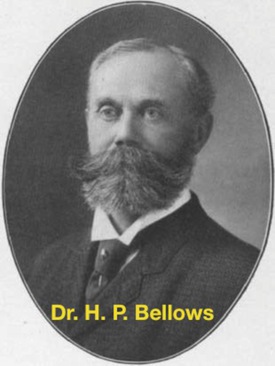 On June 10, 1880, when she was 26 years old, Mary Clarke married Dr. Howard Perry Bellows (1852-1934), a homeopathic physician born in Fall River MA. They had two children: Marjorie C. born Dec. 29, 1885, and Gertrude born Dec. 26, 1887.
They lived in Newton MA, Boston MA, and Cambridge MA, and had a summer house in the Kenberma neighborhood of Hull MA.
April 30, 1912, her younger daughter Gertrude married Louis/Lewis Harding of Brooklyn NY in the Newtonville Church of the New Jerusalem, with the ceremony performed by the Rev. John Goddard. After the wedding, they lived in New York City. They were visited regularly by her parents and older sister.
In 1932, her older daughter Marjorie died the day after her (Marjorie's) 47th birthday.
Pursuits
Her husband being a homeopathic phycian, Mary Bellows was involved with several groups that supported her husband's profession.
She served as vice-president of the Meissen, a "group of the ladies of the families of the of the American Institute of Homeopathy" (AEH); and also served that group as vice-president of the Ladies Reception Committee at the AEH's annual convention in Boston MA in 1903.
Mary Bellows was also an active member of the Newton Hospital Aid Association, a women's auxilliary to Newton Hospital that was primarily a fundraising and support group. In 1907, she wrote a brief history of the organization for The Mirror of Newton, a yearly society publication; and served as its vice-president in 1911 and 1912.
Mary Bellows was also involved with the progressive social issues of her day, including abolition and women's suffrage.
Like her parents and other nearby relatives, Mary Bellows was active in the Abolitionist movement. Her cousin's house in Fall River was a safe house for escaped slaves. Her parents were close friends with Frederick Douglass, who stayed at their home when he was in the area. When Mary's father died in 1880, her mother recieved a personal letter of condolence from Mr. Douglass in which he described Dr. Clarke as "one of the truest and best of my friends". Mary wrote of Frederick Douglass, "I remember well his last visit... a dignified white haired man."
Mary Bellows was a member of the Newton Women's Suffrage League, attended their annual meetings, and served as a committee chairman in 1902.
During World War I, she volunteered with the American Red Cross and, as reported in The Newton Graphic (March 16, 1917), was "appointed special agent... to receive statements of willingness to co-operate in case of need."
She was also a member of the West Newton Journey Club and the Shakespeare Club.
Church Life
Her parents were originally Quakers, but left the Friends either before Mary's birth or when she was quite young. They began attending the brand new Fall River Church of the New Jerusalem group, with Dr. Clarke "contributing largely to its support and to the building fund for the erection of the church." (New England Medical Gazette, 1881)
When they lived in Cambridge, Dr. & Mrs. Bellows attended the Cambridge New Church (now Swedenborg Chapel) in Cambridge MA. When her daughters came of the proper age, Mrs. Bellows also occasionally served as chaperone for the church's Young People's League events. She participated in the church's Half Hour Club — a women's social group that met monthly at various members' homes — hosting many meetings over the years, serving on various committees, as well as club president from 1921-1935, until finally stepping down into the role of vice-president in 1936. Mary Bellows also now and again hosted teas in her home and helped with many other events to help raise funds for various needs of the church.
In 1930, she served on a committee to help raise funds for the North Cambridge Community Church, a church for "colored people in that part of Cambridge" which was being served by a Swedenborgian minister at the time.
Mary Bellows at the FNCA
In May of 1935, Mary Bellows and Helen Claxton took a "pleasure trip" together through New York and New Jersey.
Five years after Dr. Bellows died, Mary Bellows built the Bellows Cabin in 1939, between the Faxon Cabin and the Goddard Cabin.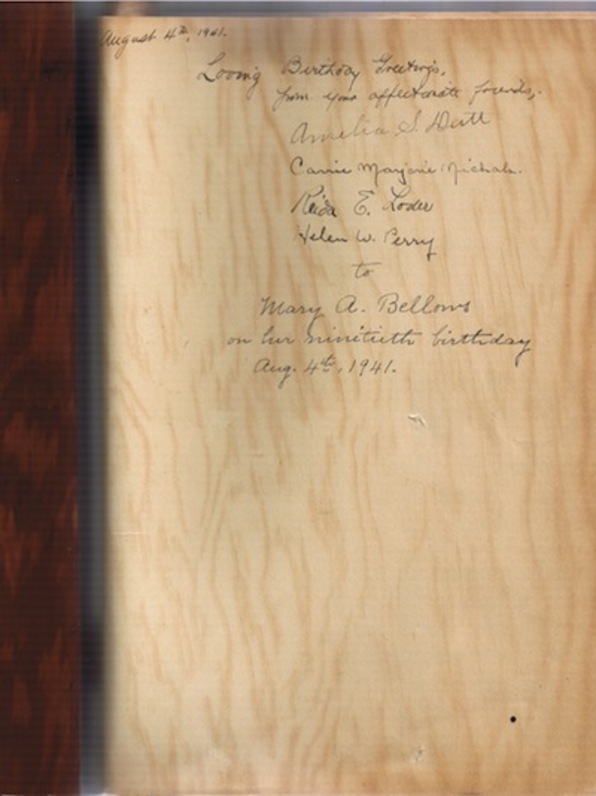 © 1941
The cover of an FNCA photo album in our archives which was presented to Mary Bellows on her 90th birthday.
Death
Mary Bellows died on February 4, 1946 at age 94.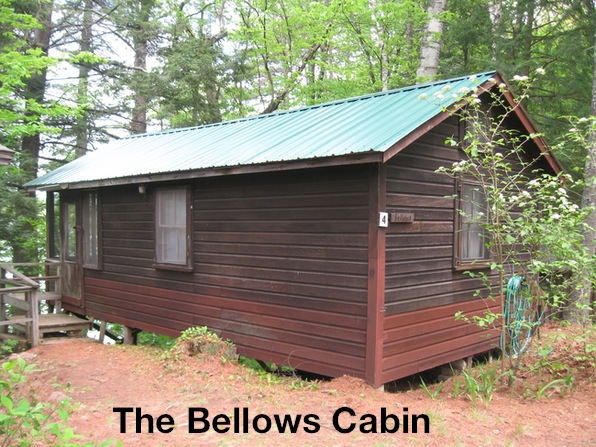 © Trevor 2017