[FNCA NEWS! 2020]
[most recent FNCA NEWS! article]
[FNCA NEWS! Archives]
FNCA NEWS!
2021

In Memoriam:
Rev. Dr. George F. Dole
(July 8, 1931 - June 29, 2021)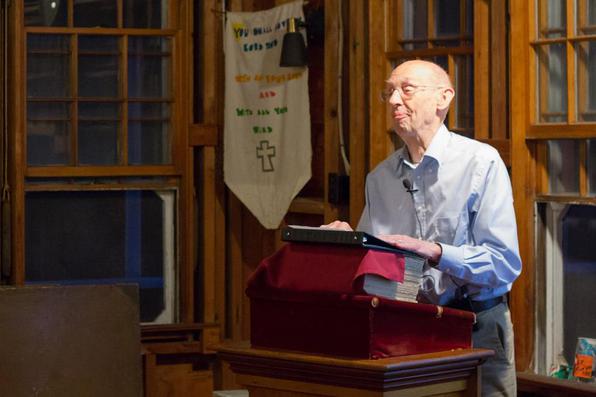 © Jon Cousins 2014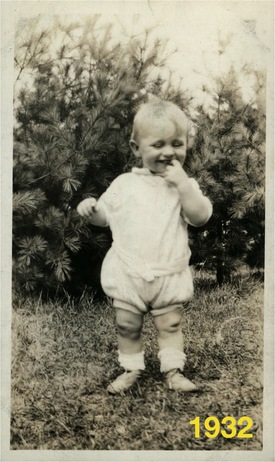 George Frederick Dole first attended the Assembly when he was 1 month old and continued to attend yearly until he was in his mid-80s when major loss of hearing made lecturing and even casual conversation too difficult for him. He was a core lecturer for most of 50 years. He served as Assembly President from 1965-1973. He also served many years as Vice President, as camp parliamentarian from the 1960s through the 1990s, many years on the Executive Committee and on the Buildings & Grounds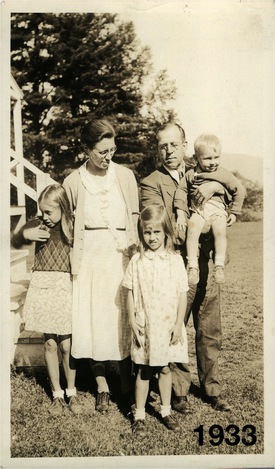 Committee, helped open up and close down camp for at least two decades, wrote two songs about the FNCA, and oh so much more.
George was a minister, lecturer, professor, translator, writer, linguist, composer, lyricist, runner, wit, punster, and all around logophile.
He was a brilliant, kind, gentle, thoughtful, perceptive man who genuinely loved people, and delighted in helping everyone move towards Heaven.

Our Facebook page honored him this way on July 2, 2021:
Rev. Dr. George Frederick Dole
(July 8, 1931 - June 29, 2021)
Heaven has gained a wonderful soul. Our beloved George F. Dole passed on to the spiritual world on Tuesday in Bath ME surrounded by his family. One of the last things he said was, "I cannot wait to run again."
Here are just a few of GFD's life accomplishments:
1931 born to Rev. Louis & Anita Dole in Fryeburg ME
1937 moved to Bath for the rest of his childhood
1952 graduated Phi Beta Kappa from Yale
1957 runs in the first 4-minute mile race
1957 marries Lois Seekamp
1958 M.A. from Oxford (Hebrew)
1960 ordained
1960-73 served the Cambridge Church
1960-2010s FNCA core lecturer
1965 PhD from Harvard
1965-73 FNCA President
1968 sang "Tink'ring w/the Toilets" at Stunt Night
1969-2021 faculty at the theological scool
1976 Dole translation of Heaven & Hell published
1982 wrote film script for Images of Knowing
2014 Dole 3 Miler road race created in his honor
2021 died, age 89, ten days before his 90th birthday
A memorial service will be held at the Assembly on Saturday, August 14 after the 8th annual Dole 3 Miler road race.

Jesse White wrote:

I'm... praying you are 
comforted by thoughts 
of young Uncle George 
bursting with energy 
and continuing to 
engage in learning and 
teaching. I feel so 
blessed to have known 
him and will hold tight 
to those memories.
Take care.
Love,
Jesse

In 1985, his late sister Louise wrote in her "Reflections" column:
[We remember] George Dole's witticisms livening of the conversation. One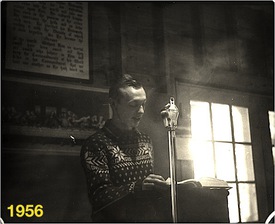 of our favorites came at the end of the session. George sustained a slight wound while helping take down the tents. When asked how he got hurt, he replied, "We struck the tents and one of them struck me."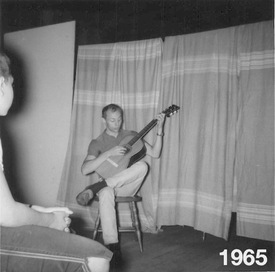 Martha Richardson wrote:
He was one of the best, Hard to believe. His care for all and wisdom will be missed. Our condolences to Lois and his family. Love and blessings, Martha
Nancy Little wrote:
I always enjoyed talent night when George and Gard would do their Yankee Humor skits. So funny!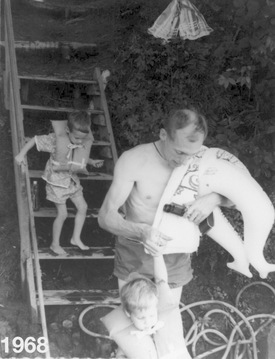 Trevor wrote:
In a lecture one year, Uncle George said something that has stuck with me every since: "Heaven is not a reward for being good. Heaven is what it feels like to be good."


Dawn Crowe relates a favorite GFD story: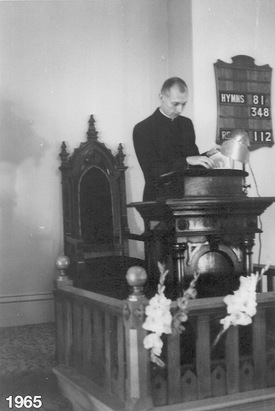 Going for a run with George and Bob Perry at FNCA. An incredible honor and challenge to keep up. Thank you, George! You are missed already.

Lee Dyer wrote:
I like to think of Uncle George returning to his youthful vigor in the spiritual world. In addition to his continued writing and teaching, I just bet ya he's going to train up to make a stab at that 4-minute mile for himself! :-D

Rev. Julie Conaron wrote: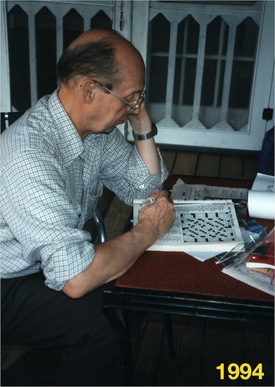 I don't remember exactly what he said, but I do remember how humble he was and how he refused to take credit for all the amazing work he did with translations of the writings.

Dan Wood wrote:
Rev. Dole was one of my heroes, being both a great spiritual presence and a humble servant of God. A true role model if there ever was one.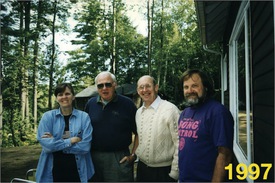 In 2014, the FNCA created the Dole 3 Miler road race in recognition of George still running at 83 and celebrating his participation in the famous 1954 race in which Roger Bannister broke the 4-minute mile. George led off the inaugural Dole 3 Miler wearing his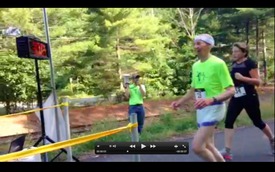 © 2014 original running shorts from the historic race six decades earlier. He finished 37th with a time of 30:06, first in his age group. "Better than I expected," he commented afterwards. His cheerful presence was cherished by many at the race for the next seven years.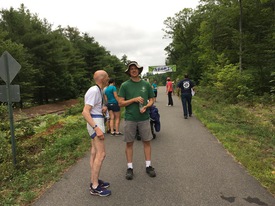 © Jesse White 2017In 2015, Tina Wood wrote:
...the race was a big hit again, of course. They all love running and are in awe of George Dole.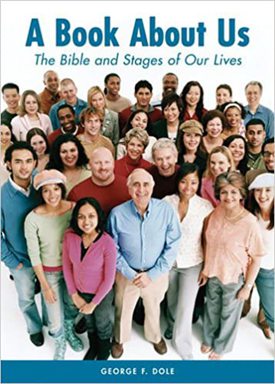 Rev. Dole's book A Book About Us was chosen as the 1st Week lecture theme in 2008.

Dr. Dole's book The Universe and I: Where Science & Spirituality Meet was chosen as the FNCA Afternoon Book Club selection in 2018.


At the FNCA Flames 75th Anniversary celebration in 2003, he reprised his Tim Tim parody "Tink'ring with the Toilets" while wearing a yellow mop head wig and accompanying his tenor falsetto on the ukulele.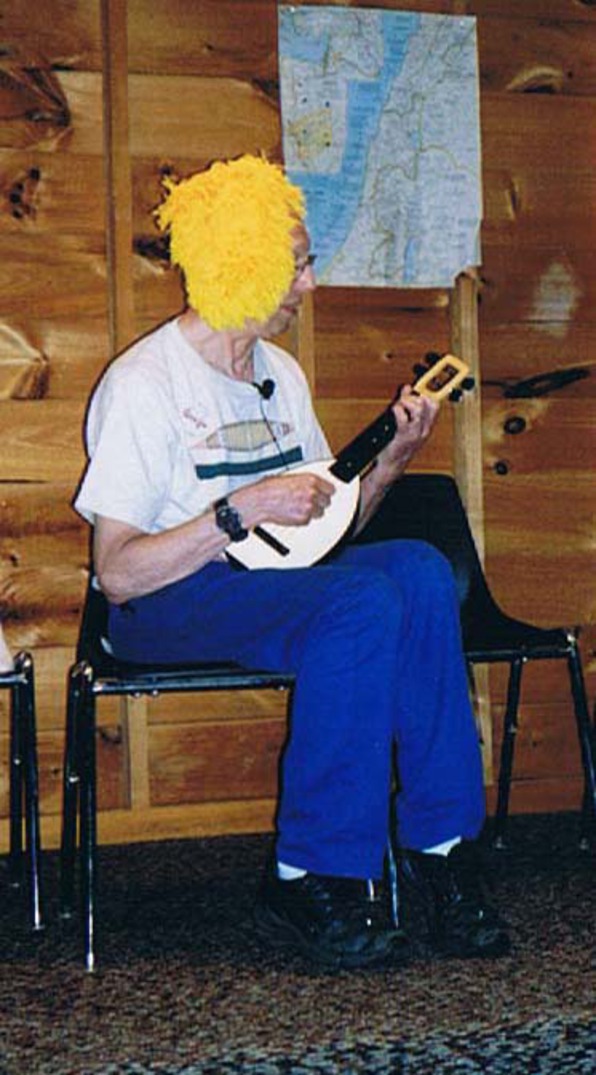 © Nancy F. Little 2003
We love you, George!
6/6/21
Work Weekend 2021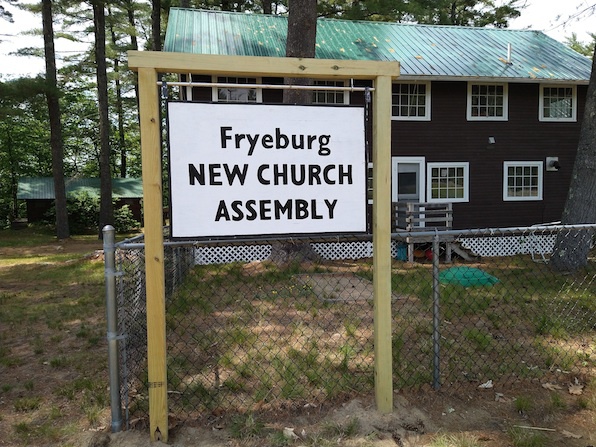 © Jon Crowe 2021
A total of 30 people — 16 locals and 14 out-of-towners — were at the Assembly for the annual Memorial Day FNCA Work Weekend, pitching in to help with the maintenance, upkeep, and improvement of our beloved camp.
First on the agenda: pine cone clean up! A massive carpet of pine cones covered the entire camp from one end to the other. FNCA President Colgate Searle Jr. said, "It was the most ever!" Even more than in 2018, which was the the-most-ever up until that point. A small group of local people, lead by the FNCA Buildings & Grounds Committee chair, Dave Richardson, spent several days ahead of time with rakes and blowers gathering them into rows and piles all across the grounds. Then, when the rest of the work crew arrived, raking them onto tarps and tossing them over the ravine and/or into the woods was one of the tasks on what has become known as The List.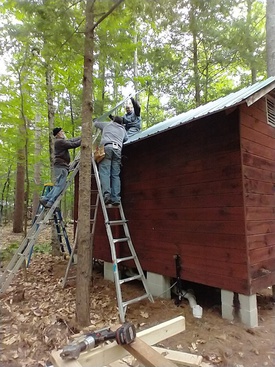 © Jon Crowe 2021Other major projects on The List included new roofs on the Boston Cabin and the Bath House, a new porch on the west end of the Lawrence Cabin, professional removal of a large tree that had fallen on the Bellows Cabin (luckily, there was no structural damage), a clean-out of the old Boys Bunkhouse leading to its new use as our Art Cabin this summer(!!!), removal of a rather large red squirrel mess in Bray North, updating our Internet/WiFi system with new tech, and cleaning and rearranging the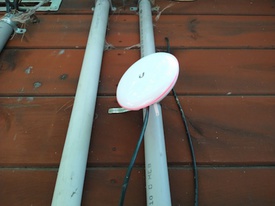 © Jon Crowe 2021Dole Wing to make it more functional including a new computer, moniter, and work station.
The Kitchen got a very thorough cleaning as well as a new microwave donated by Merrilee Phinney, a new rice cooker donated by Beki Greenwood, and a massive deep clean of the stove by Alex Dyer; plus Dan Dyer donated a new gas grill for the outside cooking area. Our new cooks, Chuck Reed and Michael Neureuther, came over to take inventory and fully approved of our food prep facilities.
And then there was the usual cabin cleaning. In a recent Board email, Tina Wood told Jesse White (who usually attends Work Weekend but wasn't able to this year):
Hi Jesse, we missed you! It went great: roofs got roofed, gutters got gutted, toilets got plumbed, and cabins got cleaned and cleaned and cleaned...and my hands smell like Lysol and bleach!
I so enjoyed working with your sister Randall and getting to know her better. We had a whole routine worked out: she with her vacuum cleaner and I with my Lysol would tackle each cabin with gusto and got pretty good at it. We had some snafus like the mouse who drowned in the toilet tank and then disintegrated leaving parts of himself/herself behind and muddying the waters as it were; the mice who made their home in the motor of the refrigerator; the red squirrels who decided eating the foam out of mattresses was better than eating nuts; and exciting things like that.
Nice of you to take care of your Dad so that she could come. Next time she may think differently! We'll see you soon in a short two months and by then maybe the cabins will need cleaning again!
Take care.
Tina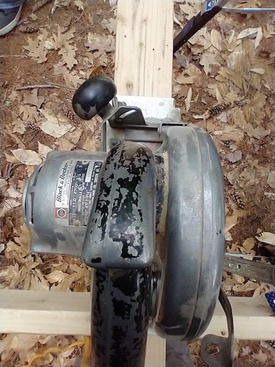 © Jon Crowe 2021
Smaller projects from The List that got completed include:
cleaning and organizing the Cook's Quarters
checking all the electrical cover plates everywhere to make sure they meet current standards
recharging all the fire extinguishers
installing new, heavy-duty posts on either side of the driveway entrance for the security chain
and building an installing our new permanent sign seen in the photo at the top of this article!
So a great big THANK YOU FOR HELPING! goes out to this year's Work Weekend crew (in alphabetical order): Adam, Alex, Alison, Beki, Ben Ph., Brendan, Chris, Colgate, Dan, Dave, Dawn, Deane, Elin, Emily, Gard, Jodie, Jon, Kristina, Layth, Lee, Martin, Merrilee, Monroe, Nate, Owen, Randall, Serena, Susannah, Tina, and Willis.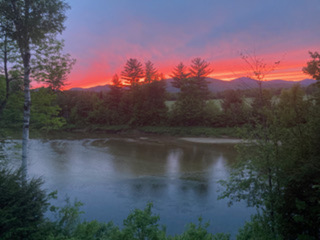 © Chris Tergliafera 2021In FNCA Nature News!, a group of otters seem to be frequenting our waterfront this year: there are visible otter paths down there. So maybe we will be seeing some new wildlife down at the waterfront during FNCA 2021 this summer!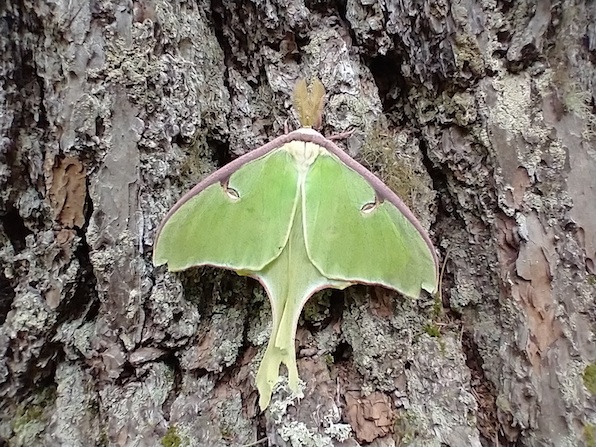 © Jon Crowe 2021
_______________________________________________
2/8/21
FNCA Mid-Winter Board Meeting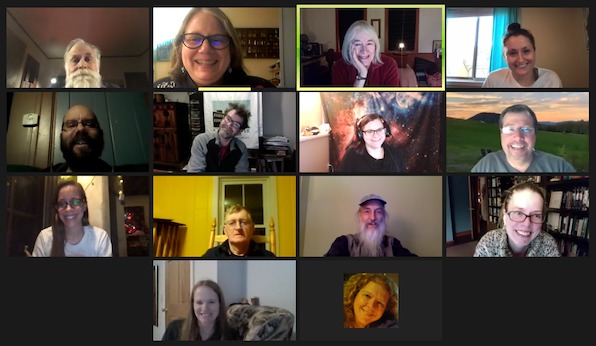 © Jesse White 2021
The FNCA Board of Directors had their regular mid-winter meeting online on Saturday, January 23, 2021. All Board members were present. Here's a brief summary of that meeting submitted by Board secretary, Jesse White:
Treasurer Bob Perry indicated that since camp basically breaks even money-wise, we did not suffer financially from not holding camp in person.
The Summer Session Committee is working on preliminary plans for camp. It is unclear whether we will be able to have camp in person this year, but we hope to, and will make a decision as soon as possible.
We are preparing for the 100th Anniversary celebration this year. Lots of great ideas to celebrate our past.
Rev. E. Kent Rogers will be our 2021 Everett K. Bray Visiting Lecturer.
2021 Lecture Themes: Week 1, Sayings of Jesus; Week 2, Love Your Neighbor. We will continue to stream lectures online so that we can engage as many people as possible. Last year, some joined us from across the country and outside the US. We are working on upgrading tech and would love to hear from anyone with experience.
Our new camp director, Alia Woofenden, is working on putting together the staff in the event that we are able hold the camp session in person. Currently working on Youth Coordinator, Lifeguard, EMT, Cook. She is also gearing up several in-depth approaches for dealing with social distancing and other health issues, beefing up the kids program (including afternoon crafts), and enhancing camp for elders. We also hope to engage our teens from the West again this year.
The Dole 3 Miler went really well last year. This year it may be in person, all virtual, or most likely a combination of the two. Get ready! This is a great fundraiser for camp.
An ad hoc committee appointed by the Board is reviewing our bylaws, which have not been formally updated since 2006. It is standard practice to review them on a regular basis. They presented suggestions for updates which the Board will consider bringing to the full membership in August. Our bylaws can only be changed at a meeting of the membership called at least in part for this purpose.
The new Conflict Resolution Committee presented a draft policy for addressing any conflicts in our organization. The policy will be finalized after the Board has had time to provide feedback.
Board Officers: Emily Woofenden is our new Board secretary. Outgoing secretary Jesse White will assist with some activities as directed. All other officers agreed to continue in their positions.
The Board agreed to keep the rates the same as last year should we have in-person camp.
Work Weekend is currently on hold due to the pandemic; will revisit at a later date.
Facilities Rental will be discussed at an upcoming meeting as well.
The Board is committed to transparency. We will continue to provide general updates after each Board meeting. Given the challenges and questions created by the pandemic and member concerns, the Board has been meeting significantly more often than usual since camp last year and has created new committees to address various issues. We will meet again soon to address some questions that we did not have time for, and/or that require more information.
Respectfully submitted 1/30/21,
Jesse White
FNCA Secretary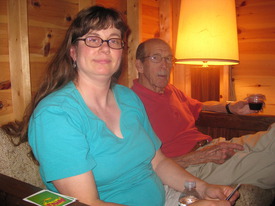 © Beki Greenwood 2009Although Jesse will remain on the Board, this is her last report as Board secretary as she has stepped down from that office. The Board gives her a very big
THANK YOU, JESSE!
for her many years of service.
_______________________________________________
[FNCA NEWS! 2020]
[most recent FNCA NEWS! article]
[FNCA NEWS! Archives]