[FNCA NEWS! 2016]
[most recent FNCA NEWS! article]
[FNCA NEWS! Archives]

FNCA NEWS!
2018
Lalla's Memorial Garden Fund
a letter from the FNCA Board of Directors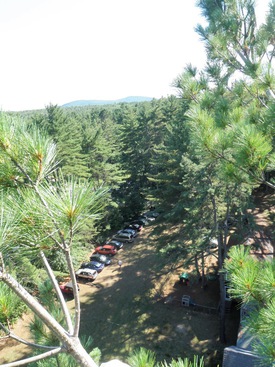 © Ian Woofenden 2011As you may know, Route 302, the state road that we all use to get to the Fryeburg New Church Assembly that runs the long length of the southeastern border of our property, is going to be widened and raised 3+ feet, most likely sometime in 2019. To do that, the State of Maine is going to take a long, narrow strip of Assembly property and, unfortunately, remove the long, narrow stand of trees that has screened our camp from the road.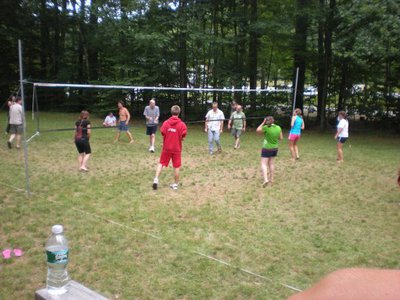 © Cassie Young 2009We do expect to be compensated financially for this taking in accordance with an appraised value of the land, but almost certainly not in an amount sufficient to mitigate the damage to our physical and psychological screening from the roadway.
The Assembly's Board of Directors has studied the effects this project will have on the Assembly experience and value, and has determined a course of action. We will seek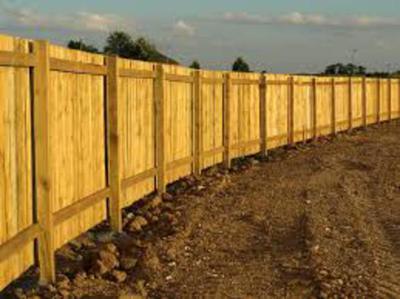 to install wooden fencing at least 7 feet high to partially address noise concerns. We also seek to plant a new border on the Assembly side of the fence primarily to address sight lines.
The new planter bed border is envisioned to be 12 feet wide and would provide foreground interest and beauty, while establishing deciduous and evergreen trees that will gradually grow to provide screening.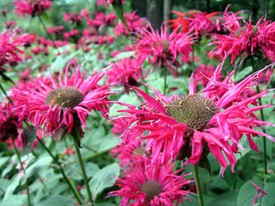 © Nancy F. Little 2009In memory of Cecilia "Lalla" Searle and her lifelong commitment to the Assembly, including her sharing and implementing her horticultural expertise still highly visible and prized today throughout the camp, we plan to call this new planted border: Lalla's Memorial Garden.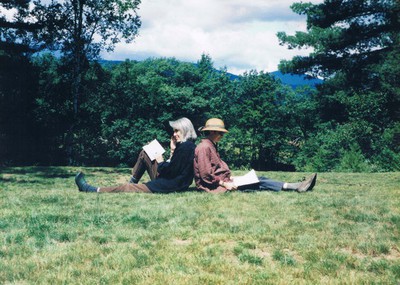 © Shannon Costello 1997Lalla's Memorial Garden will honor the plant selection criteria established in 1990 by Lalla and her sister Tina whereunder "the shrubs and perennials have to be very hardy and bloom in August." For many years thereafter, the two sisters donated and planted several plants each annual Work Weekend and camp session.
We estimate the cost of Lalla's Memorial Garden to be $25,000. This

includes the cost of the plants, the loam and compost plant bed soil, mulch, and temporary irrigation for the first three years. Labor would be provide by the Assembly.
A $2,000 anonymous donation has been received to establish the Lalla's Memorial Garden Fund. We ask you for your financial support at any level in support of this deeply meaningful and worthy project, which will be an important part of the future of the Fryeburg New Church Assembly.
Thank you very much.
The Board of Directors
Fryeburg New Church Assembly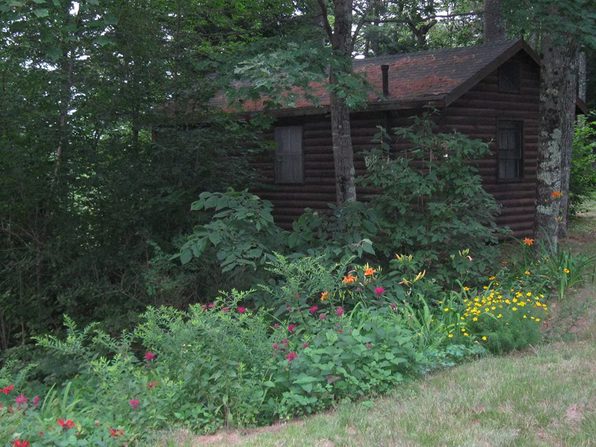 © Jesse White 2014
________________________________________________
Fryeburg ME - 6/8/18
Work Weekend 2018
by Merrilee Phinney
Pine cones everywhere! FNCA Work Weekend 2018 will be remembered for the pine cones and pitch.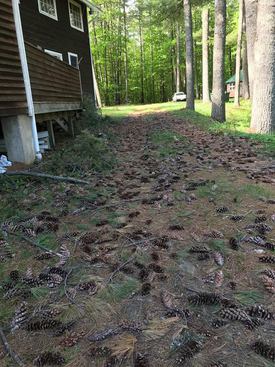 © Nancy F. Little 2018Once again, a great group of dedicated FNCA fans joined together over Memorial Day Weekend, May 25-28, to open camp and prepare our special place for another season along the Saco. Traveling from all the New England states and from WA, too, 20 adults, 2 teens, and 3 kids joined forces, working all over camp and saving our treasury thousand of dollars with people power.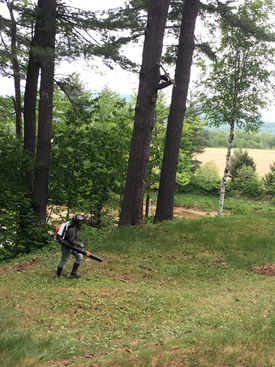 © Beki Greenwood 2018Before much work could begin, however, a dense carpet of pine cones from back to back Nor'easters had to be raked away just to make walking pitch- and crunch-free! Actually, there was raking and pine cone blowing all weekend long, with large tarps full of cones and needles dumped over the edge of the ravine continually.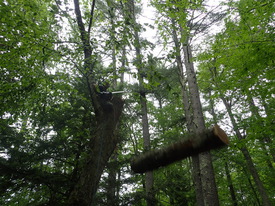 © FNCA 2018Raking topped the To Do List, but there was so much more. Under the guidance of the Building and Grounds Committee, a long list of jobs was completed. Five dead or cabin-threatening trees were taken down, while already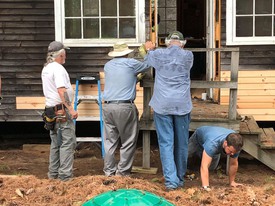 © Emily Woofenden 2018downed trees and tree limbs (everywhere!) were cleaned up and carted away. A new metal roof was attached to the Mack Cabin; the main drain of the Woof Cabin was unclogged; and 4 large porch screens on the Goddard Cabin were replaced along with one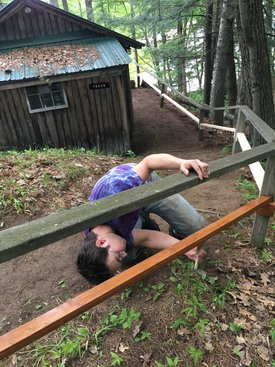 © Beki Greenwood 2018window screen on the Main Building. The play area deck on the back of the Goddard Annex was detached, the rotten wood supporting it replaced, and the deck itself improved and reattached. Parts of the Main Building were repaired in preparation for scheduled painting. The guard rail along the Faxon Cabin was re-enforced for child protection. Many cabins were cleaned, a few needing more than others, while the kitchen and pantry were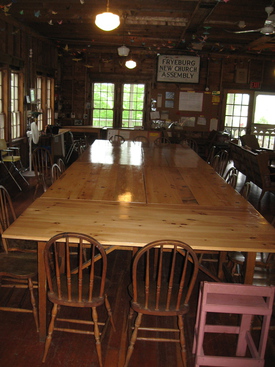 © Trevor 2018thoroughly cleaned. And the mouse-proof closet on the second floor of the Main Building received a much needed intense sorting, tossing, and organizing of its contents. Whew!
Teams helped prepare meals as well as set up and clean up for 3 breakfasts, 2 lunches, and 2 dinners. The meal coordinators, Nancy Little and Beki Greenwood, did a fantastic job planning, preparing, and presenting great food at meal time.
© Jillian Grams 2018Six of the tables in the Dining Hall were pushed together, and everyone — even visiting local members — sat and ate together.
It was another great weekend of hard work, needed work, messy work, and some very tricky work, but also a time of loving and appreciating each other while helping support the special place we call the FNCA.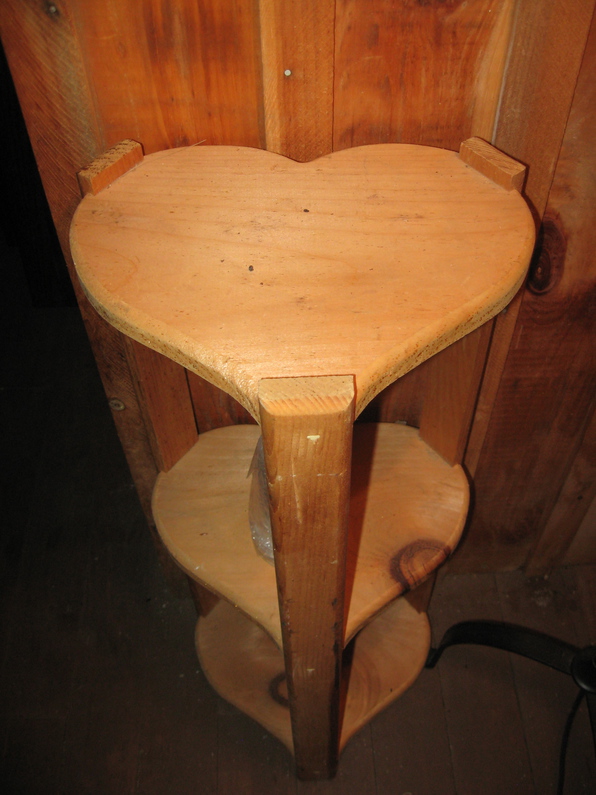 © Trevor 2018