[FNCA NEWS! 2013] [FNCA NEWS! 2015]
[most recent FNCA NEWS! article]
[FNCA NEWS! Archives]

FNCA NEWS!
2014
Cambridge MA — March 1, 2014
Board of Directors (Finally)
Has Their Mid-Winter Meeting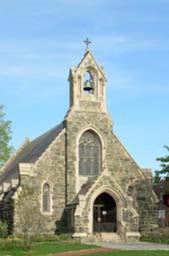 After being postponed twice because of impending snow storms, the FNCA Board of Directors' mid-winter meeting, originally scheduled for January 5th, was finally held today at the Swedenborg Chapel (pictured right) in Cambridge MA.
Since some Board members had to leave early, the Board tried to make all decisions requiring a vote before the 1:00 lunch break. This provided for a quick and efficient meeting. Everything was actually discussed in full, but there were no side conversations and very few digressions from each agenda item.
The Board accepted the 2014 Lecture Themes and Opening Weekend Program theme from our Religious Program Coordinator, Rev. Susannah Currie. First week's theme is: "Divine Providence" and second week's theme is: "The Promised Land". The Opening Weekend Program will be on the theme: "Spiritual Practices Open Us to Divine Influx" presented by Jane Siebert.

The Board heard reports from the Treasurer, Camp Director, Building & Grounds Committee, Outreach Committee, and the Non-Session Use Coordinator; set the 2014 rates; discussed the camp pet policy; accepted a proposal from the Non-Session Use Coordinator for a significantly more extensive non-session rate schedule; and discussed other issues as well.
Here's one of the more exciting agenda items: The Board discussed at length a proposal from Jon Crowe of the Outreach Committee to hold the 1st Annual Rev. Dr. George F. Dole Road Race on the rail trail that starts at the information stand across the street from the Assembly! After vigorous discussion, the Board decided to go with it for this summer as a professionally timed race to be held during camp on the morning of middle Saturday, August 9, 2014. A committee consisting of Jon Crowe and the members of the Fundraising Committee (since this could be a major fundraising event) was appointed to iron out the rest of the details.
Due to our much compressed morning agenda, the afternoon part of the meeting was significantly shorter than planned. In fact, the Board set a new record for earliest adjournment ever: 2:42. Wow!
______________________________________________
4/8/14
Two BIG Announcements!
1.
The Virginia Branston FNCA Flames Scholarship Fund

2.
The Rev. Dr. George F. Dole Celebration 3 Mile Road Race
The Virginia Branston FNCA Flames Scholarship Fund
The family of Virginia Flynn Branston is pleased to announce that they have created an annual scholarship fund in loving memory of their Mom, Grandmother and Great Grandmother: The Virginia Branston FNCA Flames Scholarship Fund.
Virginia loved attending the Fryeburg New Church Assembly and shared that enthusiasm with her family. All of Virginia's descendants were taken as Flames by their loving Matriarch to this oasis on the shores of the Saco River. To honor Virginia's memory, the family would like to extend this opportunity to other interested young people ages 13-22.
The scholarship will be open to a minimum of two Flames / Senior Flames per year who request the scholarship. It will be based on stated need, including either two full scholarships or multiple partial scholarships. Preference will be given to newcomers to the FNCA. If more than two people request that Virginia help them attend camp, the FNCA Scholarship Committee will determine who will be awarded the scholarships.
Please accept Virginia's support and love just as her family has been blessed by her strength, wisdom, and relationship with God.
Click here for details on how to apply.
The Rev. Dr. George F. Dole Celebration
Three Mile Road Race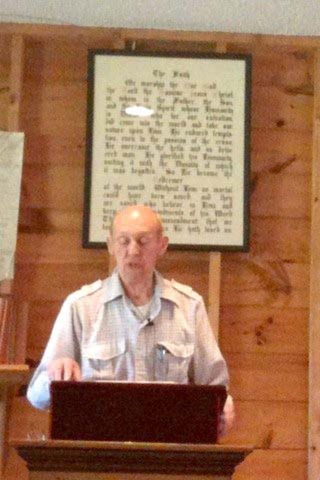 © Anna Rich 2009A little-known fact of George Dole's younger life is that he was a Rhodes Scholar finalist, attending Oxford University in Oxford, England. Having been a strong half-miler while at Yale, George decided to continue running at Oxford.
This choice to compete with the Oxford track team led to an accidental collision with sporting history when, on May 6, 1954 he found himself one of 6 runners in one of the most celebrated athletic events of all time: The first sub-four-minute mile, the record achievement of Roger Bannister.
The Fryeburg New Church Assembly is organizing the "Dole 3 Miler" as a celebration of the life, legacy and good humor of Rev. Dr. George F. Dole, his great love of family and friends, of nature, of running and healthy competition, and his love of God.
Although there will more than likely be hardcore runners participating, there will also be a crowd of walkers who just want to support the cause. We will also need a crew of volunteers that morning to help run the race. Either way, please join us.
We are delighted to announce that Rev. Dr. Dole — now in is 80s and still running — will not only be leading off this new race held in his honor, but also will deliver a free public talk the evening before, Friday, August 8th, about that famous 1954 race.
Here's the scoop:
The Dole 3 Miler
Date: Saturday, August 9, 2014 (middle Saturday)
Time: 8:00 a.m.
Where: The Mountain Division Rail Trail at the Maine Information Stand directly across the street from the FNCA
Registration Fee: $20
Proceeds will benefit: Fryeburg New Church Assembly, the Fryeburg New Church, and the Mountain Division Rail Trail.
More information, including registration and sponsorship, is available on the official race website.
Photo of the race, as well as a very brief history of it, are on this site on the Dole 3 Miler page.
[FNCA NEWS! 2013] [FNCA NEWS! 2015]
[most recent FNCA NEWS! article]
[FNCA NEWS! Archives]