"Reflections"
Looking back on
FNCA 2017

by Trevor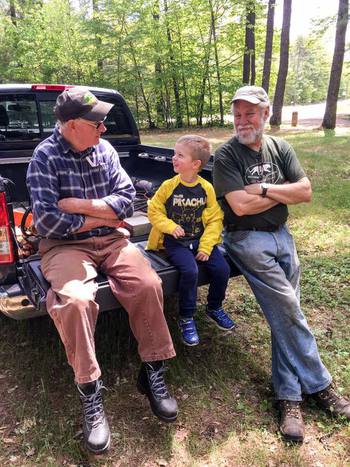 © Beki Greenwood 2017"Intergenerational" seems to be a key word to describe the 2017 Fryeburg New Church Assembly camp session. Granted, the Assembly has always been an all-generations camp, and that has always played a big part in our history. This year, however, it stood out so much that many campers commented aloud about it.
The Sparks, Flames, Bonfires, and Embers were noticeably spending even more time together than usual. Sparks and Embers were seen sharing stories and crafts with each other. Flames were caught actively, purposely hanging out with Bonfires to play music and sing together. Sparks were invited by Flames to "help" them with this that and the other. Flames were invited by Sparks to join them for Sparks Games some evenings other than the traditional Spark Hunt/Flame Hunt. The younger Bonfires were actively encouraged by the Flames to join them in Flames Games. Meals were far less age separated than in past years, too: other ages groups were regularly found at the Flames' table; adults without children at camp were often sitting with the families with Sparks; and several Sparks routinely sat with Bonfires who weren't their relatives.
That's not all. Witnesses saw Embers reading stories to Sparks and showing them cool stuff online. Sparks were creating art and various crafts and spontaneously giving them to campers of all ages. Flames were volunteering to assist Embers with various needs. Bonfires and Flames were regularly sharing jokes and funny stories. A group of Bonfires took the Sparks on a hike up Jockey Cap. Sparks and Flames were routinely found in serious discussions with Bonfires and Embers. All ages were seen playing games together at many different times. And on and on throughout the entire session. It was a joy to see.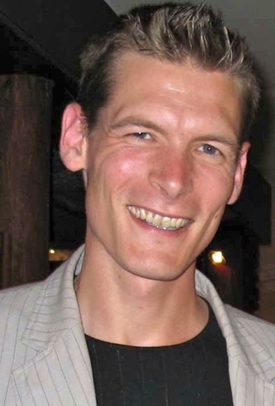 Another biggie this year was our Everett K. Bray Visiting Lecturer: Dr. Devin Zuber, who attended along with his two young children the first week of camp. Dr. Zuber serves as core doctoral faculty at our seminary. His two regular lectures — "Caring for Creation: Swedenborgian Ecology" and "A Bird's Life: Sarah Orne Jewett, George Inness, and the Art of (Swedenborgian) Ornithological Conservation" — were both very well received and stimulated extensive conversation and discussion. Speaking of which, Devin's eager participation in the Adult Discussion Group was also appreciated by the group, as was his special evening presentation on "Swedenborg at the Cinema: Ingmar Bergman and Swedenborgian Spirituality". You can listen to his and other lectures on our Listen to the Lectures! page.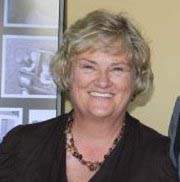 We were also tickled pink that Rev. Jane Siebert, our denomination's president, attended the Assembly session again this year. Her presence was felt and appreciated by all. She said she wants to be a regular from now on, too! We love you, Jane! Please do continue to bless us with your presence.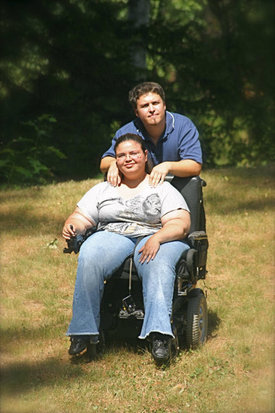 © Beki Greenwood 2010Another highlight was the return of several campers after not attending for a while, some for a few years and others for a few decades. The latter includes Torgny Vigerstad, Katie Rienstra Pruiett, Noyes and Tonia Lawrence, and Sheldon Perry; the former includes Sam Reed, Tobin Grams & Michelle Valazquez with their two kids, Myrrh (Woofenden) Brooks with her two kids, and Rev. Sage Cole with her two kids.
Katie Pruiett said, "After over 20 years away, it felt like coming home, even if it was for [only] a day. The same smells, the same smiles, but most of all the LOVE and comfort I always felt as a child and teen still remained."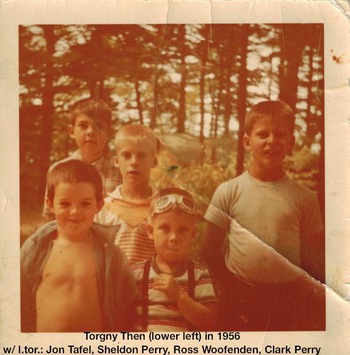 © FNCA 1956Personally, I was deeply moved by a long conversation in Frank Hall in which Torgny — who grew up in the church (the Old Lady Canoe Trip is named after his mother) but has embraced Buddhism for most of his adult life, and returned to camp this year on encouragement from his wife — talked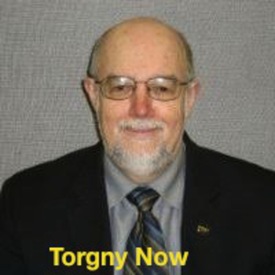 extensively about how much the FNCA has influenced his life and remained a strong spot in his affections for the past 5+ decades. Torgny also talked about reaching out to people with an open heart, sharing your goodness and blessings with the world, and being genuine. It was wonderful to hear how well Swedenborgianism and Buddhism mesh. Everyone involved in this heartfelt discussion was simply glowing.
Beki Greenwood commented recently, "I enjoyed finally meeting Torgny for the first time after hearing his name my whole life. And I enjoyed all the people who returned to camp this year after many years!"
We were also very happy about the return of Rev. Sage Cole to our lecture schedule this year. She was a core lecturer while she was pastor at the Fryeburg New Church in town, but then she went and got married and moved to Alaska where her new husband lived! (The nerve!) But they and their two young children recently moved to the Boston area where Sage is now serving as pastor at the Swedenborg Chapel in Cambridge. We are all quite happy with this. Welcome back, Rev. Sage!
In fact, all of the returnees were wonderful to have at camp again, and we all hope they will all return again much sooner than the last time... in fact, next year would be just fine!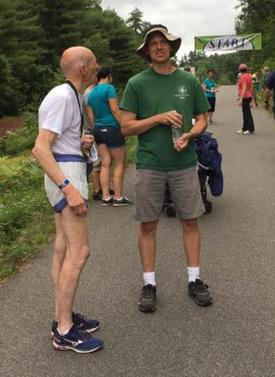 © Jesse White 2017Two annual special events are definitely worth mentioning. First, the Dole 3 Miler road race honoring the Rev. Dr. George Dole was another very successful community event and fundraiser for the Assembly with 73 runners participating. This year's winner was Nathan Buck, the older brother of one of our regular campers, Nina Sasser, who was the first female camper to cross the finish line. Nathan won the race its first two years in 2014 and 2015. He was unable to compete in 2016, but he came back this year and successfully reclaimed his title. I'm excited to report that our very own Sam Reed was the first-ever FNCA member to place in the race, coming in third. Sam is an active athlete and had just popped in for the weekend not knowing about the race. When he was told about it, he said, "Sure, I'll run."
Second, the LALLA Scrabble Tournament ended abruptly with a huge surprise ending which Jon Crowe called the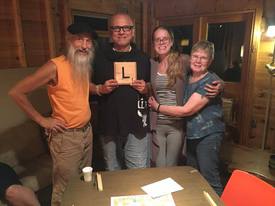 © FNCA 2017"FUNNIEST finish ever!" The finalist were me and three of the Phinney clan: Merrilee Phinney, her husband Martin Vojtko, and her daughter Beki Greenwood. Throughout most of the game, I had slowly edged into a fairly significant lead to the point where I (and, evidently, the others, too) thought I had it all sewn up near the end of the game when I had only one tile left and everyone else had several. Then Martin, much to everyone's surprise, followed my play by using one of the letters I'd just played to score big time with the word "FUNNIEST" (hence Jon Crowe's double joke above) using all 7 of his tiles for a 50 point bingo bonus! Then, when he reached into the bag to get more letters and discovered there weren't any tiles left, he realized that he'd gone out with that amazing play and the game was over! We totaled up the scores and he had won by a mere 2 points!
However, not only did he win by 2 points, he also went out unknowingly... with a Bingo... on a Triple Word Score... using only 1-point tiles and both blanks... on a space only made possible by the immediately preceding play by the front runner! WOWIE ZOWIE! What a stunning play!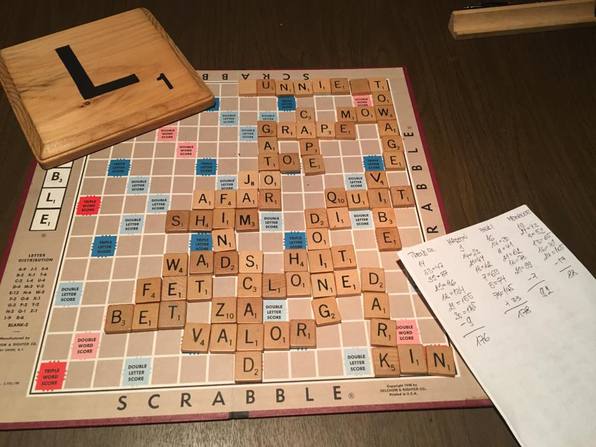 © FNCA 2017
But it didn't end there. At breakfast the next morning, Martin got up and made an announcement that he'd looked at the photo of the final board that had been posted to Facebook and realized that he'd miscalculated his score by 3 points. He was not at all happy about it, but very graciously conceded victory to me by just a single point. I got a nice round of applause, but not believing that all the contestants at the Scrabble table would have missed such an unspeakable scoring mistake in a game that close, I immediately left the Dining Hall to look at the photo in private and discovered that, gracious as he was, Martin hadn't made any mistake in scoring at all but rather in reading the photo hadn't realized that one of his 1-point tiles was on a Double Letter Score and was worth 6 points and not 3 (remember: it was also on a Triple Word Score).
So I came racing back into the Dining Hall and went through the whole mix-up for everyone and declared that the official results of the 2017 LALLA Scrabble Tournament was indeed a stupendous, come from behind, last turn, surprise upset victory by Martin Vojtko! He got a very well-deserved thunderous round of applause.
And that's exactly what being at the FNCA is like, everyone: feeling accepted, cared for, relaxed, comfortable, supported, appreciated, and loved... just the way you are, no matter what.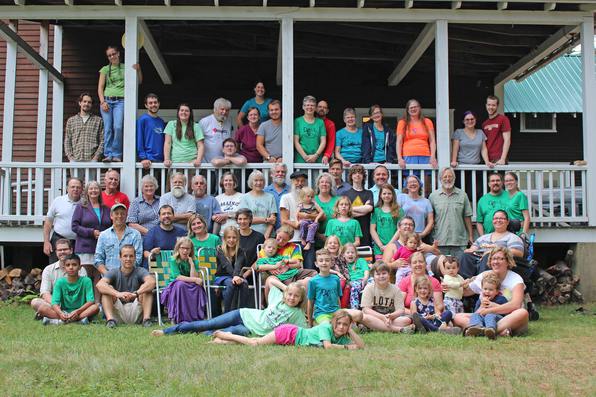 © Beki Greenwood 2017
["Reflections" 2016] ["Reflections" 2018]