vFNCA 2020
Lecture Schedule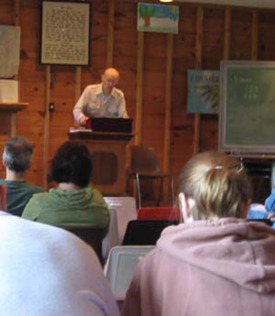 © Trevor 201212:45
Chapel
1:00
1st Lecture
2:00
2nd Lecture
3:00
Adult Discussion Group and Sparks and Flames classes
4:00
Afternoon Book Club
(Monday/Wednesday/Friday)
2020 Lecture Themes descriptions
Biblical Theme:
"The Tabernacle
"
Monday
1:00 Dr. Rebecca Esterson
the 2020 Everett K. Bray Visiting Lecturer
"An Introduction to the Tabernacle of Israel:
Cosmos in Miniature"
2:00 Rev. E. Kent Rogers
"The Tabernacle of Meeting:
A Diagram of a Life Aligned with the Divine"
Tuesday
1:00 Rev. Jonathan Mitchell
"Unpacking the Tabernacle:
The Tabernacle Story Adapted to a
Contemprary Worship Setting"
2:00 Rev. E. Kent Rogers
"The Role of Levites: Responding to the Lord in Today's World"
After Outing Day
Doctrinal Theme:
"The Three Essentials
of the Church:
the Divinity of the Lord,
the Holiness of the Word,
and the Life of Charity"

Thursday
1:00 Rev. Hugh Odhner
"Putting the Essentials into Practice"
2:00 Rev. Lee Woofenden
"Who Is God? Who is Jesus Christ?
What About the Holy Spirit?"

Friday
1:00 Rev. Dr. Jim Lawrence
"Not One and Done:
Swedenborg's Controversial Trinity"
2:00 Rev. Ken Turley
"The Three Essentials and the Meaning of Church"

Saturday
1:00 [No lecture due to the ANNUAL MEETING.]
2:00 Dr. Devin Zuber
"Planetary Charity:
William Blake's Black Lives Matter"