"Reflections"
Looking back on
FNCA 1994
by Trevor
Each year at this time, we enjoy a look back at last year's FNCA session, digging throough fond memories of all sorts. Different people have warm spots in their hearts for many different aspects of camp, so here are some "reflections" on FNCA 1994 from a wide assortment of people.
Many people mentioned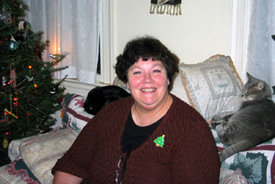 the return of many faces we haven't seen in a bit (some longer than others), including: Roy Trombly, Adrienne Frank, Virginia Branston, Muff Worden ---->, and Wendy Geis Rockwood and family including Grandma Geis (Bea).
And we hear word that Ed & Wendy Schnurr will be back in the fol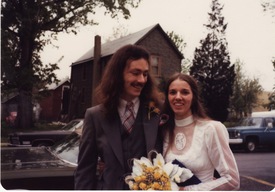 d in '95, so we have that to look forward to. Wendy is recovering well from her West Coast surgery. At the mid-winter Executive Committee meeting, Ed passed around a recent photo of Wendy out riding a bike!
Another name in the news is the establishment of the Skip Perry Memorial Fund. Skip was a long-time supporter and attendee of the FNCA and is dearly missed by many.
A fun high spot on many a camper's list was the annual Sales Table Auction. Always a rollicking good time, even if you don't buy a thing (perish the thought!). We welcomed to the Sales Table Auction, this year's auctioneer, Lincoln Robertson. With cheerful, snappy patter, and smooth flow between items, Auctioneer Robertson skillfully and humorously drew quarters and dollars out of our pockets and into the coffers of the FNCA. Thanks Lincoln!
A frequently mentioned high point was the new, improved, way cool Flames. This crop of Flames has spirit, quality, and class. They not only set up a schedule of acivities for themselves, but actually did them together. The "kinder, gentler" Flames Initiation was also very much appreciated, particularly the well-thought-out costumes (Calvin & Hobbes) and a very nice ceremony.
Our new FNCA note cards, designed by Carolyn Judson and Trish Brewer, made more than a stir in their debut appearance this session.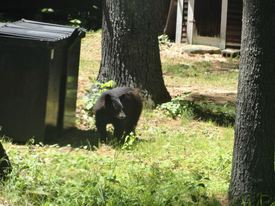 © FNCA 2012So did Anne Perry's FNCA Flora List, identifying over 60 different species of plants on the Assembly grounds!
And so did The (Unseen) Bear around the Boys Bunkhouse after hours!
And speaking of sleeping spots, the more hardy souls sleeping out at the state line tent sites mentioned it was great to have lots of tents. "Nice tenting community" was a buzzword out that way.
["Reflections" 1993] ["Reflections" 1995]