"Reflections"
Looking back on
FNCA 1993
by Trevor
When asked what stood out for them the most about the 1993 FNCA camp session, the answer I heard the most went something like this:
"Well... there was a certain 'esprit de corps' I haven't seen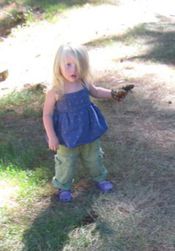 © 2012 Trevorin years." And there was indeed. A jolly crew of workers labored day and night for way too long to get the water system functioning when it broke during camp. A merry bunch was repeatedly seen sweeping the dining hall together after meals. A joyful crowd of youngsters collected pine cones for firestarters on Work Day. And a cracklin' good ensemble of all sorts of folks frequented the front porch.
Another loud response was that the food was excellent. A conscious effort was made to do a real upgrade, and the effort was noticed and highly appreciated. YAY for our kooks! *ahem* I mean, YAY for our cooks!!!

© Beki Greenwood 2010
One major regression happened this year that was also highly appreciated. And that is the return of the Dole Wing as the adult lounge. It was originally built with that intent, but over the years the Adults Only rule had became more and more slack until recently the Dole Wing had been an everybody-type lounge for the past few years. So we re-invoked the no kids rule, and the adults once again were able to have a quiet conversation, uninterrupted card game, and pay their bill without distraction.
And with that firmly in mind, let us also reflect on others' responses about appreciating the Teen Supervisor, Trish Brewer. It's a tough, thankless job, but somebody's got to do it. And Trish has been doing a terrific job for several years. Thanks Trish!
And then there was the Puzzle Club's final puzzle of the season: a 5000 piece print titled "Old Masters" that pictures the interior of a European art gallery in the 1700's. Come dinner Saturday of the next-to-last day of camp, it wasn't even half finished. But the crew worked feverishly and finished it up well before it was time for everyone to go home Sunday afternoon.
This year's fad from the Sales Table was Robin Hood hats. Laura Grams and her older boys designed, cut, sewed, and nearly sold out of a couple dozen felt Robin Hood hats in a wide variety of bright colors including green (of course), red, yellow, purple, pink, and blue. Many children and quite a few adults were seen sporting these jaunty caps at various times during the camp session. Several distinct wearing styles were also seen. The folded-up-edge traditional Robin Hood style was the most popular. But there was also a strong showing of the folded down Elf Hat style. Also seen was the backwards Firefighter version, the Captain Hook type, and the inside out Bohemian. What FUN!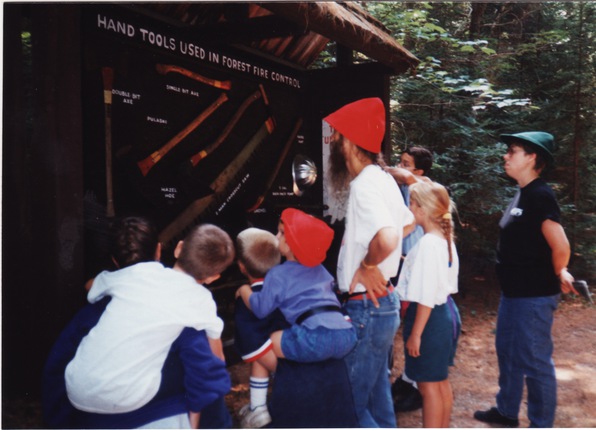 © FNCA 1993
There also seemed to be a lot more nature oriented outings in '93. Many hikes on local trails, hills, and mountains. Many visits to natural wonders throughout the area. And, of course, lots of river trips by campers of all ages. There was even talk of re-cutting the Faxon Nature Trail along the riverbank of the Assembly grounds.
Lots of attention also went to the many and various upgrades to the facilities that have already happened... and those to come. Sheetrocking of stairways and ceilings, fire alarm system, kitchen improvements, etc., all move us in the direction of compliance with the state and federal laws for summer camps. Please give generously to the Annual Appeal: this stuff is expensive.
And over-all, it was a very packed fortnight of friends, nature, and spiritual renewal. See you in August!
1993 All-Camp Group Photo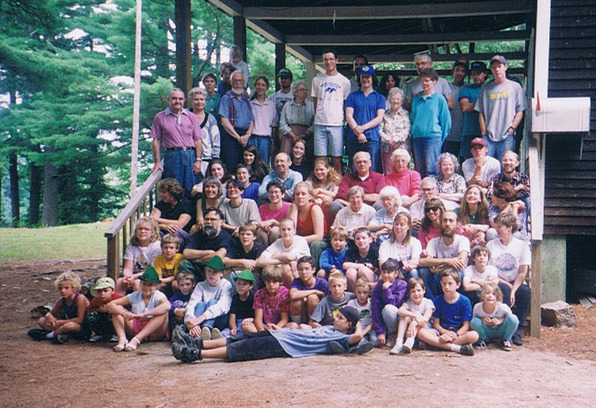 © FNCA 1993
["Reflections" 1992] ["Reflections" 1994]