[FNCA NEWS! 2011] [FNCA NEWS! 2013]
[most recent FNCA NEWS! article]
[FNCA NEWS! Archives]

FNCA NEWS!
2012
Carver MA — January 6, 2012
SSC Starts Planning the 2012 Camp Session!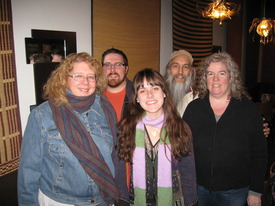 © Beki Greenwood 2012The FNCA Summer Session Committee (SSC) held its first 2012 camp session planning meeting at the home of Camp Director Jason Greenwood and Bulletin Editor Beki Greenwood this evening. The full committee was able to attend: Jason & Beki, plus Religious Program Coordinator Rev. Susannah Currie, Activities Director Trevor, Camp Registrar Nancy Little, and Flames Representative Nina Sasser.
Jason's first announcement --- which was met by cheers and smiles all around --- was that Bobby Abesamra, our cook from last year, will be returning in 2012! Finding a new cook is often the director's most difficult pre-camp job, so this is both a relief to our new camp director, as well as good news for the rest of us since Bobby did a good job his first year and is both easy to work with and open to suggestions for improvements to the menu.
Lecture themes for the 2012 session will be:
Week 1 (doctrinal theme): "The "Memorable Relations and How They Speak to Daily Life" covering the inter-chapter material in Swedenborg's Heavenly Secrets describing his experiences in Heaven.
Week 2 (Biblical theme): "Descent of the Holy City" focusing on the Book of Revelations.
Fuller descriptions are on the Lecture Themes page.
We are very pleased to have accepted a proposal by the Rev. Dr. F. Gardiner Perry to lead the Opening Weekend Program this year. The program is titled "Spiritually Integrated Self-Care For Those Who Care For And About Others". From Rev. Perry's description: "Participants in this workshop will integrate their own unique spirituality into a self-care plan to enhance their capacity to care for others and to optimize their own well-being." For more info, go to the Opening Weekend Program page.
On a suggestion from more than one camper, the SSC has chosen Wilson Van Dusen's Uses: A Way of Personal and Spiritual Growth for this year's Afternoon Book Club book. This delightful little booklet "explores practical usefulness and service as a powerful mode of spiritual practice and growth. It is a way of spiritual growth that can be practiced by all --- even those who feel they are useless. Readable, practical, and perceptive, Uses is a long-time favorite among readers of Van Dusen." More info is on the Afternoon Book Club page.
The committee also spent time discussing last year's camp survey. There was a 42% response rate (down from last year's 52%), with several interesting stats and lots of useful comments. Due to campers' responses, among other things, we will: beef up (pun intended) the vegetarian entrees and the salad bar this year, establish a midnight noise cut-off time for parties in Frank Hall, plan the Sales Table Auction and (if there's interest) the Old Lady Canoe Trip for earlier in the week, continue to have special evening activities frequently both weeks, have morning Sing Along lead directly into pre-chapel music without a break in between, and be more pro-active about requiring lecturers to stick to the 40-minute presentation time.
Speaking of lecturers, we also learned from the survey results that although everyone doesn't like all the lecturers (surprise, surprise), all of the lecturers are someone's favorite. We are very glad to learn that due to the wide variety of lecturers and lecture styles, our lecture program is working very well for nearly all the people nearly all the time. We've always thought the FNCA has an excellent lecture program, and now we have concrete confirmation of that fact.
And finally, due to the fact that this is his first year in the position, our new camp director, Jason Greenwood, is requesting that anyone who wants a job at camp this summer --- especially the regulars, since he doesn't really know who you all are --- contact him as soon as possible if you'd like to work again this summer.
________________________________________________
Anytown EARTH — March 1, 2012
Online Registration Is Now Open!
Your FNCA Summer Session Committee decided to open online registration for camp despite the fact that the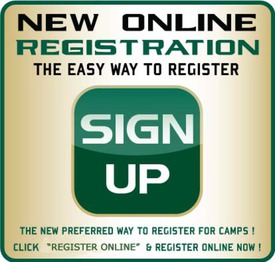 bulletin isn't out yet. In the past, registration opened whenever the bulletin was mailed out, however now that we have online registration, the SSC couldn't come up with any good reason to wait.
Although those who prefer to register by mail will have to wait for the bulletin to arrive in their mailbox, anyone who prefers to REGISTER ONLINE can now do so.
_________________________________________________
All Over the World — April 10, 2012
The FNCA Bulletin is in the Mail
For those of you who opted to receive it by mail, the brand-new 2012 FNCA Bulletin should show up in your mailbox very, very soon!
Bulletin senior editor Beki Greenwood once again did an excellent job: this one looks as good as all the others she's done. She successfully juggled several sections around a bit for efficiency and clarity. Full color photos are artfully arranged throughout, giving life to the text. The standard features have all been thoroughly edited and updated. The new material is enjoyable and informative. Not to mention the aerial photography.
_________________________________________________
Fryeburg ME — May 31, 2012
A Very Successful FNCA Work Weekend!
The Buildings & Grounds Committee gathered about 30 people ages 1-70+ at the Assembly grounds over Memorial Day weekend for FNCA Work Weekend 2012: a 3-day gathering of volunteers to help take care of some of the maintenance and upkeep of the facilities.
Thanks to this hard-working group of volunteers under the supervision of Dave Richardson (assisted by Nancy Little and Beki Greenwood), a very wide variety of projects were completed including: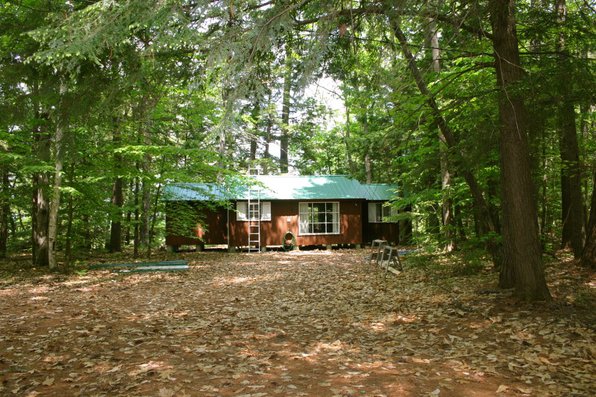 © Nancy F. Little 2012
• a new roof on the Perry Cabin (Ben, Troy, & Ross Grams)
• tree work between the lawn and the river opening up the view from the front lawn as well as around the Twitchell and Perry Cabins (Ian Woofenden, Ben Grams, E.H. Roy, Jason Woofenden)
• branch & brush clearing opening up the view towards the river from several of the cabins in the woods (Gard Perry, Dave Keating, Jason Woofenden, Colgate Searle III)

© Beki Greenwood 2012• brush removal (Nina Sasser, Rachel Madjerac, Abbie Reed, Alex Dyer)
• a new door and door frame on the Laird Cabin (Colgate & Colgate Searle, Troy Grams)
• a wide variety of plumbing repairs (Herb Ziegler, Jon Crowe, Jason Woofenden)
• cabin roof sweeping and gutter cleaning (Nina Sasser, Rachel Madjerac)
• Main Building roof cleaning (Ross Grams)
• wood splitting (Dave Richardson, Dave Keating, Colgate Searle III)
• cabin cleaning (Deane & Susannah Currie, Merrilee Phinney)
• wood stacking (teens from the concurrent Swedenborgian Church Youth League retreat)
• finish work on the new wall in the Cook's Quarters (Colgate & Colgate Searle)
• window & curtain inventory of the entire camp (Miriam Lexie, Emily Woofenden)
• cabin furniture arranging and crib building (Alex Dyer)
• Goddard Annex playroom cleaning (Dawn Crowe)
• Goddard Annex play yard clean up (Jon Crowe, Deane Currie)
• Main Building and Girls Dorm cleaning (Merrilee Phinney)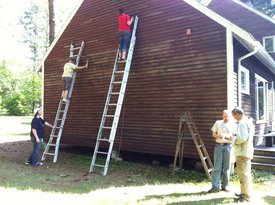 © Nancy F. Little 2012• window glass replacement (Herb Ziegler)
• staining the large outside end wall of Whitehead Hall (Emily Woofenden, Miriam Lexie, Ross Grams, Dawn & Jon Crowe, Jason Greenwood, Alex Dyer)
• video work (Jason Greenwood, Alex Dyer)
• Camp Director prep work (Jason Greenwood)
• dump runs (Dave Richardson)
• cabin cleaning and closing up (Dave & Martha Richardson, Alex Dyer, Beki & Jason Greenwood, Dawn & Jon Crowe).
The food was done a little differently this year. This included:
• meal plans (Nancy Little, Beki Greenwood)
• grocery shopping (Nancy Little, Beki Greenwood, Merrilee Phinney, Emily Woofenden)
• meal prep (Nancy Little, Beki Greenwood, Dawn Crowe, Merrilee Phinney, Miriam Lexie, Abbie Reed, Jason Greenwood, Troy Grams)
• and after meals, lots of people pitched in to help do the dishes as well as the kitchen and dining hall clean up.
Special thanks to Laura & Harold Grams at Flying Pond Farm for their donation of 11 dozen eggs, salad greens, and homemade cheese.
There was a healthy contingent of kids in attendance, and although they didn't do much work, they played well together the entire Work Weekend. It's great that they are welcome and, coincidently, gets them in the habit of attending Work Weekend from a young age. Get 'em when they're young!
You may have noted above that there were teens from the Swedenborgian Church Youth League at the Assembly during Work Weekend. SCYL has been holding its annual Memorial Day retreat at the FNCA for quite a few years now. It should be noted that it works out quite well having two separate groups (nearly 50 people this year) using the grounds at the same time. Convention Youth Director, Kurt Fekete, said this was one of the best retreat weekends they've ever had.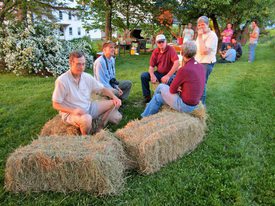 © Nancy F. Little 2012The Saturday evening barbecue at the Richardson's farm was appreciated by all. The food was good, the company convivial, the hosts delightful, the location terrific, the conversations lively, the weather just about perfect, the sunset absolutely fabulous, and lots of barn cats were seen.
It's great to have so many Work Weekend regulars back again this year. The 2012 newcomers are very much appreciated as well. (Welcome aboard!) So a big THANK YOU to everyone who helped make FNCA Work Weekend 2012 so successful. We couldn't do it without you!
[FNCA NEWS! 2011] [FNCA NEWS! 2013]
[most recent FNCA NEWS! article]
[FNCA NEWS! Archives]