Old Articles, Newletters, and Other Paper Ephemera
NEW items on this page in recent months:
Title or Theme Year Posted
"Nancy Perry Giving Steve..." 1959 5/27
1983

From the a 1983 issue of Clear Blue Sky: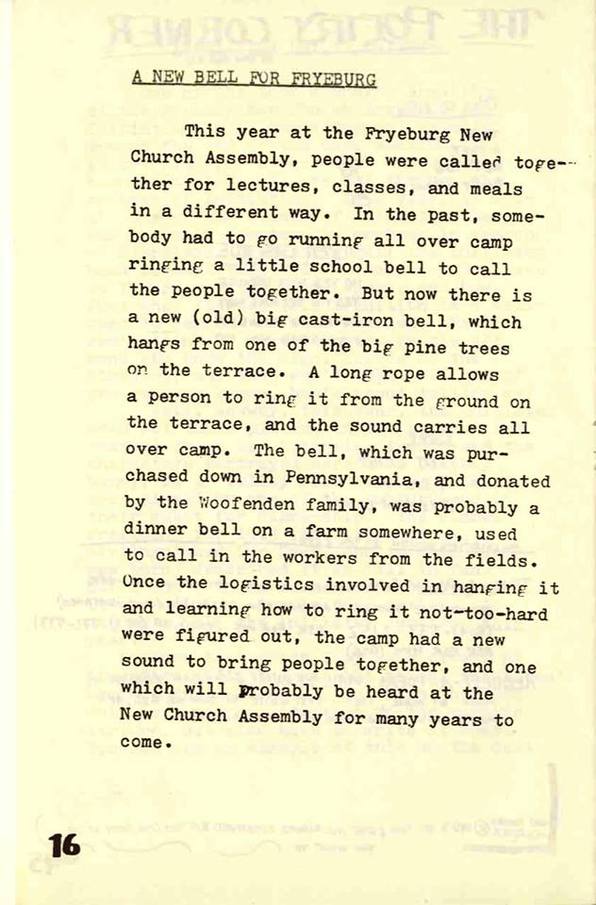 © FNCA 1983
written by Ernie Haskell
From the September issue of The Messenger:
REPORT FROM FRYEBURG ASSEMBLY
Our three-weeks' session was a success, as usual. The pleasure of meeting together with many old friends and welcoming new ones is always a high light of the Assembly.
© General Convention 1966 As in the past years, the lectures given by Reverend Everett K. Bray, Reverend Dr. George Dole, Reverend W. R. Woofenden and Reverend Harold Larsen were both inspiring and instructive. Edward C. Hinckley, Comissioner of Indian Affairs for the State of Maine, gave a most interesting talk on his work with American Indians and pointed out the need for changing our technique: Instead of telling them what they need we should find out from them what they need and how we can help them. Two talks by Reverend Ernest Martin, pastor of the National Church in Washington, D.C., and two by Dr. Walter L. Whitehead, Professor Emeritus of M.I.T., were included in the regular lecture program.
Don Foster, former Peace Corps member, who has been working with The Community Development Foundation in Mexico and the Dominican Republic, gave several talks on his work and showed slides. Harold Larsen provided many evenings with movies of foreign countries, as well as The Wayfarerer's Chapel movie which was used at the World's Fair. Bill Woofenden and Dot Farnham showed slides of the Convention at Urbana. President Tafel and his wife visited us one afternoon, together with Vice-President Poole and on the last week-end some ten members of the Oriental Society visited with us. Mr. and Mrs. David Mack also spent an afternoon at the Assembly.
Each of the three Sundays was a gala day because so many within driving distance attended the morning services in the Fryeburg New Church and came to dinner with us, bringing our number up to nearly a hundred. On two of those Sundays baptisms took place. One was the infant daughter of Reverend and Mrs. Theodore Foster, and the second was the infant daughter of Major and Mrs. Stewart S. Perry.
Our financial picture has been reviewed and we have decided to raise our rates for next year because of increase in costs. Over $300.00 was raised to help defray the interest on the mortgage of the new Dole Wing; and the Sales Table cleared $190.00, an all-time high. The Women's Auxiliary is indeed grateful to all the many friends who sent us donations and made this possible. Already we have many reservations for next year, so if you are planning to join us write well in advance for reservations. Send them to Mrs. George F. Dole, 77 Otis St, Newtonville, Massachusetts 02160.
Ernest Haskell, Jr.
1959
"Nancy Perry Giving Steve Perry a Haircut"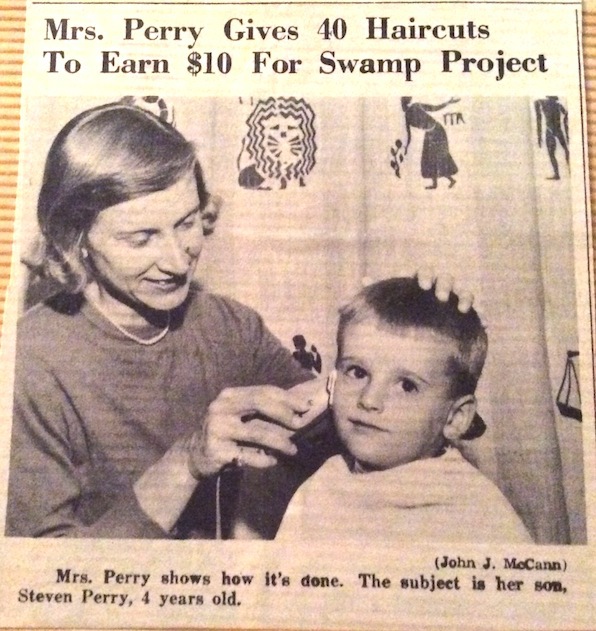 © John J. McCann 1959
We have absolutely no other info about this newspaper photo, other than that we found it in our files. Nancy Perry, along with her husband Fred, built the Perry Cabin in 1976 when Steve was 22 years old.
written by Louise Dole Woofenden
A newsletter mailed to members: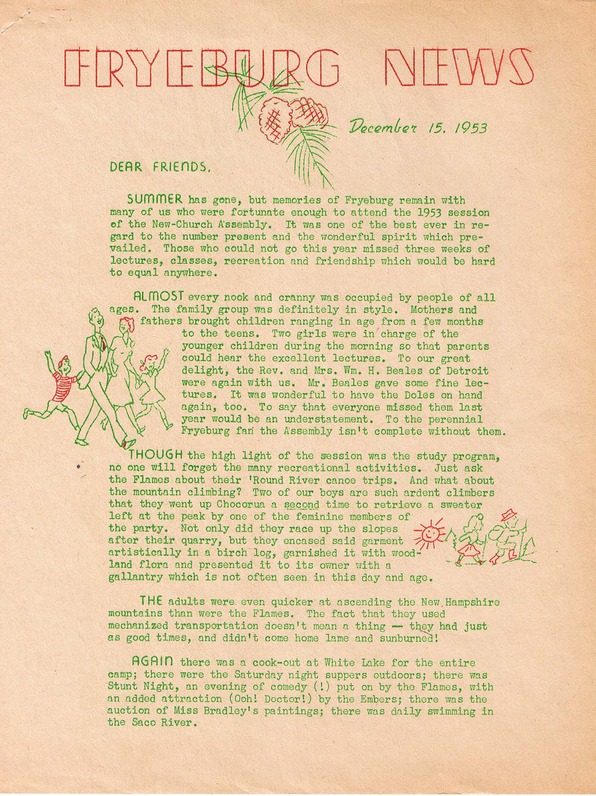 © Lousie Dole Woofenden 1953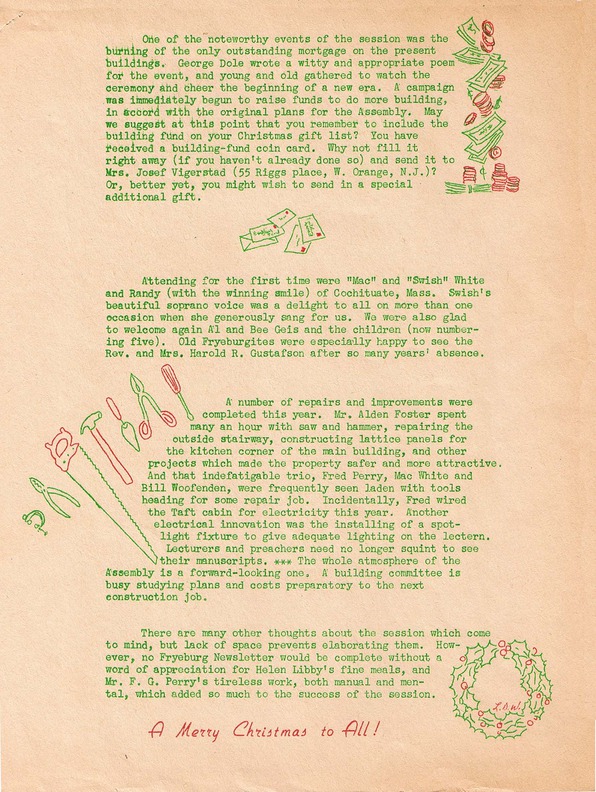 © Lousie Dole Woofenden 1953
1941
"The Embers Song"
by Mrs. Charles H. Kuenzli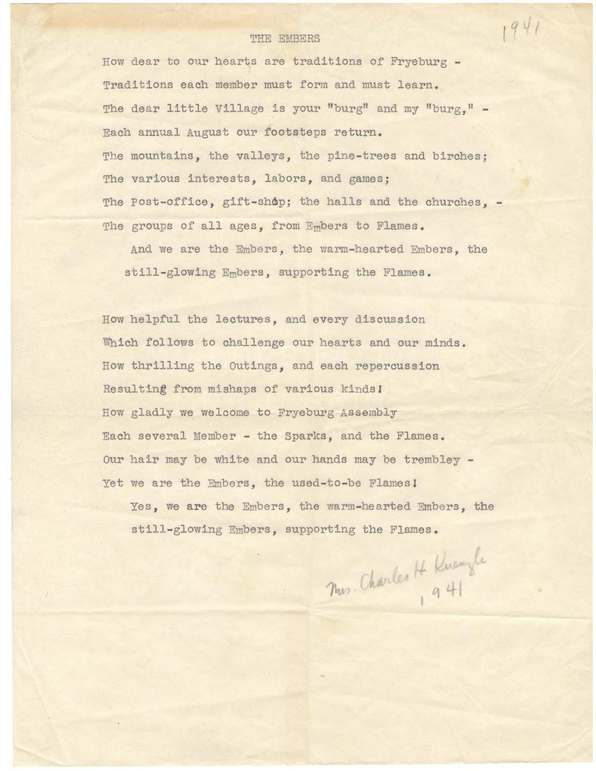 © Mrs. Charles H. Kuenzli 1941
This parody was based on a very popular song of the day called The Old Oaken Bucket. The lyrics are from Samuel Woodworth's poem The Old Oaken Bucket, which begins with the line: "How dear to this heart are the scenes of my childhood". See the full poem here. And one version of the song here.
Please note that at this point in the FNCA's history, the Flames were still the young adults in their 20's and, 30's, and the Embers were all the adults older than that, so this song (most likely performed during the then annual Stunt Night) was the older adults singing to the younger adults.
Mrs. Kuenzli was very active at the Assembly, serving as chair of the Women's Auxiliary for many years among other things. Her husband, Charles, became the second FNCA president in 1940.