"Reflections"
Looking back on
FNCA 2019

by Trevor
The Opening Weekend Program got rave reviews from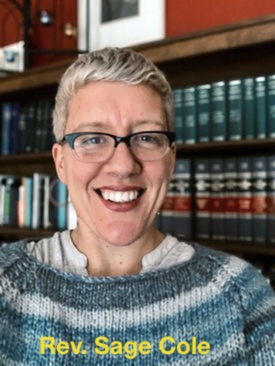 pretty much everyone this year, with a new format and a fascinating subject: The Spiritual Legacy of Helen Keller. The presenter was Rev. Sage Cole, pastor and director of the Swedenborg Chapel in Cambridge MA, and vision caster for the planned Helen Keller Spiritual Life Center there.
First, on Opening Saturday afternoon, Whitehead Lecture Hall was packed with campers, members of the Fryeburg New Church, and several people from beyond our church circle for a public lecture by Rev. Cole on "The Radical Helen Keller: Deaf-Blind, Feminist, Socialist, Swedenborgian".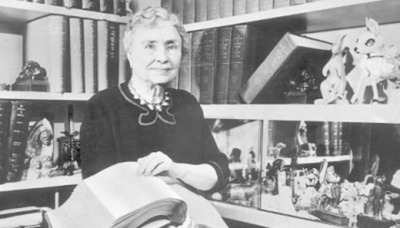 The lecture was streamed live on Facebook and as of this writing is in the Top 10 of all our videos on Facebook with a whopping 241 views!
Second, Rev. Cole led a workshop on "Disability, Diversity, and the Divine Human" to a purposely limited group of 15 people who had signed up for this workshop in advance. The workshop explored the connections between Helen Keller's Swedenborgian faith and the work of Disability Theologians today.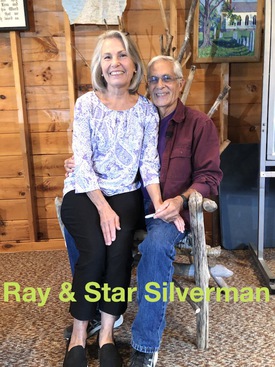 © Rev. Susannah Currie 2019Also very popular was this year's Rev. Everett K. Bray Visiting Lecturer: Rev. Dr. Ray Silverman, Associate Professor of Religion and English at Bryn Athyn College in Bryn Athyn PA and co-author/presenter with his wife, Star Silverman, of the Rise Above It spiritual development seminars and books. We were delighted to have Rev. Silverman's cheerful presence and stimulating lectures, including a special introductory lecture to Rise Above It on Saturday evening. We were also thrilled to have the shining presence of Star Silverman with us this year.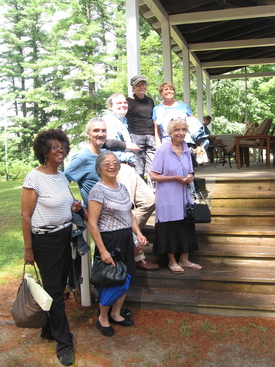 © Trevor 2019Speaking of visitors, many people were absolutely delighted by a (somewhat) surprise day visit by a contingent of 7 parishioners from the Church on the Hill (Swedenborgian) in Boston MA led by their minister, the Rev. Kevin Baxter. "The Boston Contingent" arrived in time to take in 2nd lecture, Adult Discussion Group, lunch, rest hour, and to get rained out on a planned canoe trip on the Saco River. One of them wrote a very nice article about their visit for their church's monthly newsletter.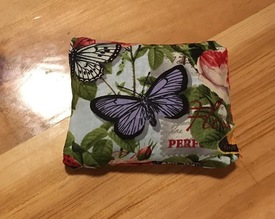 © Jesse White 2019One of the most talked about Afternoon and Evening Activities was the Balsam Pillow Making workshop led by Jesse White and Lois McCurdy on Monday of First Week in which some Sparks, Flames, and Bonfires all got to create their very own sweet-smelling little pillow.
One major difference at camp this year that was not very well received, however, was the loss of our line of trees and bushes that shielded the camp from Route 302. As part of a project by the Maine DOT, the work began this past Spring on raising and widening Route 302 from the State Line and along the southeast edge of our property and beyond to the center of town. In order to do this, they took a thin strip of land by eminent domain that runs along the edge of the road the full length of the Assembly. The project necessitated the removal of the narrow line of trees between the road and the back field, leaving the back of the Main Building suddenly in open view from the road.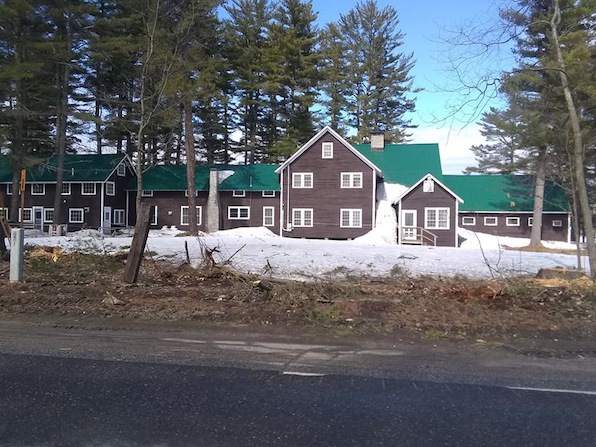 © Greg Huang-Dale 2019
The Assembly put in a temporary snow fence for the time being. However, the current plan by the Board of Directors, once the road work is finished, is to put in a permanent high board fence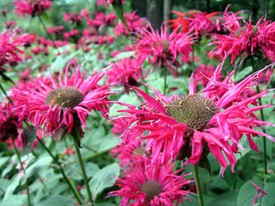 © Nancy F. Little 2009all the way along the back field with a 12' wide garden border behind it on the Assembly side. It is to be called Lalla's Memorial Garden, in honor of Cecilia "Lalla" Searle, who spearheaded the planting of the many flowering shrubs and flowers that now adorn the Assembly grounds. This will cost us roughly $25,000, of which over $9,000 has been raised so far. We urge you to contribute to Lalla's Memorial Garden Fund today so we can move ahead with this much-needed project as soon as possible.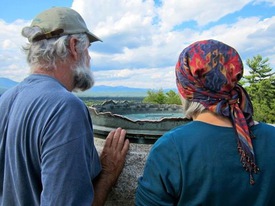 © Nancy F. Little 2013One evening First Week, we were treated to a wonderful slide show and travelog by Tina & Willis Wood of their recent trip to Catalonia. There was much oooohing and ahhhhing at the amazing scenery, colorful local costumes, and fascinating regional architecture.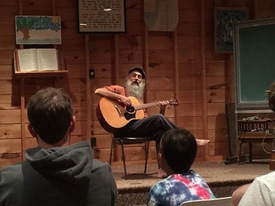 © Ros Taylor 2019We had a multi-faceted, eclectic, and ultimately entertaining roster for our (somewhat) annual Stunt Night on Friday of Second Week that included more than a dozen campers offering live entertainment to a rousing audience in Whitehead Hall.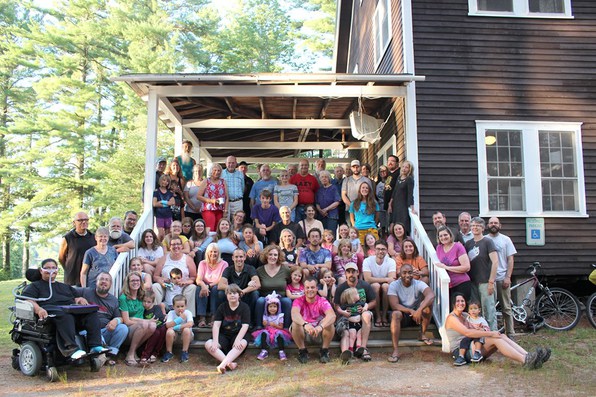 © Beki Greenwood 2019

["Reflections" 2018] ["Reflections" 2020]