"Reflections"
Looking back on
FNCA 2006
by Trevor
What stood out for me the most this past summer was the spirit of cooperation, friendliness, and welcoming spilling out of everyone. Every day, people were helping out in lots of friendly and loving ways:
• Colgate Searle helping Sparks build wooden boats.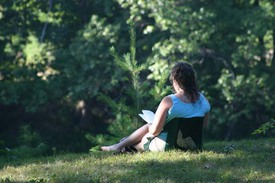 © Beki Greenwood 2006• Nancy Little digging a old pillowcase out of the linen closet for sails.
• Bob & Geraldine Perry assembling the new deck chairs donated by Bob's sister Amy Blackman.
• Ken Turley toting the microphone around the lecture hall during lectures.
• Debbie Cook and Lee Woofenden canoeing families with young children as well as non-swimmers across the river.
• Sparks and Flames hiding bananas for the Banana Hunt.
• Lois Dole doing loads and loads of camp laundry.
• Josh Cook raising the flag in the morning.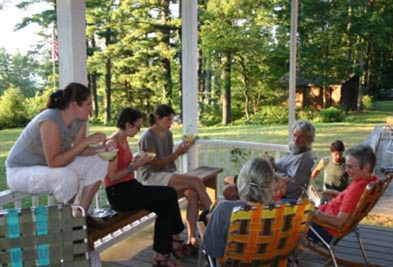 © Beki Greenwood 2006• Elise Richardson helping lower it at night.
• Dave Keating making coffee and ringing the rising bell each morning, as well as running the recycling program.
• The Bonfires giving the Flames a night off in the kitchen.
• Barb Perry running camp errands.
• Roy Tromblay's (bless his soul) delightful graces at meals when a minister wasn't available.
• Cecilia Searle, Tina Wood, and Gloria Costello running the Sales Table.
• Dan Dyer being the auctioneer at the Sales Table Auction.
• Liz Dyer being his assistant.
• Rev. Susannah Currie giving a presentation about the newly discovered Tiffany angel windows.

© Jon Cousins 2006• Josh Grams, Tobin Grams, and Jason Woofenden re-working our waterfront.
• Kirsten Cronlund and Wendy Little beautifying the children's playroom in the Goddard Annex.
• Rev. Gard Perry clearing brush.
• All the Sparks working together to pull a ton of wood out from under the Main Building, sorting it by size, and stacking it back underneath in an easily accessible way.
• And LOTS more that I've forgetten, didn't experience personally, or that happened behind the scenes.
YAY!
My all-time favorite from 2006, though, is this little tidbit: Every so often when camp director Debbie Cook asked at meals if there were any other announcements, Deane Currie would stand up and say very simply, "The consistency of the cream of wheat is particularly delightful this morning," and then sit back down. Or, "The flavor of the strawberries in the strawberry shortcake is just scrumptious." Or, "The ripeness of the tomatoes in the salad bar today is outstanding."
Yum!
Your unique presence in 2007 would certainly enhance the FNCA, too, so please join our happy, spiritual family next August. Everyone will be glad you did!
["Reflections" 2005] ["Reflections" 2007]