[Cabin and Addition Donors and Namesakes]

F. Gardiner Perry, Sr.*
(1885-1967)
donors of
built in 1968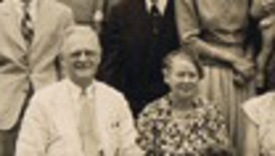 F. Gardiner & Helen Perry
Birth and Early Life
Frederick Gardiner Perry, Sr. was born in Dorchester MA in 1885, the second son of F. Gardiner & Annie (Moseley) Perry. The elder F. Gardiner died of tuberculosis two years later leaving Annie to provide for herself and her two young sons. She trained for and founded the Perry Normal School — a private school that trained teacher for nursery, kindergarten, and primary levels — which became part of Curry College in 1974.
Helen Whitehead was born in Pittsburg PA in 1883, the second of five children of Rev. John & Mary (Aitken) Whitehead. The family moved from Pittsburg, where Rev. Whitehead was pastor of the Pittsburg New Church, to Urbana OH where he served both as president of Urbana College (now Urbana University) and as the pastor of the Urbana New Church. In 1900, Rev. Whitehead was called to serve the Detroit Society of the New Church and as director of the Almont Summer School (now Almont New Church Assembly). Helen and her siblings reportedly spent many happy three-week summer sessions at Almont. In 1907, the family moved to Arlington MA so that the Whitehead children could attend the Waltham New-Church School. F. Gardiner Perry was also attending the Waltham School at that time, so this is where they met.
Careers
F. Gardiner Perry, Sr. served active duty in World War I, earned a degree in electrical engineering from MIT, and then worked a long career as a financial officer for Roger Babson, founder of the Babson Institite for Business. Concurrently, he also maintained an office at the Perry Normal School where he served as president.
His article "F. G. Perry of Babson Statistical Organization on Outlook for Commodity Prices — General Downward Level Expected" was in the October 20, 1928 issue of The Commercial & Financial Chronicle.
He co-authored an article in the March 1930 issue of the Journal of the American Statistical Association titled "The 'Ideal' Formula for 'General Purpose' Index Numbers".
Marriage and Family
The Perrys lived on Brooks St. in Wellesley MA where they raised three children, Annie (Haskell), Fredrick G., and John. (As adults, Annie brought her family to the Assembly throughout the 1950s and 1960s, Fred was chair of the Buildings & Grounds Committee for decades, John was on the B&G Committee as well and later served as FNCA President from 2003-2008 (John's obituary).)
The Perrys and the Church
F. Gardiner & Helen Perry were long-time members of the Boston Society of the New Jerusalem, and later of the Cambridge Chapel (now Cambridge Swedenborgian Church). While at the Boston Church, F. Gardiner Perry served as Superintendent (presumably of the Sunday School).
F. Gardiner Perry served for many years as the Executive Secretary of the General Convention of Swedenborgian Churches. He was also a Life Member of the Swedenborg Foundation.
The Perrys at the FNCA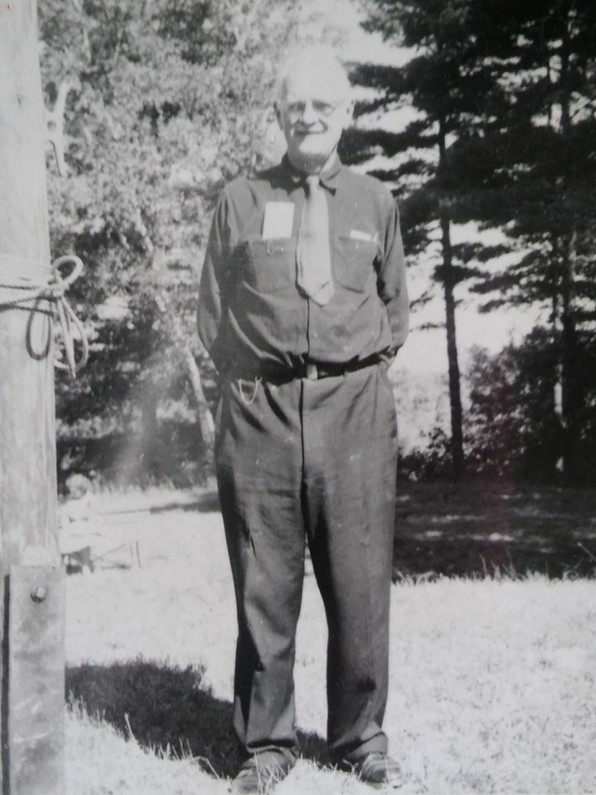 © FNCA 1956
F. Gardiner Perry standing beside the old flagpole in 1956

F. Gardiner Perry served as Camp President from 1947-1964, during which time he was in charge of opening and closing the camp, was camp director, and oversaw the lecture program, among other presidential duties.
Death
F. Gardiner & Helen Perry both died in 1967 within 3 months of each other.

Special THANKS for help with the research on this page to:
F. Gardiner Perry III, grandson of F. Gardiner Perry Sr., who wrote the bulk of this bio.
Thanks also to Earl Taylor of the Dorchester Historical Society for additional information.


* To quote F. Gardiner Perry III:
"My grandfather's father — who was named Frederick Gardiner Perry — died when my grandpa (F. Gardiner Perry) was two years old. For reasons I do not know, my grandfather took the Senior designation at some point, going by F. Gardiner Perry, Sr. in his adult life. My father always went by Frederick G. Perry, Jr., and I have always gone by F. Gardiner Perry III — as indicated on my birth certificate. I mention this... to alert you to the odd fact that my grandfather went by Sr. rather than Jr."