"Reflections"
Looking back on
FNCA 1996
by Trevor
The 1996 FNCA session was packed both literally and figuratively. Usually we have one week of fairly high attendance and the other is a bit less, but this year both weeks were full to the rafters! The only place for more people was in the woods! Tent sites, that is. Not only were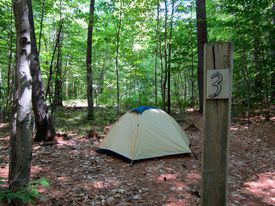 © Nancy F Little 2011there more kids and teens, but we had a lot of former campers who haven't been here for a decade or two returning as adults.
And speaking of returning after a decade: last year we restarted the old tradition of table service in the dining hall. No more waiting in line every meal. The Flames have taken on the waiter/waitress duties in exchange for reduced rates; so, adults and kids can enter the dining hall, say grace together, and then everyone eat at the same time. Special thanks to FNCA president Ellen Morin and the Flames for all the hard work re-instituting this tradition.
And speaking of dining hall traditions: as long as we can remember, attention was called for at announcement time by ringing a small bell. Ellen widened that tradition by bringing in a wide assortment of noisemakers to bring us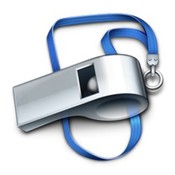 to order, including a coach's whistle, African whistle (Ellen's favorite), windpipes, party blowers, and more! It was a small pleasure to discover what wild sound would grab our attention and bring us to silence each meal.
And speaking of quiet: loads and loads and loads of appreciation was heard from campers of all ages for the newly-enforced Truly Quiet Hour. With our Camp Enforcer insisting on quiet (and I mean silence) from kids as well as adults, sleepy people of all ages were able to get that little nap that makes all the difference. And as an extra added bonus, it was also pretty quiet around the camp at bedtime, too.
And speaking of a big difference: both the cooks and the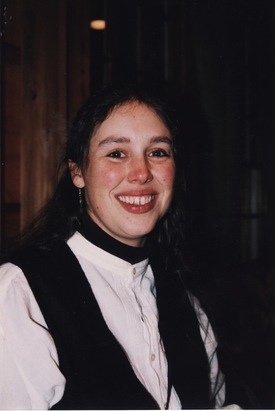 © FNCA 1996dish crew were very pleased with all the renovations in the kitchen. Special thanks to the Trustees for everything! Happy cooks make good food!
And speaking of making good: three cheers for our new FNCA president Ellen Morin! [photo at right ------------->] By all accounts, she did a great job. And by her own account, "I survived."
And speaking of great jobs: our schedule was packed with lots of wonderful special programs led by various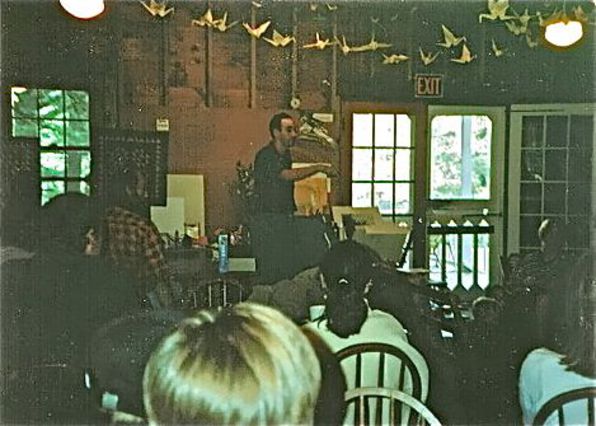 © FNCA 1996

attendees.

[That's Evan Palazzo as Sales Table Auction auctioneer in the photo above.]

I can't remember them all, but three immediately spring to mind: Rev. Ken & Laurie Turley's great music program complete with sing-a-long, the Famous Swedenborgians series led by camp historian Louise Woofenden, and Richard Cook's wonderful slide show of New Church and related art.

And speaking of packed: We hope you'll join us next summer for another terrific camp session!

["Reflections" 1995] ["Reflections" 1997]