"Reflections"
Looking back on
FNCA 1997
by Trevor
1997 at the Assembly was a year of change and renewal, trimming back and growth, toning down and tuning up. Let's look back on a few details for you to reflect on as you think about coming to camp this August.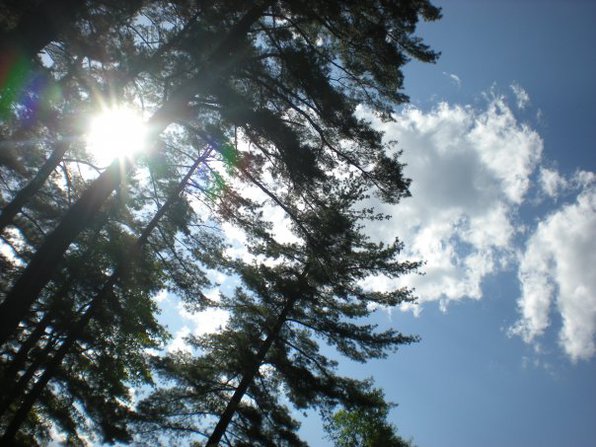 © Cassie Young 2009
The first thing many returnees noticed upon arrival was how much more open and sunny the place is. The Trustees, caretakers of our facilities, had to take out a lot of trees for our new septic system. And while they were at it, they also took down many older trees that were in danger of coming down on our buildings during winter storms. Plus, they had trees around the grounds "limbed" (that is, lower limbs cut off). Even the historic pine on the front terrace had to go.
The end result is that LOTS more sunlight gets through. Louise Woofenden, who has been attending since the very earliest session, was overheard saying, "Wow! It's just like when I was a kid!" And several local attendees heard from their friends and neighbors who could now actually see the place from the road that they never even knew our beloved camp was there! So our new septic system brought with it more sunlight, renewed memories, increased community awareness, and no doubt much more.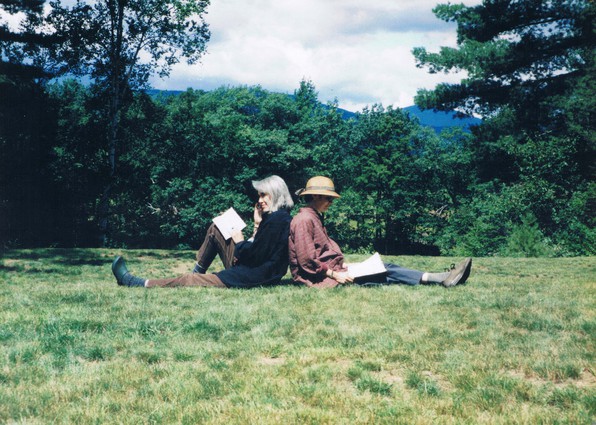 © Shannon Costello 1997
Another highlight of FNCA '97 was the very noticeable presence of many different forms of creative art. A multi-generational group of musicians, spearheaded by a few Flames, regularly met in the lecture hall, playing both improvisational jams as well as original and popular songs. Debbie Cook's religion class spent many days working on very impressive scale models of the Tabernacle with loads of details and all the accessories. Ooo's and ahhh's were heard on a daily basis as we saw them progress from start to finish. Many beautiful handmade items were available on the Sales Table. And lots of art from children's classes and from professional artists was on display throughout the Main Building.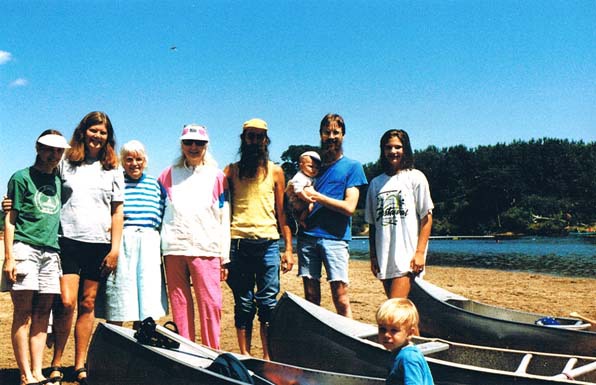 © Alex Pedicone 1997
Were were blessed in '97 with the return of several people we haven't seen in many years: Dan & Lee Dyer (finally) moved back to the area after many years in Missouri. We promptly elected them both to office! We were also delighted with the return of Dan Sullivan and Joyce Dobbins-Segall. (And please forgive me if I've overlooked someone.)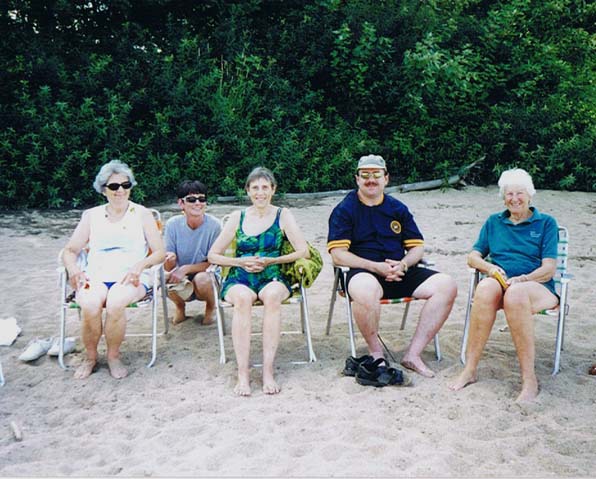 © Nancy F. Little 2001
And one final change and renewal, trimming back and growth, toning down and tuning up for you to reflect on is the Flames "low impact" Initiation. The concept of hazing is disappearing fast so only the fun and innovative parts are being retained. Especially appreciated was the new symbol on the initiates foreheads during Initiation Day. In the olden days, they wore a red minus sign to show that the were "less than nothing" that was easily transformed into the Flames "F" at the traditional evening Initiation ceremony. The new symbol was an arrangement of sparks (to show that they still were Sparks) which was ingeniously transformed into the Flames "F" at the ceremony.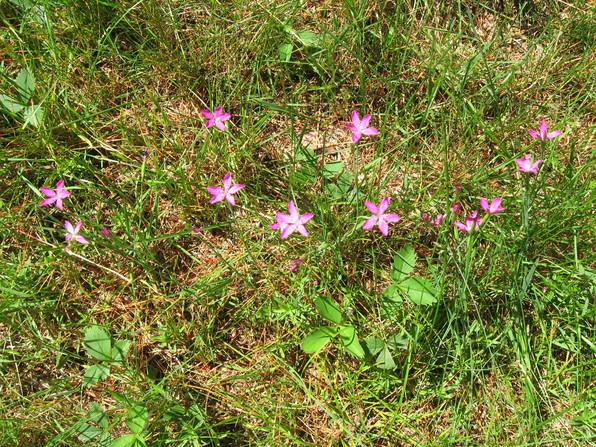 © Trevor 2015
So those were just a few wonderful and inspiring reflections on our 1997 session. Please join us this summer and add to our and your storehouse of fond memories!
["Reflections" 1996] ["Reflections" 1998]