[Cabin and Addition Donors and Namesakes]

NOTE:
This page is a work in progress.

Rev. Louis A. Dole
(1885-1964)
&
Anita S. Dole
(1889-1973)
namesakes of
built in 1964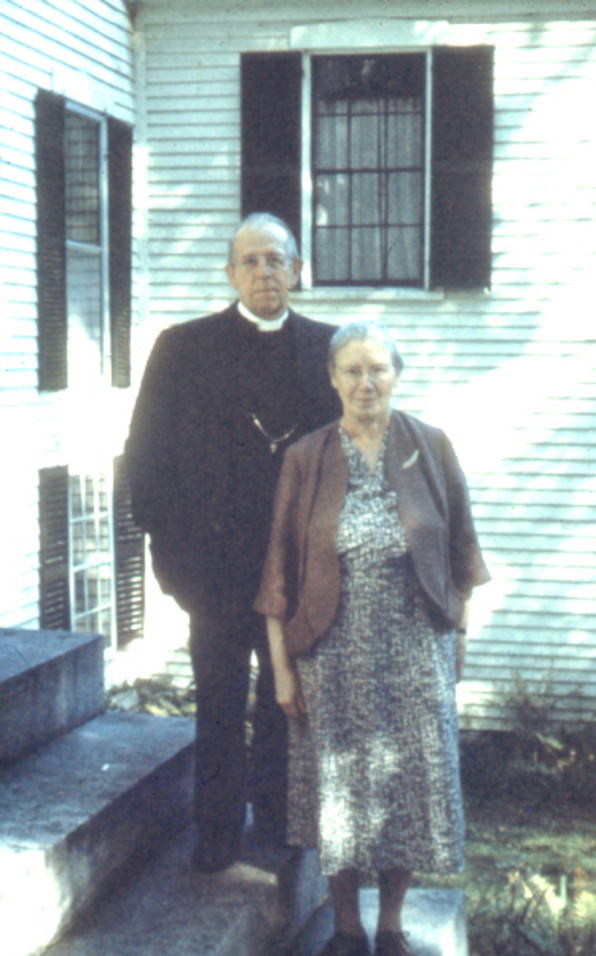 © FNCA 2011
Louie & Anita on the steps of the parsonage in Bath ME.
Anita Sturges Dole
[NOTE: The following is taken nearly verbatum from the brief biography of Anita at the back of volume 6 of Anita's crowning work, The Bible Study Notes.]
Early life
Anita Sturges was born March 18, 1889 in Chicago IL to James Dwight & Anna Gertrude Cary Sturges. She received her education in the Chicago public schools. She attended an Episcopal Sunday School, and was confirmed in that faith in 1902. She received the A.B. degree from the University of Chicago in 1908, having been elected to Phi Beta Kappa the previous year on the basis of her academic achievement.
After graduation, she was first employed as a cataloguer in the University of Chicago Library (1908-1910), then as a secretary to Prof. William I. Thomas, next as a Research Assistant in the Chicago School of Civics and Philanthropy (1912-1914), then as Assistant Manager of a small publishing company (1914-1917).
During this period she studied voice with Herman De Vries of the Chicago Opera Company, but in February of 1917 was persuaded by her sister Alice to accept an unexpected teaching postition vacancy at a New Church high school and junior college in Urbana OH.
That summer, she went with her sister to the New Church Assembly in Almont MI where she her the Rev. Dr. King give a lecture in which he traced the correspondence fo the ass in the Bible. At the end of the talk, she was so convinced of the truth of the doctrine of the New Church that she was confirmed into the church there in Michigan in August 1917.
That Fall, she gave up her promising career in music and devoted herself to teaching the New Church doctrine and to the work of the church.
She also loved to tell how, before she went to Almont, she had audited a course in philosophy given at Urbana by its principal, Rev. Louis A. Dole, of how she had been most strongly attracted to him, and how Rev. Dole had apparently taken no notice of her at all. However, when she returned from Almont a confirmed and enthusiastic member of the New Church, Rev. Dole lost no time in becoming better acquainted with teh enw teacher on his staff. They were married on New Church Day — June 19, 1919.
...
Anita died April 7, 1973, in Edmonton ALB, soon after her 84th birthday.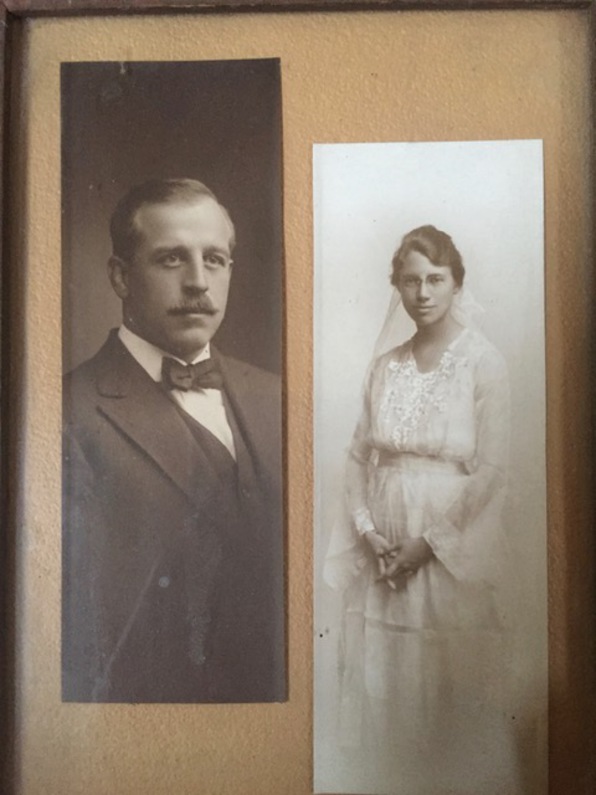 © June 19, 1919
Louis
[NOTE: Some of the following was taken primarily from Louis' obituary in the Bath Daily Times 2/17/64.]
Louis Alexander Dole and his twin brother George S. Dole were born January 30, 1885, in Ypsilanti MI to Rev. George Henry and Louise Stuart Dole.
He graduated from Bath High School in 1902, received his bachelor's degree from Yale University in 1906, and his master's from Yale in 1907.
In 1908, he was amateur National Special Weight champion in wrestling.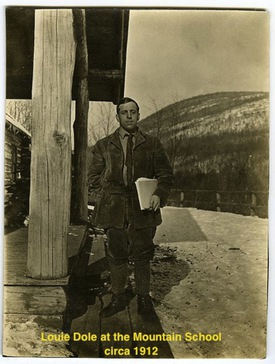 © unknown 1912He taught at Suffield Academy is Suffield CT, the Mountain School in Albany NY, and the Hill School in Pottstown PA before preparing for the ministry. He entered the New Church Theological School in Cambridge MA in 1914 and, as a student, taught Greek and church history there.
He began his ministry at the Urbana Society of the New Church in Urbana OH, where he also taught philosophy for four years at Urbana Junior College, serving his last two year there as principal of the school.
Soon after their marriage, on New Church Day — June 19, 1919, Louie & Anita moved to Fryeburg ME in the Fall of 1920, where Louie served the Fryeburg New Church for 17 years. They moved to Bath ME in 1937 when accepted a call to the Bath New Church where he served until his death in 1964.
He was a past president of both the Maine Association of the Church of the New Jerusalem and the Bath ministerial Association.
During World War II, he served as chairman of the Bath chapter of the American Red Cross, a member of the Rehabilitation Panel of Selective Service, and Chaplain to the 3rd Battalion of the Maine State Guard.
Louie died February 15, 1964, in Bath ME, at the age of 79.