[Cabin and Addition Donors and Namesakes]

Dr. Charles H. Taft
(1855-1938)
(1859-1940)

donors of
built in 1948
in honor of
Miss Emily Taft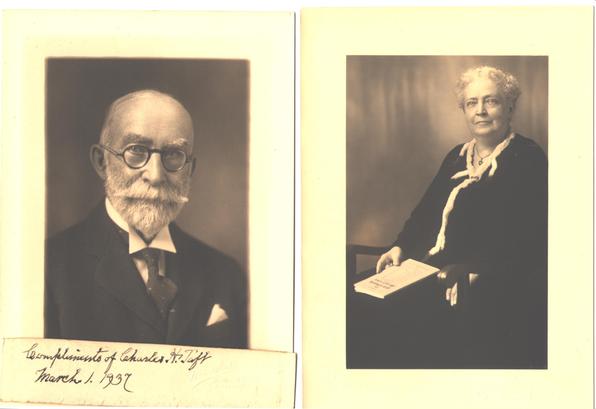 Dr. Charles & Emily Taft


Birth
Charles Hutchins Taft was born in Boston MA in September 1855 to Charles Preston & Mary Lund Hutchins Taft.
Emily Hinckley was born in January 1859 in Baltimore MD to Charles & Augusta Hinckley.

Dr. Charles H. Taft, D.M.D
Charles Taft was born in Boston but grew up in Cambridge MA, graduating from Cambridge High and Latin School (presumably at age 18 in 1871).
In 1877, he enrolled in Harvard College (now University). He participated in "track athletics" there, and received his B.A. from Harvard in 1881. Charles immediately entered Harvard Dental School, receiving his D.M.D. in 1886.
Upon graduation, Dr. Taft opened a dental practice in Cambridge. It is worthy of note that Dr. Taft used homeopathy in his dental practice — some histories cite him as a "homeopathic dental surgeon" — and published several articles on the subject. His younger brother, George L. Taft, also became a practicing dentist in the Boston area, like their father before them. His older sister, Dr. Mary Florence Taft, was a homeopathic physician in Cambridge, getting her medical degree from Boston University the same year that Charles got his from Harvard. Charles also wrote several articles warning against amalgam fillings, which contain mercury and counteract many homeopathic remedies. He served as the secretary to the Harvard Dental Alumni Association from 1891-1892.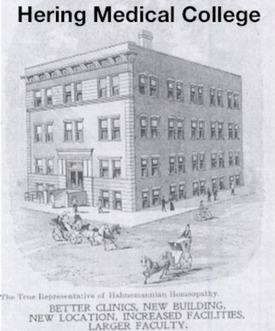 In the fall of 1892, Dr. Taft accepted a chair as professor of Dental Pathology and Therapeutics at Hering Medical College in Chicago, a homeopathic school attached to Chicago University. At the same time, his sister Mary also accepted a chair there as professor of gynecology. Charles opened a dental practice there, as well. He referred all his patients in Cambridge to a Dr. Ezra. F. Taft.
While in Chicago, Charles Taft had a very active role at the historic World's Fair: Columbian Exposition in 1893, as he notes in the Fifth Report of the Secretary of the Class of 1881 of Harvard College (1898):
The only organization worthy of mention to which I belonged while there was the cavalry company which achieved such a world-wide reputation during the World's Fair, known as the 'Chicago Hussars,' to which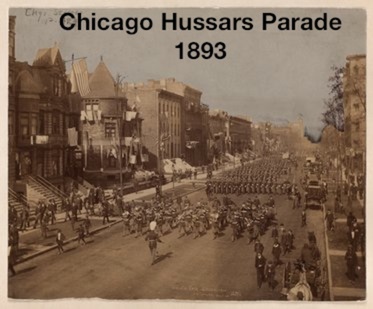 © Chicago History Museum Research Center 1893company, as the body-guard of the director-general of the exposition, was given the escort duty to the distinguished representatives of our own and foreign countries who visited the city and its Fair in an official capacity. Soon after the close of the exposition there was a division in the ranks of the Hussars; and a new company was formed,—of which I was chairman of the incorporating committee;—known as the 'Chicago City Troop,' which has within the past year been mustered into the National Guard, and is known as 'Troop C' of that body, and of which I have the honor to be an associate member. Both the Chicago Hussars and the City Troop did active and valiant service in helping to maintain the peace during the troublesome times attendant upon what is remembered as the great Pullman strike.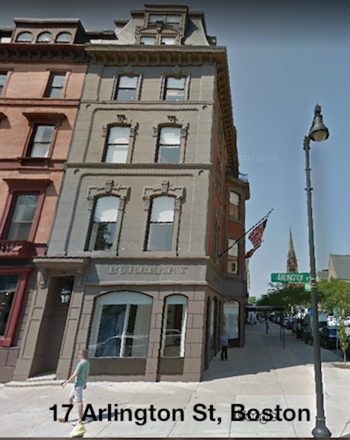 But, in his own words (ibid.): "Becoming dissatisfied with Chicago and restless with a desire to return to New England to live once more", he moved back to Cambridge in September 1894 and opened up a new practice at 17 Arlington St. in Boston, where he remained throughout the rest of his career. In 1895, his brother Dr. George L. Taft, D.M.D., joined him in his practice.
In 1899, Dr. Taft ran ads in The Newton Graphic for his second dental office, at 303 Walnut St. in Newtonville MA, 9 miles west of his office on Boston. There, he had office hours on Tuesdays and Thursdays, as well as on Saturday afternoons. His ads also declared that he was "Formerly Instructor in Operative Dentistry in Harvard University". Note that his older sister Mary had also moved back from Chicago by this time, and was living and practicing medicine in Newtonville. When she retired, she moved to Cambridge.
Dr. Taft was a physically active person. In an article announcing a 7-mile hike he was leading from Harvard Coop, north past Tufts University reservoir, to the Mystic Lakes in West Medford and ending in Arlington, Dr. Taft wrote in the December 8, 1917 issue of the Cambridge Chronicle :
From personal experience I have learned what great enjoyment there is in taking, as I have long been in the habit of doing, a daily walk of from five to twelve miles, both for the exercise and the recreation of it, and I would like to see more people get the 'walking' as well as the automobile habit.
Dr. Taft retired from dentistry in April 1928 at age 72 after 42 years of service.

Emily Hinckley Taft
Very little information is available about either Mrs. Taft's early days in Baltimore other than her birth statistics, or about her married life in Cambridge.
In 1892 or 1893, she delivered a paper on "American Humorists" to the Baltimore chapter of the Daughters of the American Revolution. In 1906, she again addressed the D.A.R., but this time it was the Hannah Winthrop Chapter in Cambridge MA. Her topic this time was "The Last Governor of Maryland Under the Crown".
In 1904, she was "induced to reconsider her refusal to serve" as the Chairman of Literature at the Cantabrigia Club, an educational and philanthropical women's club in Cambridge. In 1905, she served on a committee to revise the club's by-laws. In 1906, Mrs. Taft was "persuaded" to become the club's second vice-president, serving in this capacity for at least 2 years. From 1911 at least through 1914, she was back on the Literature Committee (but not as chair). In 1912 she also served on the Nominating Committee.
Mrs. Taft addressed the Cantabrigia Club several times: in 1904 on "Literature in the Home" (the full text is offsite here); in 1906 on "Personal Recollections of James Whitcomb Riley"; in 1907 on her and Dr. Taft's vacation in Nova Scotia; in 1908 she read an original short story titled "A Psychic Response"; in 1910 she regaled the club's parlimentary law class with a clever original poem titled: "The Parlimentary Class"; in 1911, on "The Life and Work of the English Dramatists, Goldsmith and Sheridan" as part of a series of classes on playwrights (a talk she presented again at the Cambridge New Church that December); and in 1912 she addressed them once again on an unknown topic.

Marriage
After a December 1894 engagement, Dr. Charles H. Taft (age 39) and Emily Hinckley (age 36) were married on May 27, 1895 at the Church of the New Jerusalem in Brooklyn NY with the reception at the nearby home of Emily's parents. After an "extended honeymoon", the new couple took up residence at Charles' home at 17 Lowell St. in Cambridge. They had a child in 1896 who died in infancy that same year on December 28.
Dr. & Mrs. Taft regularly vactioned together for the month of August: 1899 in Lake Sunapee NH; 1902 in Madison NH; 1903 in Spofford NH; 1904 at Lake Sunapee NH again (Dr. Taft was an avid fisheman); 1905 in Sebec Lake in Dover-Foxcroft ME; 1906 and 1907 in Milford, Nova Scotia; 1908 at Clearwater camp in Allen's Mills ME; 1910 and 1915 in North Pomfret VT; 1922 and 1923 at Fairview Farm in North Hartland VT; 1924 in Orono ME. And the Winters of 1928 and 1929 saw the Tafts wintering over in St. Petersburg FL.

Church Activity
Dr. & Mrs. Taft were quite active in the Church. They attended the New Jerusalem Church (now Swedenborg Chapel) in Cambridge, where they both participated at many levels. Mrs. Taft taught Sunday School for several decades and, late in life, acted as an occasional hostess for both the Friendly Club and the Half Hour Club — once, in 1928, with Vivian Kuenzli, wife of the FNCA's second president, Rev. Charles H. Kuenzli. Dr. Taft served on the Church Committee (what we would call the Board of Directors today) for many years. He was also the pianist for the Sunday School. At the church's 25th anniversary in November of 1926, Dr. Taft delivered a historical address on the church titled: "The Years That Have Passed".
They were also active in the national Church. Dr. Taft was a delegate to the annual Convention in 1889. Mrs. Taft was secretary of the National Alliance of New-Church Women in 1912. They both attended the annual Convention at least once, in 1928, with both Dr. & Mrs. Taft serving as Massachusetts delegates.
The Tafts first attended the Assembly in 1925. After that first year, Mrs. Taft wrote an article about it for the Messenger, which is reprinted on this site here.
Dr. Taft created the "Emily H. Taft Legacy" which left a substantial sum to the the Assembly, at least some of which was used 10 years after his death to build the Taft Cabin in memory of "Miss Emily Taft", presumably their child who died in infancy in 1896.

Death
Dr. Taft died in February 11, 1938 at age 82. Emily Taft died 19 months later in September of 1940. Both are buried in their family plot at Mount Auburn Cemetery in Cambridge MA.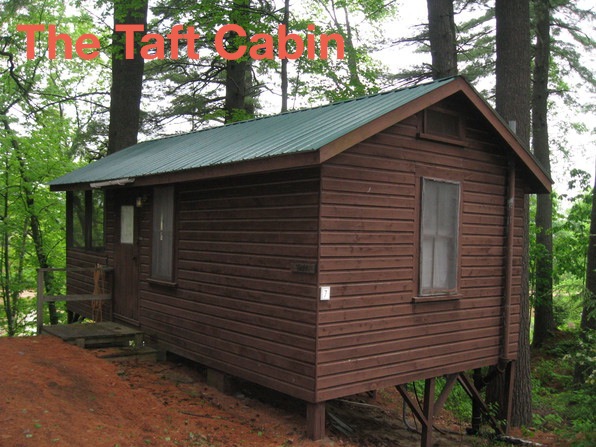 © Trevor 2016
Special THANKS for their help with the research on this page to:
Leslie Martin, Research Librarian, Chicago History Museum Research Center,
Chicago IL
Stephanie Krauss, Center for the History of Medicine, Countway Library of Medicine,
Boston MA