"Reflections"
Looking back on
vFNCA 2020

by Trevor
Well, THAT was certainly different!
Due to the global pandemic, in-person camp in Fryeburg was cancelled and camp was held virtually online this year. An ad hoc committee of seven people, with the additional help of another 40, put together and pulled off a nine day online camp with as many of our t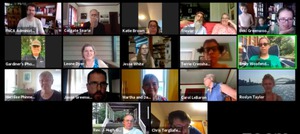 raditional features as possible. There was the Opening Weekend Program, Sing-Along, Chapel services, Lectures, Adult Discussion Group, Afternoon Book Club alternating daily with Arts & Crafts, virtual dinner together several nights (we sung the Johnny Appleseed Song for grace at the first one!), Evening Activities every night, virtual Outing Day on Wednesday, the Dole 3 Miler on the second Saturday, and zoom worship with the Fryeburg New Church each Sunday morning.
There was also a daily "Spirit Theme" (including this writer's favorite: Unusual Hat Day!) as well as a social time each afternoon before supper with a different theme each day to help get the conversation started.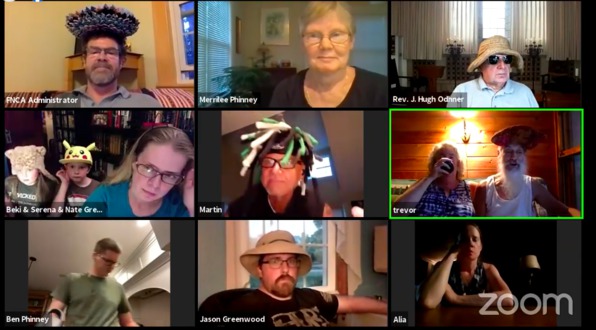 The Opening Weekend Program was led by Rev. E. Kent Rogers, which included a public lecture on his "Adventures in Nepal" and a hands-on workshop on "Hearing the Lord's Call".

© Rev. E. Kent Rogers 2020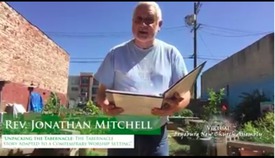 Our 2020 lecture themes were: 1) The Tabernacle
and 2) the Three Essentials of the Church. We were pleased to have a few of our core lecturers share with us online, including Rev. Hugh Odhner and Rev. E. Rogers. We also were delighted the return, some after many, many years, of Rev. Dr. Jim Lawrence, Rev. Ken Turley, Dr. Devin Zuber, and Rev. Lee Woofenden. And we were thrilled to welcome first time FNCA lectures Rev. Jonathan Mitchell and the 2020 Rev. Everett K. Bray Visiting Lecturer, Dr. Rebeccah Esterson from our theological school, the Center for Swedenborgian Studies, who gave two very well-received lectures.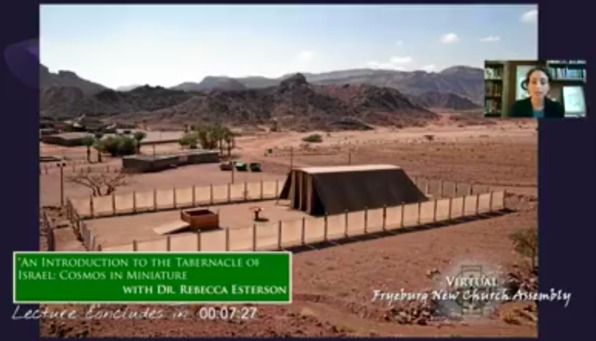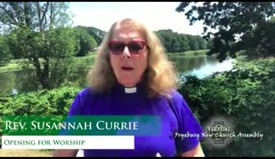 The Adult Discussion group following each day's lectures, lead by FNCA Religious Program Coordinator, Rev. Susannah Currie, was a very popular part of the program. As was the Afternoon Book Club, hosted Dr. Rebecca Esterson, in their study of The Holy Center: A Biblical Path to the Presence Within by Rev. Dorothea Harvey.
Arts & Crafts in the afternoon included a "Leaf Stitch Meditation" class by fabric artist Carol Lebaron, "Pochoir T-Shirt Project" by another FNCA artist Amy Blackman Cooke, plus the always popular Origami class by Jason Woofenden.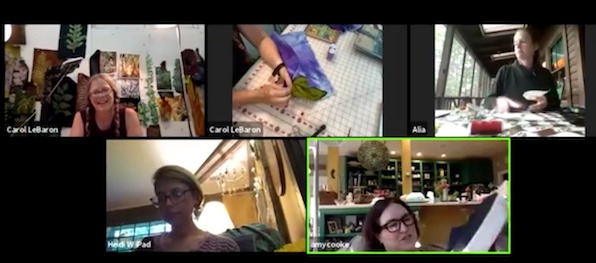 © FNCA 2020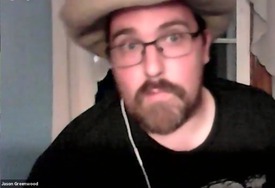 There was a special opening day appreciation program for outgoing FNCA Camp Director, Jason Greenwood. Various campers prerecorded tributes to him which were seamless put together into a single video. Thank you for 9 years of excellent service, Jason!

Other activities included: daily Sparks Games lead by Trevor, a New Zealand slideshow by Herb Ziegler, a collage craft project by Heidi Woofenden, an Alaska slideshow by Richard & Debbie Cooke, String Figures by Trevor, "How Sturdleys are Made" video by Adam Lane-Olsen, Jeff Landry and Adam Lane-Olsen running the Dole 3 Miler on the Mountain Division Rail Trail video (filmed by Trevor on his bike!), virtual Frank Hall social gatherings, after hours Jackbox Games lead by Jason Greenwood, and a very successful online silent Sales Table Auction.
Although everyone missed meeting in person, vFNCA 2020 had the very positive perk that many people who have not been able to attend the FNCA because of the distance were able to join us this year. It was so good to see Terrie Crenshaw, Katie Brown, Richard Cook, Rev. Donna Keane, Carol Lebaron, Becky Moore, and many others.
The FNCA Annual Meeting was also held, the biggest talking point probably being the election of Alia Woofenden as our new Camp Director! Alia is the great-granddaughter-in-law of our very first Camp Director, Rev. Louis A. Dole in 1921, so it is very fitting that her first year as FNCA Camp Director will be our Centennial Celebration. Her children are 5th generation campers!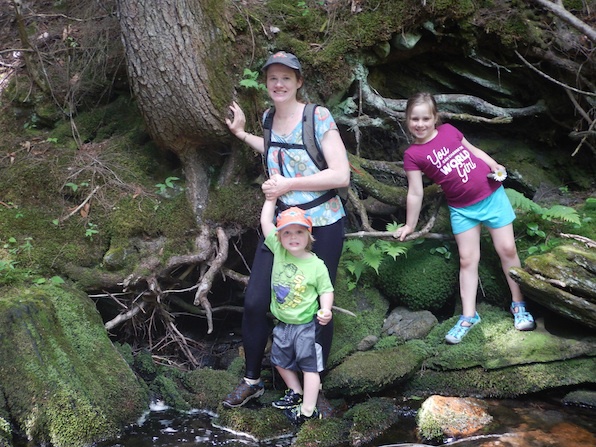 © Ken Woofenden 2020
Before closing, I especially want to thank the Online Summer Session Committee, who together put in hundreds of hours planning, organizing, and doing the bulk of the tech work before, during, and after this oh-so-succesful new online adventure: Bob Perry, Beki Greenwood, myself as chair, Nancy Little, Jesse White, and Emily Woofenden, plus Rev. Susannah Currie as lecturer liaison.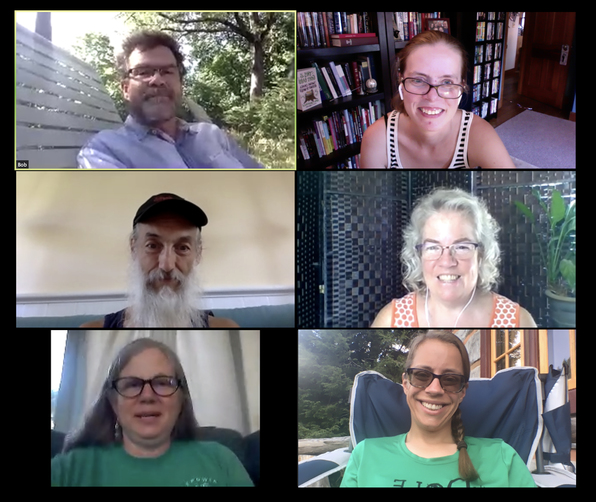 © Beki Greenwood & Emily Woofenden 2020
We got so many positive comments from so many different people — including all ages, newcomers and old timers, and not only from across the continent but from across the ocean as well! Who would could have possibly known that we would have such a rich, rewarding, spiritual experience meeting online for vFNCA 2020!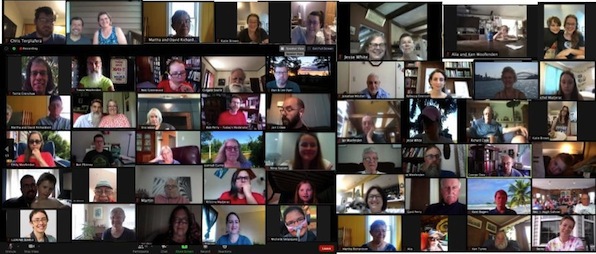 © Alia Woofenden 2020

["Reflections" 2019] ["Reflections" 2021]