"Reflections"
Looking back on
FNCA 2010
by Trevor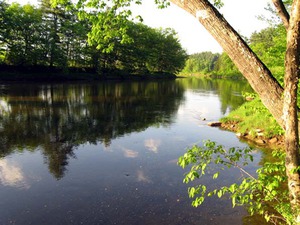 © Nancy F. Little 2009The biggest stand-out of the 2010 FNCA session was the return of our beach after it was evidently away on vacation for the past three summers! Heavy pre-camp rains left our beach underwater <---see photo for the entire camp session in 2007, 2008, and 2009. So in 2010, campers flocked to the river in droves every afternoon — frolicking in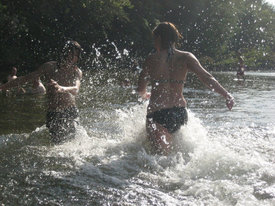 © Emily Woofenden 2010the water, canoeing to their hearts' content, basking on the beach, hang out on the dock, adults standing in clusters up to their waists talking quietly while watching the kids playing together and keeping tabs on the teens doing the things that teens do.

© Ian Woofenden 2010Over a dozen people participated in our brand new this year Opening Weekend Program. The topic was "Discovering Elijah: Spiritual Tools to Open Scripture" led by theological student Anna Woofenden. Using a hands-on workshop style, the group explored the story of Elijah as it applies to our lives today.
Adult Discussion Group ("great", "wonderful") had very high attendance both weeks. Our new cook's food got many rave reviews ("delicious", "interesting"), as did our lecture program ("stimulating", "thought-provoking") with discussions often spilling over into several meals. Plus those perennial favorites: camp community, warm days and cool nights, and seeing old friends again and making new ones.

© Beki Greenwood 2010
Many noticed lots of impromptu games between scheduled activities. In fact, Trivial Pursuit in the Dole Wing, active games in Whitehead Hall, and card games in front of the Dining Hall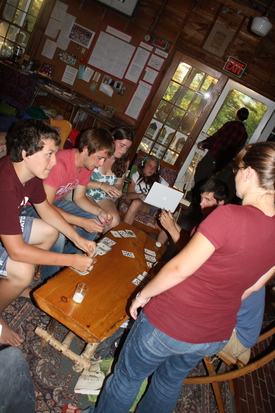 © Herb Ziegler 2011fireplace all at the same time was the norm. Jason Woofenden's unique strategy games with brightly colored homemede pieces were very popular. Scrabble, Hearts, Mao, Slap!, Frisbee, and horseshoes also got played regularly.
People-specific favorites include: MaryBeth Bernier song-leading "Hallelu" for grace at more than one meal; watching camp Registrar Nancy Little skillfully re-arranging the housing chart once again because another family had registered at the last minute; Rev. Gard Perry's daily morning fires in the Main Building fireplaces; Rev. Lee Woofenden's book sales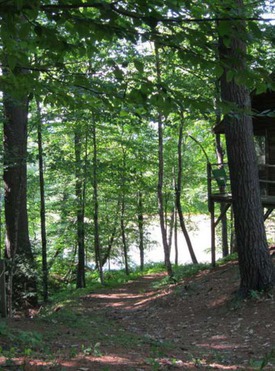 © Jesse White 2011table; Lee Dyer making coffee all day long; someone's imitation of Owen Crowe playing Sparks Games (hee hee hee); and enjoying the Senior Flames discovering ways they can help with camp.
But the memory that burns brightest in one camper's mind is walking down the path to the river and seeing a great blue heron sitting in a tree at the water's edge. "Stunning, simply stunning."
2010 All-Camp Group Photo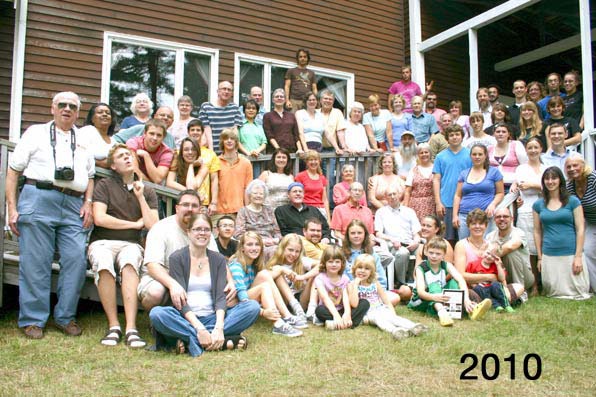 © Beki Greenwood 2010
["Reflections" 2009] ["Reflections" 2011]