"Reflections"
Looking back on
FNCA 2004
by Trevor
One of the highlights of FNCA 2004 was that everyone was so happy to be there and genuinely glad to be with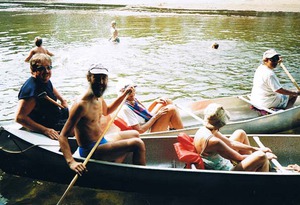 © Nancy F. Little 2002everyone else that the entire camp glowed with enthusiasm! Sparks were caught volunteering to run errands. Flames repeatedly went above and beyond the call of duty in their mealtime chores and helping with work around the grounds. Bonfires volunteered their time and energy for a wide variety of tasks. Embers pitched in wherever they could with sage advice and able assistance.
Here's some of my favorite parts of FNCA 2004:
Lectures Our weekly themes directly related to each other: Week 1 Geographical Correspondences, Week 2 The Journey of Regeneration. The lectures often stimulated lengthy discussions, with beginner and deeply advanced questions and everything in between! The lectures were so consistently thought-provoking that time regularly ran out before the discussion was finished.
Special Evening Activities The Rev. Dr. George & Lois Dole had a fascinating presentation on their 2003 trip to Scandinavia. The Rev. Ken & Laurie Turley shared their entire family's musical participation in a Swedenborgian convention in England. And Jason Woofenden led a juggling workshop that was so popular the first week that he was asked to repeat it the second week.
Sales Table Auction Year after year, the Sales Table Auction is one of our most popular events. Our able (and funny!) auctioneers, Ed Schnurr and Amy Blackman, helped raise over $570 for the camp. Part of the fun is that everyone knows it's a fundraiser, so husband was caught bidding against wife, grandmother against grandson, and a few people actually out-bid themselves! The children were involved as much as the adults, often out-bidding adults for certain items while their parents' jaws dropped in surprise. After one particularly heated bidding war, the winner decided he didn't even really want the item and donated it to the next highest bidder!
The FNCA Spruce Club Three groups of campers that had been working separately to spruce up the camp got together in 2004 and formed the FNCA Spruce Club (working members dues $5, non-working members $20). The Curtain Brigade, avidly headed by the industrious Wendy Schnurr, busily sewed curtains for windows in the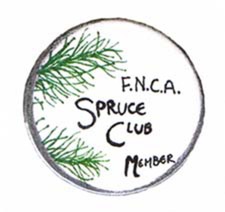 © Myrrh Brooks 2004Main Building and the cabins during various bits of free time all session long. The Indoor Division, ably headed by my lovely wife Nancy Little, inventoried all the buildings for simple things such as light bulbs, lamp shades, shelves, towel racks, clothes bars, etc., and began filling the gaps. And the Outdoor Division, handily headed by colorful Cecilia Searle, has been busy for several years now beautifying the grounds with decorative plants expertly places around the grounds in front of cabins, near the Main Building, and near the edge the front lawn. Members received an "FNCA Spruce Club Member" pin featuring our nifty new spruce tree logo designed by Myrrh Woofenden. And through everyone's efforts, the FNCA Spruce Club's first year was a resounding success!
People My absolute favorite part of camp is always the people. I've mentioned several above. Others that made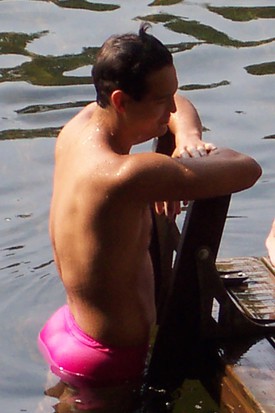 © Beki Greenweed 2004the news simply by returning after a period of absence: Virginia Branston and her delightful daughter Joan Flynn; former FNCA president, the Rev. George McCurdy and his wife Lois; and after a few decades away, Ron Klein and two of his sons, Jerry "Grocer" Klein and Martin "Peachy" Klein. Returning Flame, Jesse Bernier brought her friend Cassie Torres to camp with her — it's always more fun if you bring a friend to camp! And after a brief visit in 2003, Anita Rioux, mother of FNCA assistant treasurer Nicole O'Brien, was able to spend a whole week with us in 2004.
All in all, it was a great year! Thanks to all who attended for being such terrific campers! I hope to see you all, as well as many new faces, in August 2005!
["Reflections" 2003] ["Reflections" 2005]