"Reflections"
Looking back on
FNCA 1991
by Trevor
© Beki Greenwoof 2010Last summer's Assembly session was, as usual, a wonderful time for all who attended. Here are some of the highlights.
We were delighted to welcome Pavel & Alice Hager and their four children. The Hagers are from Czechoslovakia. Pavel is pursuing ordination at our theological school in Newton MA. Beyond just the pleasure of their company, we were also treated to a very interesting and informative lecture by Pavel on the New Church in Czechoslovakia. The Hagers were often seen together as a family. In fact, one day they spent about half a day hiking Mt. Wildcat... even the very youngest!

© Beki Greenwood 2008We heard many positive comments about our lecture program last year. People found the "Service" theme very practical, and the study of the "David" story a great continuity full of spiritual insights. We heard from several that it was a good step not to have secondary themes since this provided for a much greater concentration on the main theme. (We are continuing this this year, by the way.) All in all, the general consensus was: "Great lectures!"
We were also treated to a glorious slide show by regulars Anne & John Perry on "The Arctic Alpine Wildflowers of Norway" from a recent trip of theirs. From tiny beauties to bursting buds, it was splash after splash of beautiful color from beginning to end.
Another special event by another Assembly regular: it was a delight for me to once again present by popular request "The Games Man's FunTime Show". I love sharing my work, particularly with a room full of people I love. It was also a delight to do my stiltwalking show for the children on Sunday after church. Thank you.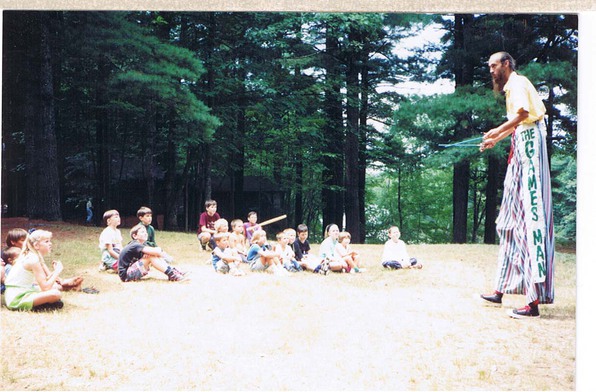 © FNCA 1991
As usual, there was much focus on the river. The Saco is a clean, protected river which is fed by many, many sources. A day of rain upriver in the mountains can surprise us with a substantial rise in water level the next day. There were several days when the river was so swift and muddy that swimming was cancelled.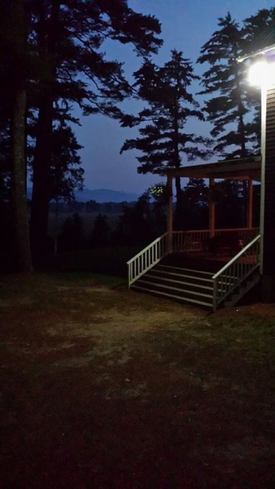 © Kristina Madjerac 2014A special highlight for the Sparks was Dawn Phinney's crafts class. Each day, the Sparks would flock to Dawn at crafts time to see what wonders she had for them to work on. And each day, they would all emerge with a smile of personal satisfaction and some delightful item they had made themselves. Thanks Dawn!
And to recognize another very helpful individual: a BIG thank you to Nicole O'Brien for pitching in several times when the babysitters couldn't make it.
The Fryeburg New Church in town is a large and very active group, but in the past, many of them have not been involved with the Assembly at all. Last year, due to Rev. Gard Perry and a core group of dedicated, hard-working local members, we were delighted to have active participation by lots of town people at the Assembly. We hope to see this trend continue.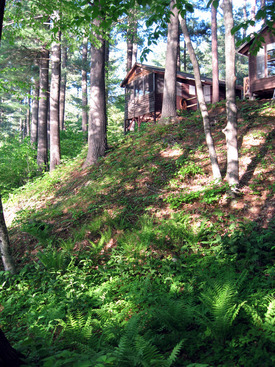 © Nancy F. Little 2011The actual physical entering and exiting the Assembly was vastly improved last year by the Trustees: the driveway entrance "apron" was blacktopped, ending decades of ruts, flying pebbles, and difficult getaways. As Rev. George Dole put it, "I can't spin my wheels and kick up dirt any more; I have to lay a patch!"
And I'm sure that everyone who attended the 1991 session brought home their own happy memories of special times with friends, enjoyable conversations on the porch, a quiet time in the woods, or a delightful outing. We welcome you to join us at the Assembly in 1992 and create your own joyful memories and Reflections!
["Reflections" 1990] ["Reflections" 1992]