Meals
© Emily Woofenden 2009 We share breakfast, lunch, and dinner together in the Dining Hall. Meals are served family-style, with table service provided by the Flames.
To start each meal, we stand behind our chairs for a spoken or sung blessing. Our traditional favorites are listed on the Blessings page. Others are from a special book of graces that stays in the Dining Hall. Some are humorous graces that someone volunteers to lead. And some are extemporaneously spoken from the heart by just about anyone. Then we all sit down or line up at the salad bar to enjoy our hearty fare!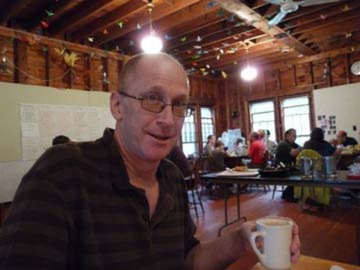 © Anna Rich 2009Traditional breakfasts include ham & eggs, pancakes with real Vermont maple syrup, French toast & sausage, and other favorites. Hot cereal is served every morning, and a variety of cold cereals is always available. The breakfast bar includes fresh fruit, orange juice and other breakfast beverages, toppings for cereal, and various other sundries. We use only choice coffees, and there is always a variety of black and herbal teas available.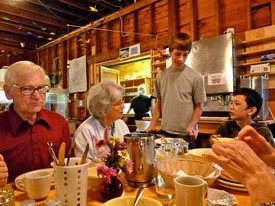 © Anna Rich 2009Lunches vary from soup and sandwiches to tacos and burritos and other traditional lunch foods. Our very popular salad bar is in the Dining Hall for lunch each day. It is a well-stocked smorgasbord of tempting items including a variety of fresh greens, tomatoes, carrots, cucumbers, celery, onions, peas, radishes, tofu, feta, garbanzos, and other tasty morsels. There is always a wide variety of dressings to choose from.
Dinners include both a meat and a vegan entree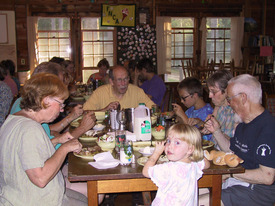 © Amy Blackman 2001complemented by a variety of side dishes that may include cooked vegetables, Maine potatoes, pasta, casseroles, and so on. The salad bar is always available during dinner, too. A wide variety of desserts wrap up our dinners throughout the week.
The noon meal after church on Sunday — "Sunday Dinner" — is always a special meal with roast beef, ham, chicken or other select meat entree with a special vegan main dish, too.
We hire professional cooks to prepare our meals, and work with them extensively on menu selections so we can offer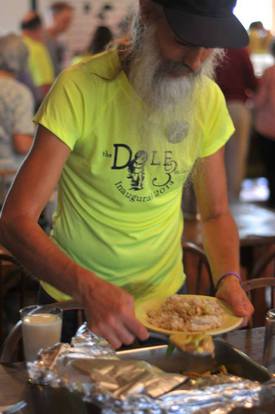 © Beki Greenwood 2014a tasty set of healthy meals each day. Our cooks put in a lot of time meeting special dietary requirements of vegetarians, vegans, gluten-free, and other special diets. Please be sure to fill in the Dietary Needs Form if you any have any special dietary requirements so the cooks will have ample time to plan a menu that meets your needs.
Between meals, bread and peanut butter & jelly are available on the snack table beside the refrigerators in the front kitchen, and an ample assortment of fresh fruit is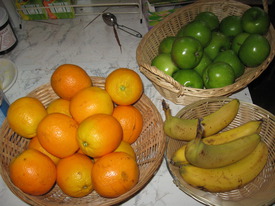 © Trevor 2011always available in the Dining Hall throughout the day.
The Dining Hall comfortably seats 80 people, and we've squeezed in as many as 100 in on special occasions. It is well-lit and comfortable.
F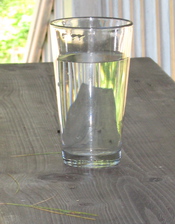 © Trevor 2015resh flowers appear on the tables each Sunday lunch and usually last most of the week. All our water is from an on-site spring. And we are very grateful to the Flames both for providing table service during meals as well as for doing the dishes afterwards (sometimes with the help of some adult volunteers).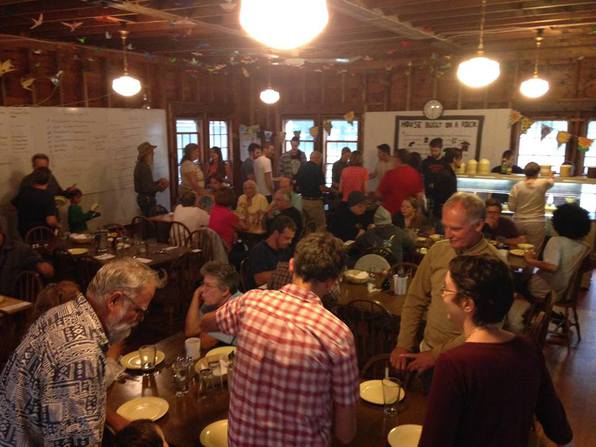 © Beki Greenwood 2015