[FNCA NEWS! 2021]
[most recent FNCA NEWS! article]
[FNCA NEWS! Archives]
FNCA NEWS!
2022

The Virtual Sales Table Action is ON!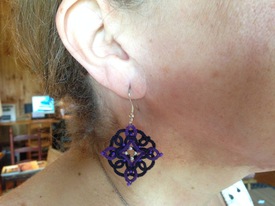 © Sarah Grams 2018All the photos on the page are past Sales Table Action items.
Although we weren't sure if it was going to happen this session, Jason Greenwood volunteered to run it again this year, and when he asked at dinner last night how many campers were interested, a lot of hands went up. So the Virtual Sales Table Auction is ON!
There are only a few item up so far (this just happend at dinner tonight), but what up already are real Wowzers: a pair of tickets to a New England Patriots football game at Gillette Stadium in Foxboro MA, and a weekend get-away at a cabin

© Nancy F. Little 2008on Moose Pond in Denmark Maine! Be sure to check the site regularly because more items will be appearing over the next few days, including:
A heavy-duty stand-up "step stapler" that belonged to the Rev. Dr. Wm. R. "Pop Woof" Woofenden that can staple together more than 30 sheets of paper at once!
FNCA memorabilia.
Hand crafted items by various FNCA members.
and more!
Bidding this year is going to happen via text message. Instructions and the number are at the link above. Bidding closes at 8:00pm on Saturday, August 13, 2022.
If you would like to donate an item to the Auction (yes, please!), please text a description and image to the same number for bids.
This is a very important fundraiser for the Assembly, so Thank You So Much for donating and bidding!
[FNCA NEWS! 2021]
[most recent FNCA NEWS! article]
[FNCA NEWS! Archives]