"Lalla's Garden" Quilt Raffle
"Lalla's Garden" is a beautiful, hand stitched quilt designed and created by life-long FNCA member Julie Rankin.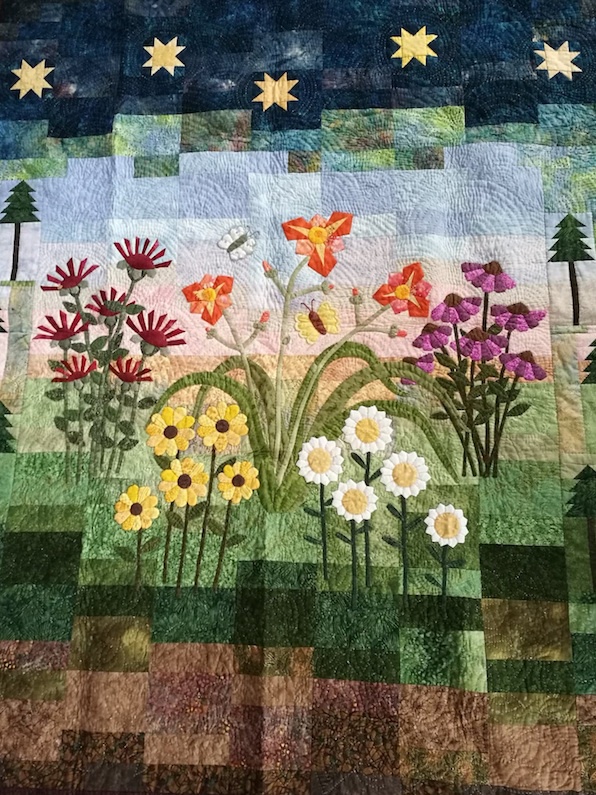 © FNCA 2019
In Julie's own words,
"This quilt was designed and created to support the Lalla's Memorial Garden Fund project at Fryeburg New Church Assembly. The featured flowers are among those planted on the grounds over a span of at least two decades under the guidance of Cecilia "Lalla" Guiu Searle, hardy perennials that thrive in New England and bloom in August when the camp is in session: day lilies, purple coneflower, bee balm, daisies, and black-eyed Susans. The colors are evocative of all that we love about being at the FNCA: the woods, the sandy beach along the river, the mountains across the way, from early morning to sunset and into the night sky so full of stars. And though they are not to scale, those tall pines that nearly surround the camp are still hovering around the edges, standing guard."
All funds go to support the garden fund to replace the trees that were cut down for the widening of Route 302 which borders the property.
1 ticket for $10
6 tickets for $50
15 tickets for $100.
You may purchase tickets here on our Donate page. Please put "Quilt Raffle" on Billing Address Line 2. Your name will be put into the drawing for the quilt which will be held at the FNCA Centennial Celebration! of the Fryeburg New Church Assembly in August 2021.

© FNCA 1971Julie Rankin was born in Fryeburg ME in the later 1950s and attended the Fryeburg New Church in town. As a young teenager, she first came to the Assembly in the role of babysiter. She liked being at the FNCA so much, she started attending as a camper and quickly became a leader among the Flames.