Bulletins and Brochures
From very early on in its history, the FNCA put out a bulletin each year announcing the dates of camp, lecture staff, and other important info. At various times, there has also been a tri-fold brochure of some sort to go with it.
A Very Brief History of the FNCA Bulletin
The original bulletins were very small — smaller than a modern day postcard — and printed on manilla-ish colored paper folded in half creating a 4-page brochure. Starting sometime in the late 1940s or early 1950s, they were mimeographed on a single sheet of standard size 8-1/2x11 white paper folded in half with half-page front and back and a vertical full page inside. Later (sometime is the late 1970s perhaps?), the bulletin expanded to 2-5 sheets printed 2 pages per side, folded together, and stapled in the center to make a 4-10 page booklet with cover artwork by an FNCA member on the front and pen and ink interior drawings. By 1985, the cover sheet (meaning the front and back) was on colored paper. Beginning in 1992, the cover was an FNCA photo with interior clip art from various sources. Starting in 1999, there were camp photos inside and out. And starting in 2008 the bulletin was in full color inside and out all the way through 2014.
By that time, however, the bulletin had long outlived its usefulness. Since everything in it was already on our website, creating the bulletin each year was a lot of work for our graphics designer and a lot of expenses to print and mail, with very little extended usefulness. Although people enjoyed looking at the photos when they got it in the mail each year, very, very, very few people were actually using the printed form in it for registration. Basically, it wasn't worth the trouble any more, so at their mid-winter meeting in January of 2015, the Summer Session Committee, with full approval of the Board, decided to discontinue the bulletin.
A Bit About The Brochure
In 1979, it was decided that we should have a brochure containing basic camp information and a map of the grounds that could be easily reprinted with little or no need for editing whenever we need more, so that we could have something to hand out to interested people. Like all camp brochures since, it was a single sheet of paper. The original 1979 one was folded twice accordion style (or "Z fold" as it is now known), with a pen and ink drawing on the cover and the basic info next to it on the front, and the camp map and a bit of history on the back. It is the same as the 1982 one below.
Although it may have been updated earlier, the next known camp brochure in the Camp Historian's files is from 2002. It is printed on a very light gray tinted paper, tri-folded (not Z fold), with black and white photos throughout.
In 2012, it was completely re-done on thicker paper, tri-folded, with full color photos.
... ... ... ... ... ... ... ... ... ...
Eventually, this page will have pictures of at least the covers of all the bulletins we have, as well as both sides of each brochure in our archives. For now, you can enjoy just a very few of them below. Unlabelled images before 1979 are all bulletins.
1928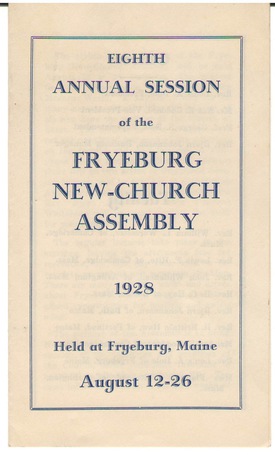 © FNCA 1928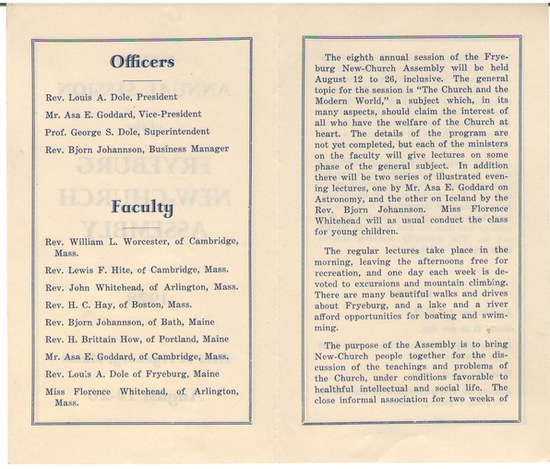 © FNCA 1928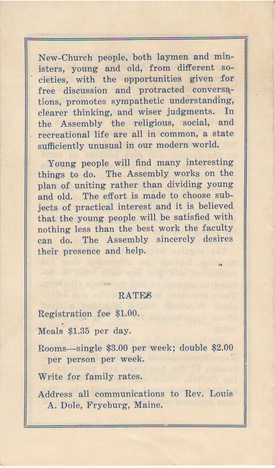 © FNCA 1928
1940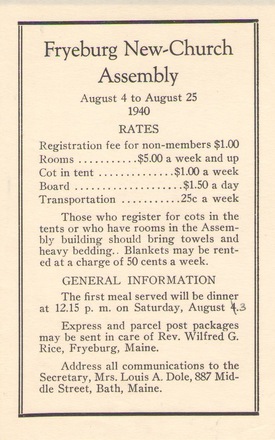 © FNCA 1940
1982
The 1979 brochure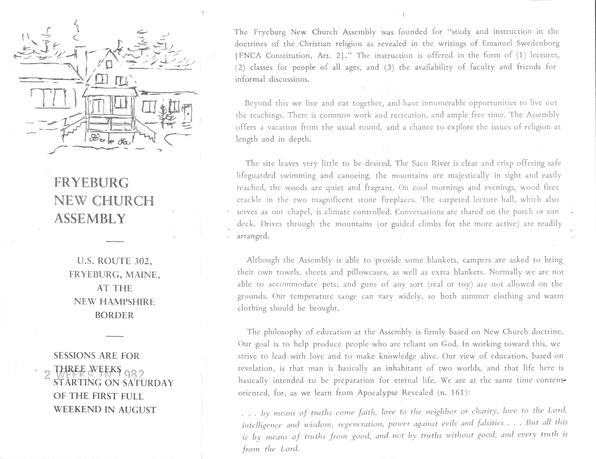 © Louise Dole Woofenden 1979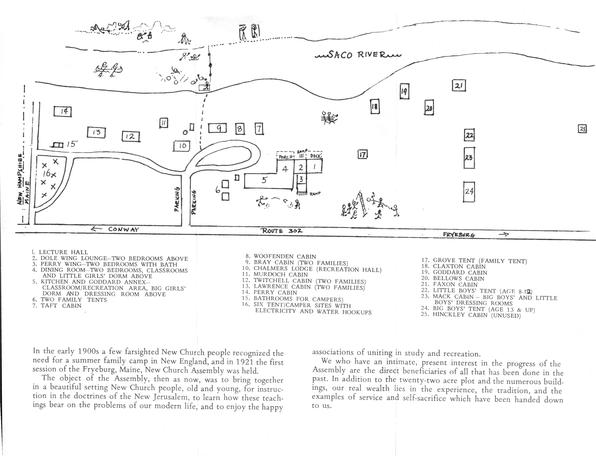 © Louise Dole Woofenden 1979
This was on standard 8-1/2" x 11" white paper, accordion folded (as opposed to tri-fold) so basically, the upper image here was the front and lower image the back. Notice the rubber stamped "2 WEEKS IN 1982" on the cover. 1982 was the year the Assembly switched back from 3 weeks to 2, but we still had most of a box of brochures left!