2018
Afternoon &
Evening Activities
(and one morning activity middle Saturday, too!
Afternoon and evening activities are programs presented by campers. If you would like to present an afternoon or evening activity of any sort (Surprise us!) or fit any sort of program into the schedule, please contact the camp Activities Director.
Afternoon Activities are somewhat sporadic: sometimes they are last minute fill-in events on rainy days when there's no swimming, and other times they are programs with nowhere else to put them into the schedule. There are, however, events that purposely get scheduled in the afternoon, so bring it on!
Evening Activities are scheduled most evenings at 8:00 (although a few are at different times). They can include music, crafts, dances, live demos, slide shows, videos, special lectures, and just about anything else of interest.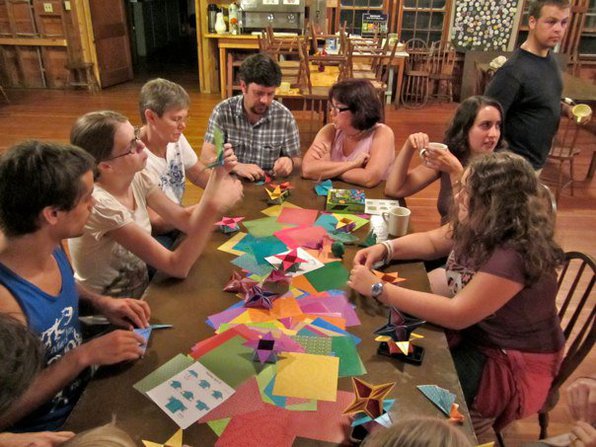 © Nancy F. Little 2011
1st Week
Saturday: 8:00 Game Night
Sunday: 7:30 Evening Chapel
8:00 Western Mystic Traditions
James Henry
Monday: 4:30 Afternoon Book Club
The Universe & I: Where Science & Spirituality Meet
by Rev. Dr. George F. Dole
facilitator: Deane Currie
8:00 Circumnavigating Mont Blanc
travelog slideshow with Dan & Lee Dyer
Tuesday: 4:30 Afternoon Book Club
The Universe & I: Where Science & Spirituality Meet
by Rev. Dr. George F. Dole
facilitator: Deane Currie
8:00 Make Your Own Paracord Bracelet
with Dawn Crowe
Wednesday: 8:00 Stunt Night: Musical Extravaganza
Thursday: It's Purple Day! Wear your purple!
4:30 Afternoon Book Club
The Universe & I: Where Science & Spirituality Meet
by Rev. Dr. George F. Dole
facilitator: Deane Currie
8:00 "The Early Days of the Fryeburg
Assembly: An Adventure in Faith"
reading of a 1933 talk by Rev. Harold R. Gustafson
with Trevor
Friday: 4:30 Afternoon Book Club
The Universe & I: Where Science & Spirituality Meet
by Rev. Dr. George F. Dole
facilitator: Deane Currie
8:00 Live Interview with author
Rev. Dr. George F. Dole
w/ Cory Bradford-Watts and Roslyn Taylor
9:00 LALLA Scrabble Tourney Finals party
in Frank Hall
Saturday: 8:00 a.m. The Dole 3-Miler road race

2nd Week
Saturday: 4:30 Afternoon Book Club
The Universe & I: Where Science & Spirituality Meet
by Rev. Dr. George F. Dole
facilitator: Deane Currie
8:00 Sales Table Auction
Sunday: 7:30 Evening Chapel
8:00 SCYL, SPLATZ, & Convention's
Youth Director Job
Kurt Fekete, Convention's Youth Director
Monday: 8:00 Steve Perry Memorial
Gard Perry & Ross L. Woofenden
Tuesday: 8:00 Cardholders for Everyone!
sewing project with Amy Blackman
bring your own fabric or use ours
Wednesday: 8:00 String Figures & How to Make Them
Trevor
Thursday: It's Tie Dye Day! Wear your tie dyes!
8:00 Sales Table Auction
Friday: 8:00 Flames Class Presentation
with Nancy Little
Saturday: 8:00