After Church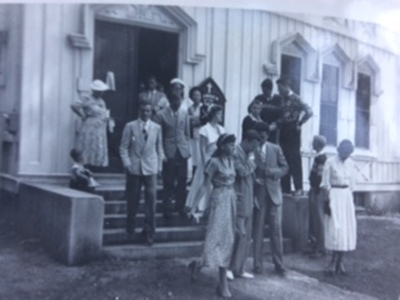 Every Sunday morning during camp, we join with the congregation at the Fryeburg New Church in town for worship. After church, it has long been the tradition there to socialize on the front lawn... and to take pictures.
NEW photos on this page in recent months:
Title or Theme Year Posted
"Pauline Lawrence on a Windy..." 1990 1/27
"Confirmation Service" 1969 11/22
"Zack, Bruce, Wendy" 1987 11/2
Some of the "Fryeburg Flames" 1928 5/3


2012 2014
2000
1990
1987 1988
1971 1974 1977
1969
1950 1952
late 1940's
1928

2014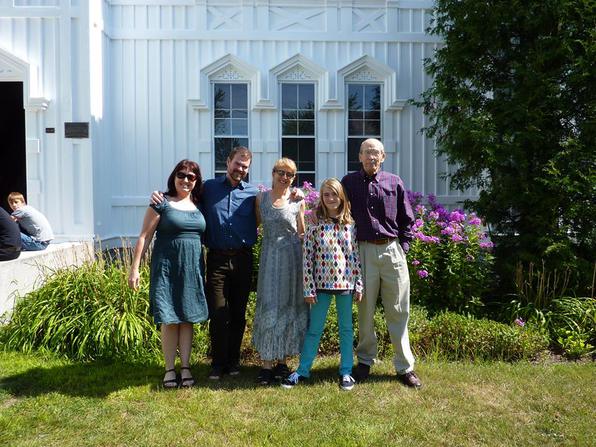 © FNCA 2014
The Perry Clan: Amy Perry Blackman, Bob Perry, Jane Perry, Ruby Blackman, Jim Perry.
2012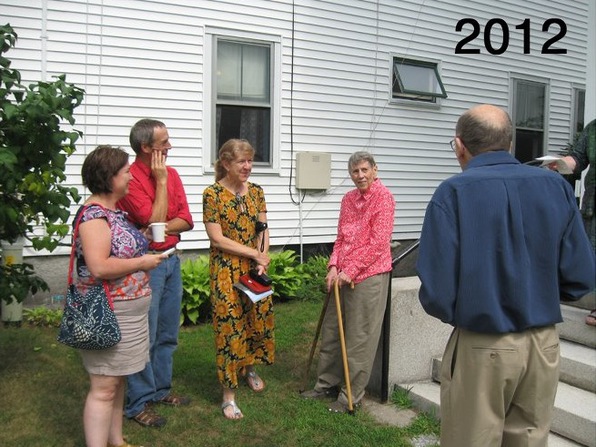 © FNCA 2012
Perrys and Woofendens: Amy Perry Blackman, Ian Woofenden, Jane Perry, Louise Woofenden, Jim Perry
2000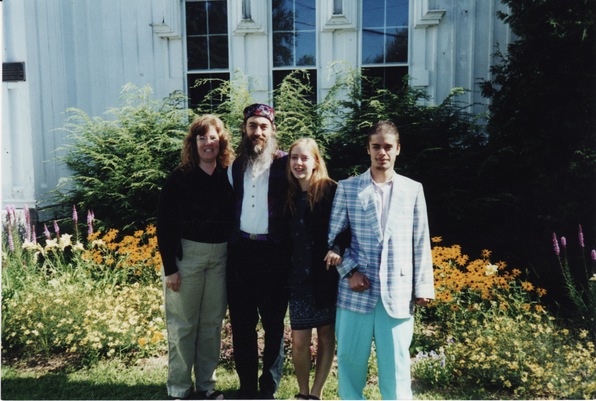 © FNCA 2000
Nancy Little, Trevor, Myrrh and Jason Woofenden
1990
"Pauline Lawrence on a Windy Sunday"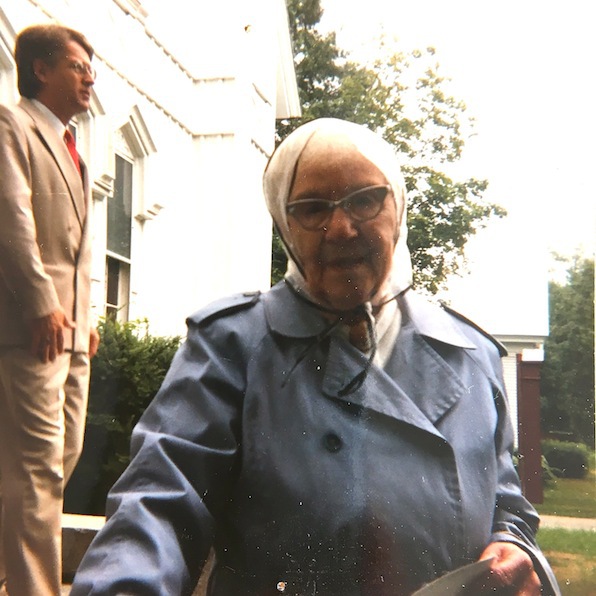 © Anna Woofenden 1990
That's Dr. Rueben Bell behind her on the church steps.
1988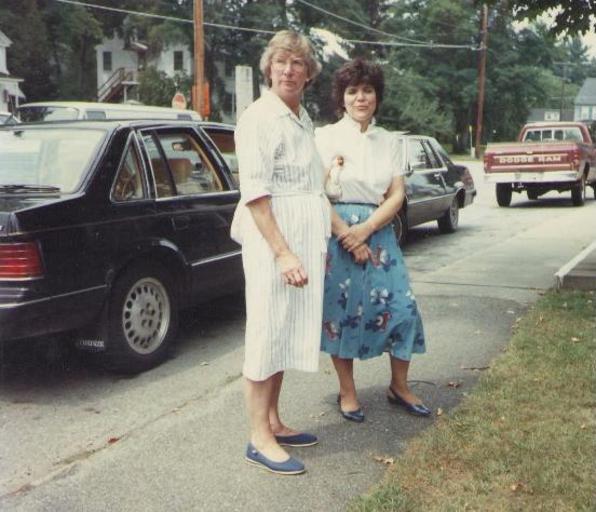 © Larry Young 1988
Nancy Perry and Martha Richardson
1987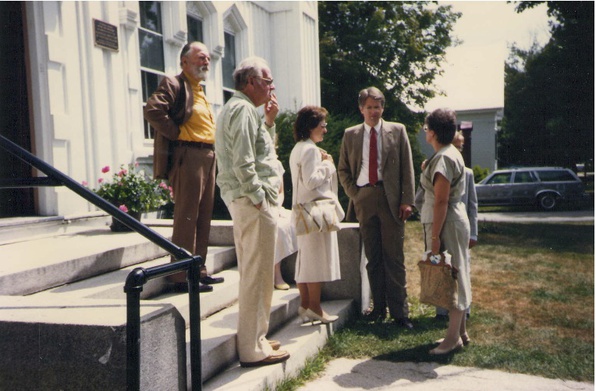 © Larry Young 1987
Rev. Edwin Capon, Fred Perry, Esther Capon, Dr. Reuben Bell, Renee Chaplin.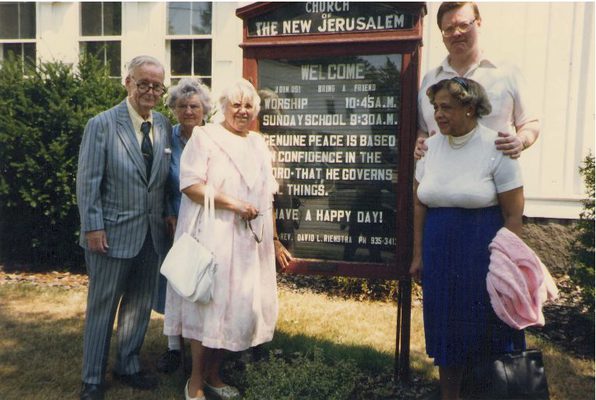 © Larry Young 1987
Joe & Alice Vigerstad, Adrienne Frank, Arthur James, Doris Shaw.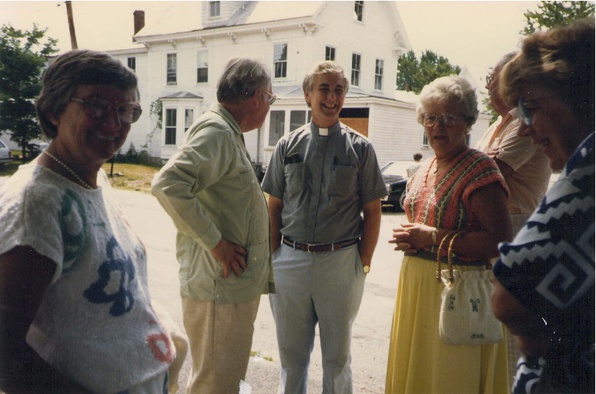 © Larry Young 1987
Nancy Perry, Fred Perry, Rev. David Rienstra, Ola Mae Wheaton, Marilyn Turley.
"Zack, Bruce, Wendy"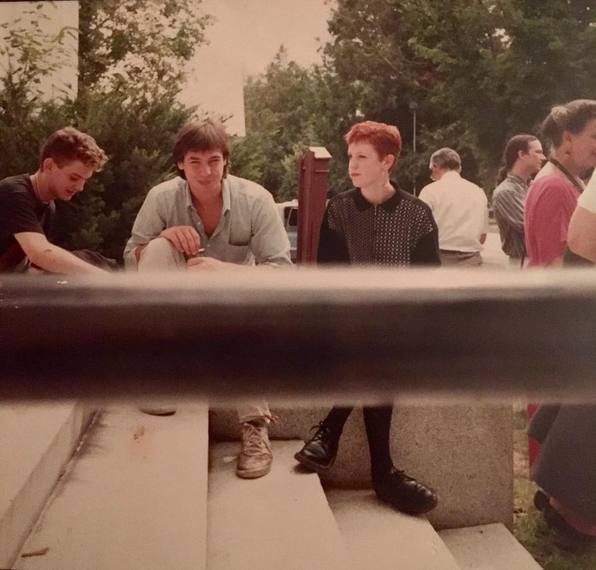 © FNCA 1987
Zack Judson, Bruce Dole, and Wendy Little through the railing, with Rev. Dave Rienstra, Ed Schnurr, and Virginia Branston in the background.

1977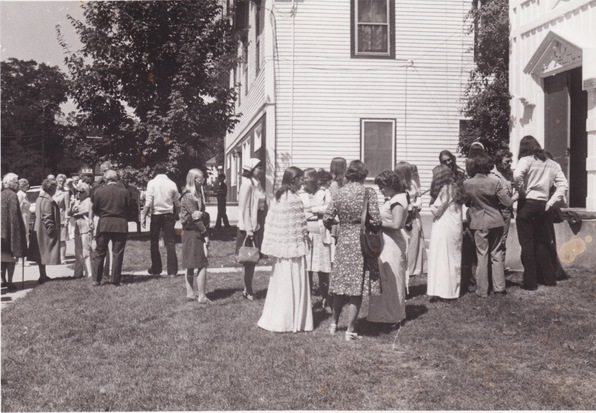 © FNCA 1977
r to l: Ed Schnurr, Frank Curtis, Todd Woofenden, ??(with headband), Trevor, Marion Gale, ??, Lynn Zimmerman, Louise Woofenden (back to camera), Lee Woofenden, Martha Richardson, Nancy Perry, Laura Woofenden, ??, ?? (in distance), Cindy Leese, Bob Leese (back to camera, walking away), ??s (5 members of the Fryeburg New Church), Pauline Lawrence (at far left with cane).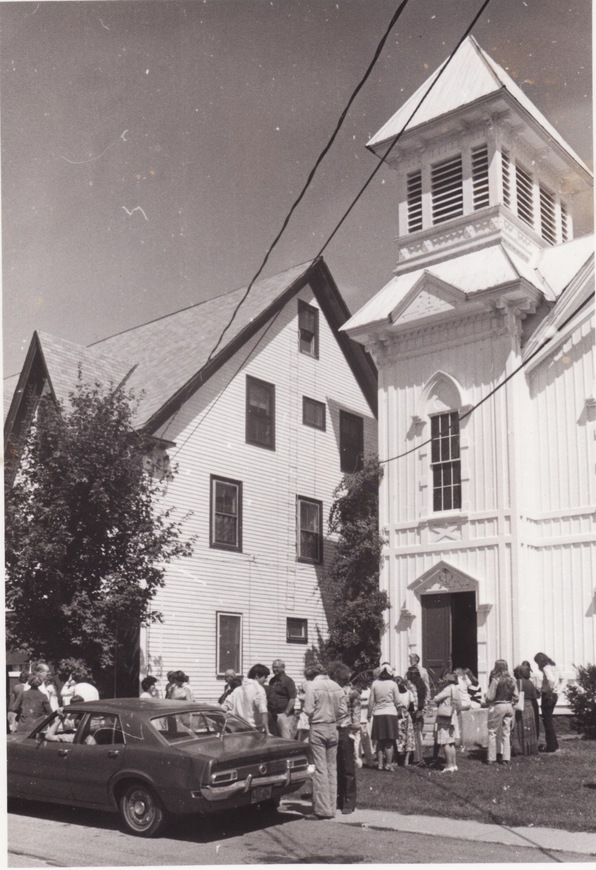 © FNCA 1977
r to l: Ed Schnurr, Jane Curtis, Ian Woofenden, ?? & ?? (sitting on stoop) Nancy Perry, lots of ??, Kevin Antonucci and Doug White (standing next to car), lots more ??.
"Woof Line-up"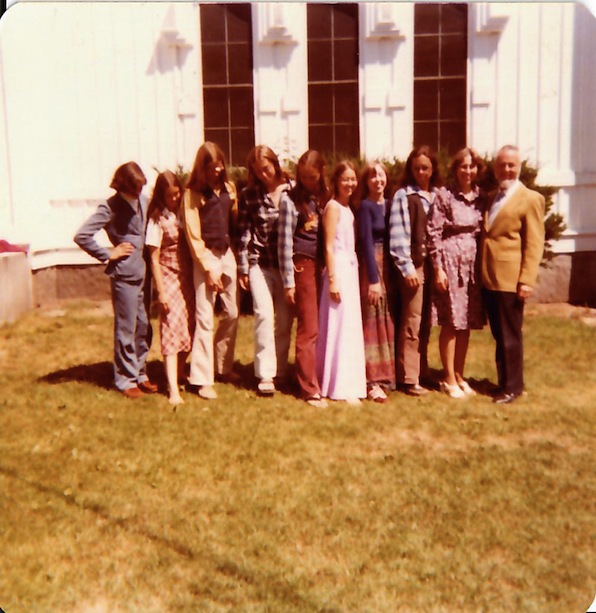 © FNCA 1977
Woofendens in age order from right to left: Bill "Pop Woof", Louise "Mom Woof", Ross, Jane, Laura, Trevor, Ian, Lee, Ellen, Todd. There's something going on with the shoes there at the left end.
1974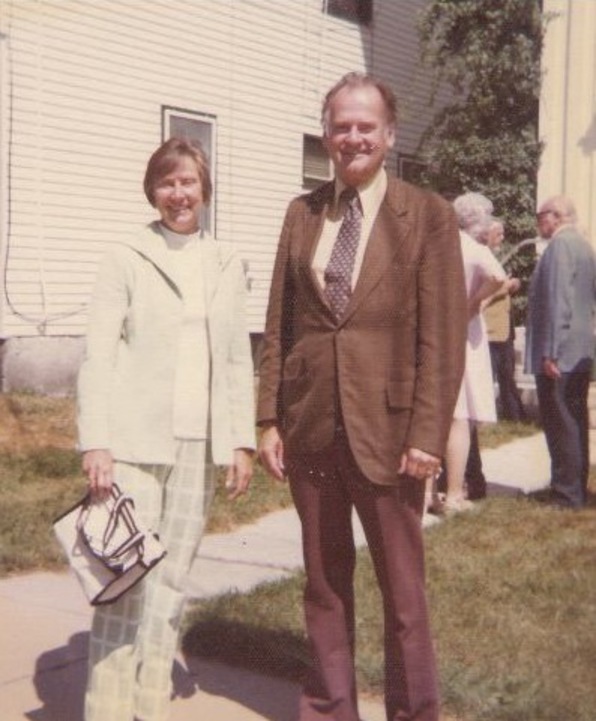 © Larry Young 1974
Fred & Nancy Perry
background: Pauline Laurence, Rev. Bill Woofenden (tan jacket), and ??
1971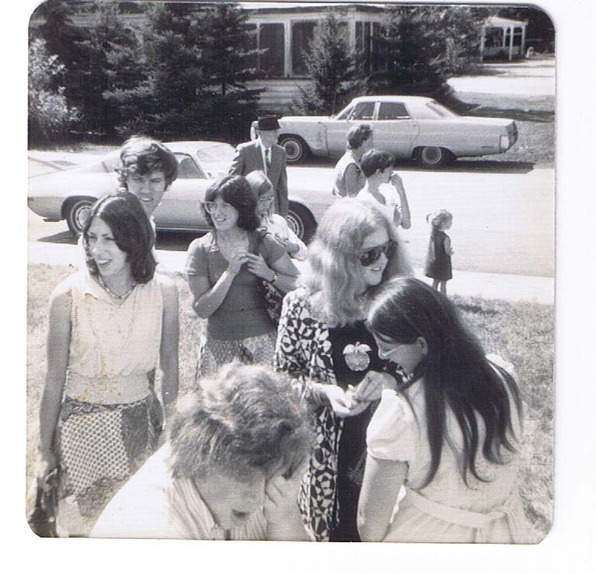 © Trevor 1971
from front to back, left to right: Malcolm Gale, Janet Charles, Joan Archer, Jane Perry (in sunglasses), John Kozar, Sue Archer, Lee Woofenden, ??, ??, Harold Larsen, Mabel Larsen, ??.
1969
"Confirmation Service"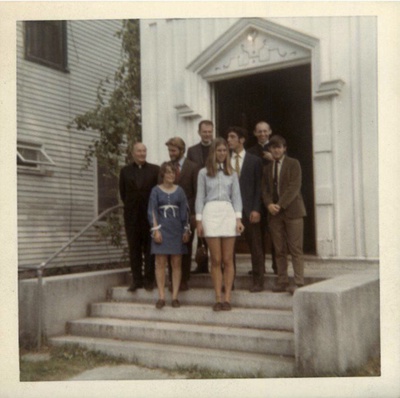 © FNCA 1969

front row: Brenda Thomas, Randall White
middle row: Rev. Harold Larsen, Gardner Perry, Gus Abato, Torgny Vigerstad
back row: Rev. George McCurdy, Rev. George Dole
1952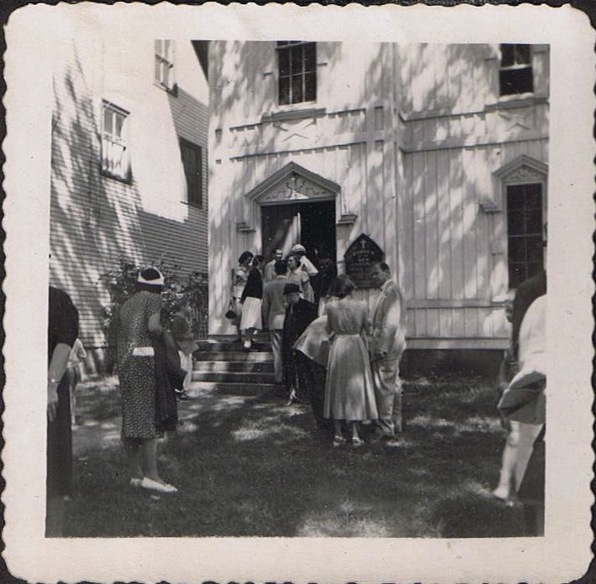 © FNCA 1951
1950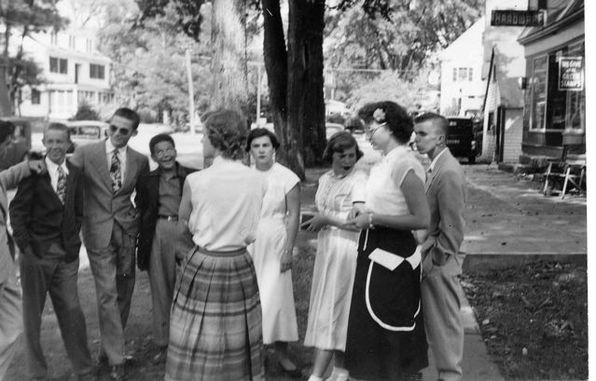 © Jim Perry 1950
late 1940's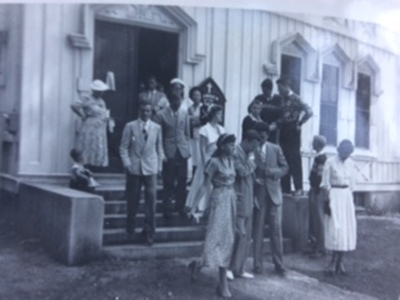 © FNCA 2017
1928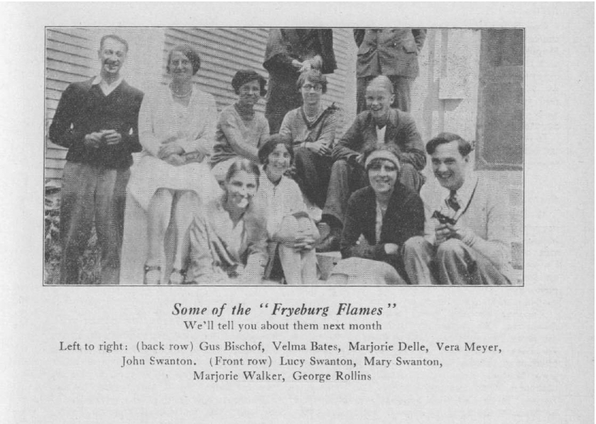 © FNCA 1928