How to Register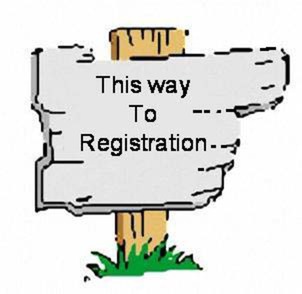 NOTE:
Everyone has
to register in order to have a place to sleep, including: lecturers, staff, and under-age day campers.
Register for Camp
Early Bird Discount
Housing
Contact the Registrar


NOTE:
Registration for the
2019 camp session
opens March 1st.
So please
DON'T
follow the
"two easy steps"
below just yet.
THANKS!

Register for Camp
To register for camp, follow these two easy steps:

1. FILL OUT THE REGISTRATION FORM
Click here for the 2018 Registration Form
NOTE: If you have a minor participating in the Youth Sponsor Program, be sure to include the Minor Release Form with your registration.
Click here for the Minor Release Form.

2. PAY YOUR DEPOSIT
The deposit = the cost of 1 night per week or part thereof for the duration of your stay. This means that for 1-7 days, the deposit is the cost of one night; for 8 or more days, it's the cost of 2 nights.

Do one of the following:
2A. We would very much prefer that you please
Pay Online.
click here to pay your deposit online
OR
2B. Only if absolutely necessary, you can
Pay by Mail.
But please be aware that there is often a lo-o-o-ong wait (sometimes 2-3 months) before your check clears.
Make your deposit check payable to: "FNCA" and mail it to:
Bob Perry, FNCA Treasurer
61 Clark Lane
Waltham MA 02451
NOTE: Do NOT under any circumstances mail any sort of deposit or payment to the Registrar. That is a big no-no and could mean as much as a 6 month turn around on your check. Thanks.
Early Bird Discount
The registration fee is waived for registrations online timestamped by June 15th, so be sure to register early!
Housing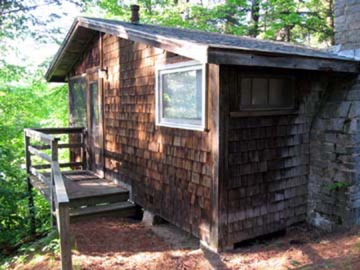 © Nancy F. Little 200Housing is assigned by the Registrar in the following order of priorities:
1. Physical Need
Some spaces are specifically designed for handicapped or campers with limited mobility or other physical ailment. These spaces are given to these campers above all other requests.
2. Family Size
Some cabins have just a double bed, another has a double plus three twins, others have two bedrooms, etc. The spaces are used as efficiently as possible to maximize camper capacity.
3. Length of Stay
Campers staying two weeks are given priority over those staying one week; campers staying one week are given priority over those staying just a weekend; etc.
4. Extenuating Circumstances
Although pets are not allowed at camp, if you have been given special permission by the Camp Director, you will be housed in one of the outer cabins, meaning the ones out in the woods: Murdoch through Laird (#12-18 on the FNCA Map).
5. Special Requests
Almost everyone has specific spaces where they like to stay. Every effort is made to accommodate these requests after the above criteria are met.
6. Order of Registration Received
After all other criteria are taken into consideration, the order in which registrations were received is taken into account, so please register as soon as you know your plans!
There's actually quite a bit more to it than that, and each year our Registrar does an excellent job of putting the whole housing puzzle together so that it works best for the entire camp. In fact, in our online 2017 FNCA Camper Survey, "Housing" received an amazing 86% Excellent and 6% Good rating for a combined 92% overall approval rating!
NOTE: To learn about what living spaces are available, please see the Housing page.
Special Note to Middle Weekend Campers:
A reminder that First Week officially ends and Second Week officially begins after middle Saturday lunch. Due to the Dole 3 Miler, our Middle Weekend numbers tend to soar! While we really do want you to come early or stay as long as you'd like, those who wish to stay in a cabin or room over Middle Weekend can sometimes be very difficult to accommodate — however, tent sites are always available. Since Second Week starts after lunch on Saturday, some spaces may need to be vacated by then to allow arriving Second Week campers to move into their living quarters. Therefore, please be aware that at the Registrar's discretion, those staying over Middle Weekend may need to move after lunch or else (*gasp*) share their space.
Contact the Registrar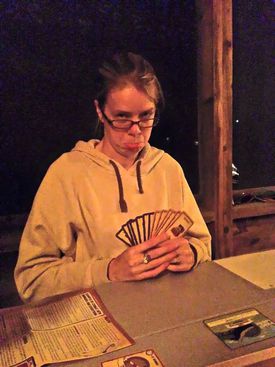 © Anna Eller Langdon 2015
If you have any questions about registration or housing, please contact:
Beki Greenwood
FNCA Registrar
<registrar@fryeburg.org>
But please, don't call, email, or text her simply to tell her you're planning on attending... just register!