Outing Day
Every Wednesday at camp is Outing Day! There are no scheduled morning or afternoon activities, and only breakfast and dinner are served. The cooks provide materials for everyone to pack a bag lunch in the Dining Hall after breakfast, and then we head out to enjoy the surrounding area for the day.
Traditional trips include mountain climbs, scenic drives (including the nearby Kancamagus Scenic Byway with it's many picturesque stops), canoe trips (including the all-day "Round River" on the Saco River), tubing, ocean beaches, various state parks, and other natural wonders. Some use the day to go shopping at the nearby Outlet Malls and/or on "the strip" in North Conway NH. A few choose to just do laundry and go out for lunch. And — believe it or not — there are even one or two who use it as an opportunity to catch up on sleep and have a quiet, restful day of solitude at camp.
NEW photos on this page in recent months:
Title or Theme YEAR Posted
"Flames Canoe Trip" (3 photos) 2013 5/3
"Trevor at Silver Cascade" 2008 5/3
"Jamming at Lower Falls" 1996 5/3
"Kank Tank" 1973 5/3
"Flames Outing to Julie Rankin's..." 1971 5/3
"Crafting in a Canoe" 1949 5/3
"Loading Up After Shooting the..." 1928 5/3

2013
2008
1996
1971 1973
1949
1928
2013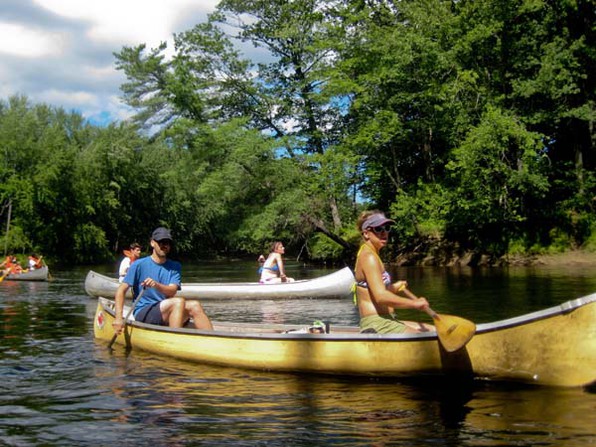 © FNCA 2013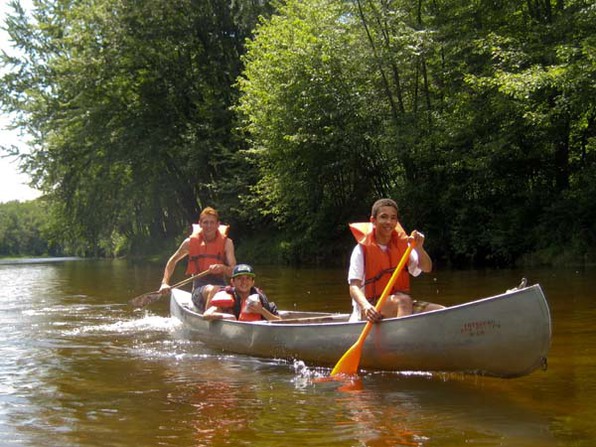 © FNCA 2013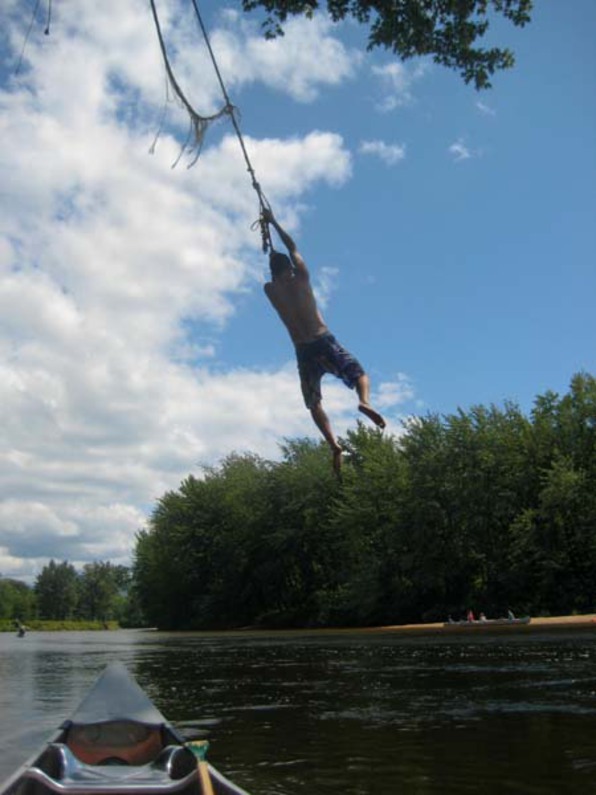 © FNCA 2013
2008
"Trevor at Silver Cascades"

© Nancy F. Little 2008
Can you find him?
This amazing waterfall is right next to the road in Crawford Notch State Park, Harts Location NH. About 250' of it are visible from the road, as seen in this photo. It actually comes down very steeply through the woods for well over a mile before that.
Not many people know it, but there's another similar wonderful waterfall, Flume Cascade, only 1/10 of a mile up the road walk up the road, just a 4-minute walk. And then there's a wonderful lookout site less than 1/10 of a mile after that.
1996
"Jamming at Lower Falls"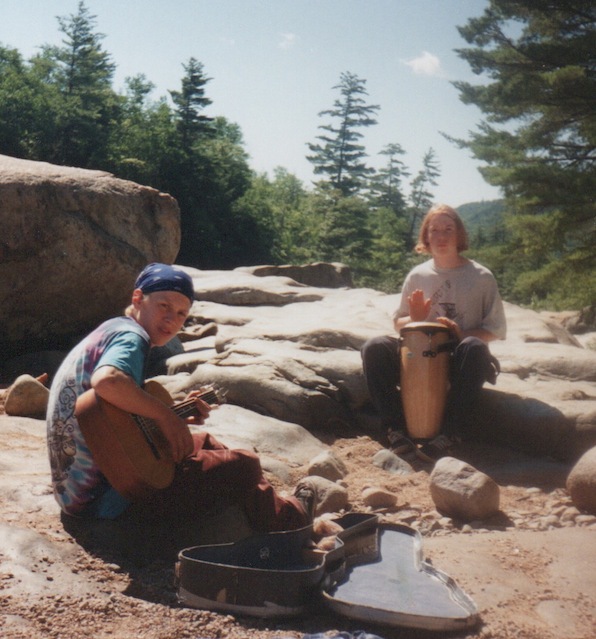 © Beki Greenwood 1996
That's Mike Woof on guitar and Mike Stroh on conga.
1973
"Kank Tank"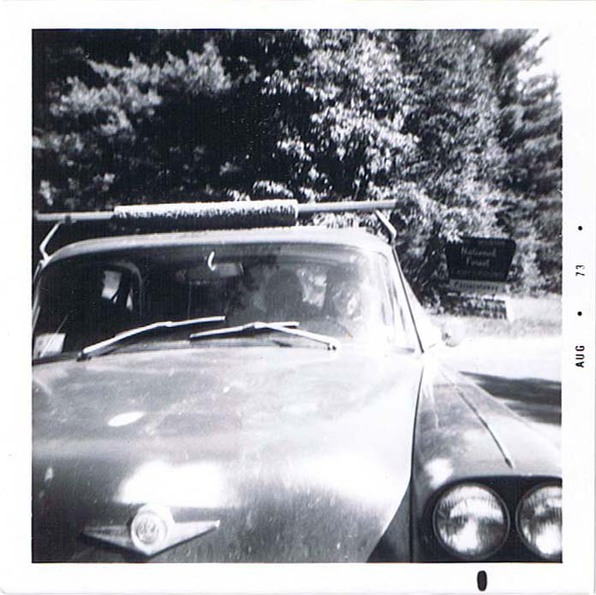 © FNCA 1973
"Kankin'" (driving along the Kancamagus Scenic Highway and stopping at all the sites along the way) was a popular Outing Day trip for the Flames in the 1970's. Pop Woof's Checker sedan — here driven by his teenage son, Trevor — had full width, fold-down jump seats in the middle row, could fit in a dozen teens... it was a really tight squeeze, but they all fit!
1971
"Flames Outing to Julie Rankin's Parent's Farm"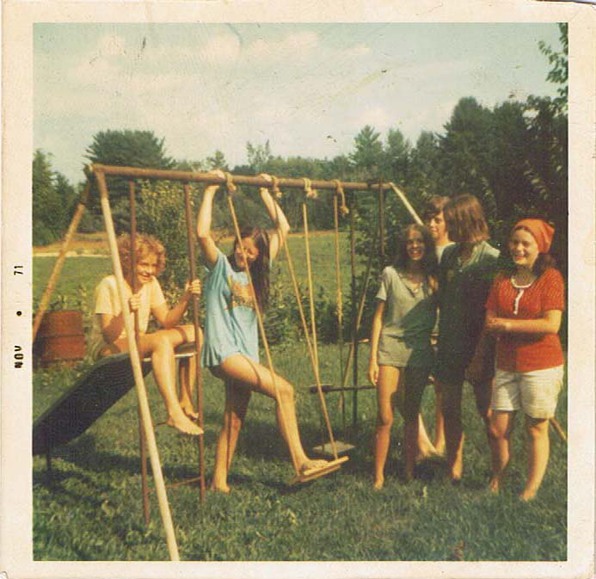 © FNCA 1971
l. to r.: Lynn Zimmerman, Janet Charles, Wendy Ashbridge, ??(in back), Trevor, Julie Rankin
1949
"Crafting in a Canoe"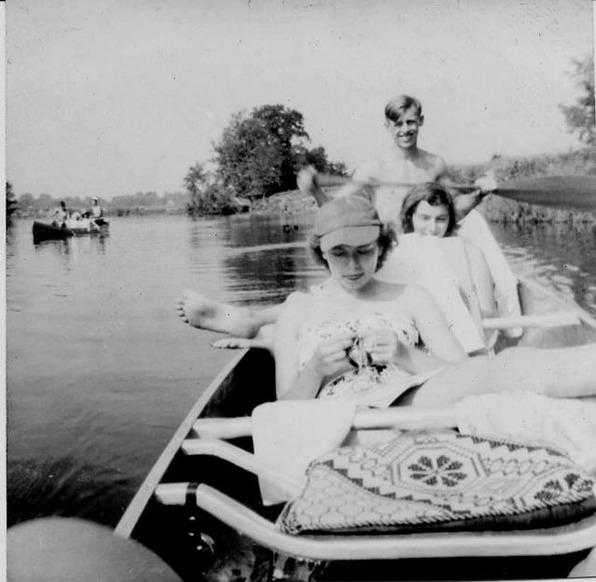 © FNCA 1949
Carolyn Judson does handwork on the river. That's Priscilla (Pat) Alden behind her and George Dole at the helm.
"Loading Up After Shooting the Rapids"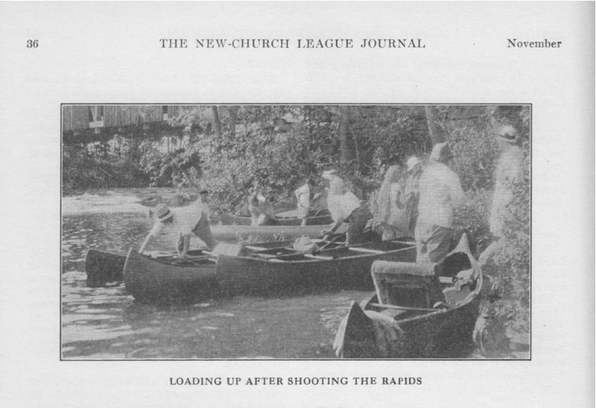 © FNCA 1928
This is the rapids at Walker's Falls in Denmark ME near the end of the "Round River" trip from the Assembly to Lovewell's Pond. The canoe trip takes all day, but because of the curvature of the river, the drive home is only about 3 miles, hence the name "Round River". Notice the covered bridge in the background.