"Reflections"
Looking back on
FNCA 1983
by Louise Dole Woofenden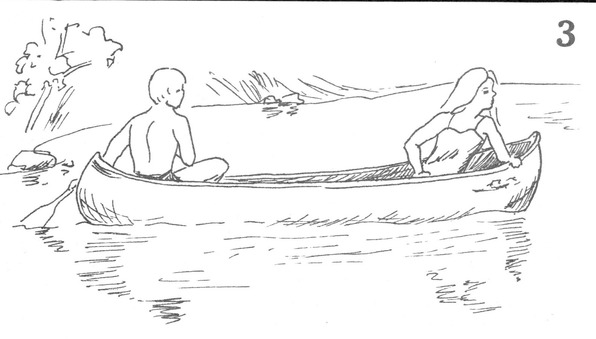 © Louise Dole Woofenden 1984
Last year's session at the Assembly exceeded all expectations. The first week, people were almost literally hanging from the rafters! We had to convert two classrooms into sleeping rooms (Virginia Branston and Eleanor Rost managed to exst cheerfully for a whole week in the room next to the little girls' dorm). And several people obligingly changed their plans for accommodations so that others might be housed more comfortably. In fact, Lynn Woofenden changed hers a number of times as she uncomplainingly moved her little brood from cabin to room to cabin as people came and went. And Roy Trombly found the he really likes sleeping in a tent!
The theme for the first week, "Parables of the Old and New Testaments", proved to be a base for some innovative teaching and learning methods. The topic "Rites and Sacraments" during the second week led us to rethink our attitudes toward the traditional liturgies of the church.
And the music — what delights! We had two professional musicians present, Muff Worden ------> and Roy Trombly, who between them brought skills in the piano, organ, voice, and drama departments. They gathered a group around the piano in a frequent outpouring of musical energy, of both serious and hilarious nature.
We also had: poets and authors who penned reams of doggerel, bad jokes, and humor (Gretch Worden's epic on Pop Woof's accident will go into the archives); our artists, who produced drawing, paintings, and cartoons; our crafts people, who let us look on while they did stencilling, made badges, and created needlework wonders.
The children were an ever present joy, with their choral and dramatic presentations and their never ending energy!
© Nancy F. Little 1983And the Flames — where do the get a new and exciting theme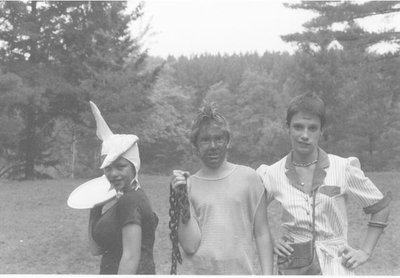 for Initiation each year? The never seem to run out of ideas. In '83, they created from the lowly initiates a Valley Doll, a Playboy bunny, and a punk rock character. And then by magic turned them into Flames.