[Cabin and Addition Donors and Namesakes]

Frances Twitchell
(1867-1936)
namesake of
built in 1950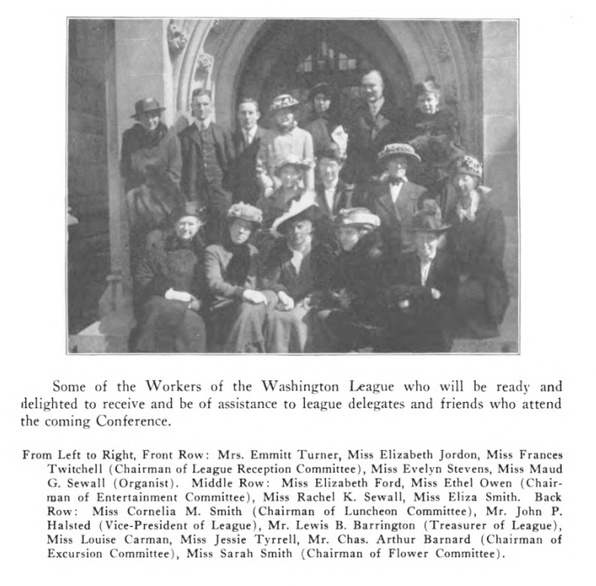 Frances Twitchell is front and center in the angled hat
1915 picture from The New-Church League Journal
ED NOTE: This page is still very much a work in progress.
Birth
Frances Twitchell was born in or near Boston MA on September 16, 1867 to Joseph Henry Twitchell and Harriet Augusta (French) Twitchell.
Residences
Although she was born in the Boston area, she lived nearly all her life, in Washington DC. Very late in life, she moved to Portland ME to be near relatives, where she lived the last 4 years of her life.
Career & Other Pursuits
In her early 20's, she ran "Miss Frances Twitchell's Kindergarten, at 1530 "O" Street, NW, just a 12-minute walk from the family home.

© The Evening Star 1890
Later in life, Frances Twitchell was an active member of the Women's City Club in Washington DC.
Frances Twitchell and the Church
Frances Twitchell was a (nearly?) life-long member of the National Church in Washington DC. She was an alto in the church choir (1907, 1909).
As a young adult, she was involved with her local Washington DC New-Church League.
She was also involved with the national League — then called the American League of New-Church Young People's Societies — serving on the Executive Committee as member-at-large in 1900 ["and" or "through"] 1903, as secretary starting in 1904, and on the Nominating Committee in 1915. When the national League Conference was held in Washington DC in 1904 and 1915, she was chair of the local League Reception Committee in 1904, and hosted an "incidental party" for the visiting Leaguers in 1915.
She served as a delegate to Convention in Cleveland OH in 1898, Cincinnati in 1900, Philadelpha PA in 1917, Urbana OH in 1922, ...
Frances Twitchell at the FNCA
Frances Twitchell was the Assembly's first treasurer, and a signer of our first constitution in 1928 as recording secretary.
In 1926, Frances Twitchell was one of a group of women (with Mrs. Gustafson, Mrs. Dole, Mrs. Asa Goddard, Mrs. John Daboll, and Mrs. Lois G. West) who, in a concerted effort to organize the social life of the Assembly, planned an Evening Activity every night. In his report about the First 7 Years, Rev. Harold Gustafson said this:
These women were the instigators of many... delightful parties; and they were so thoughtful and friendly that they infused their fine spirit into everyone at the School. The atmosphere was most delightful.
That same year, Frances Twitchell also served on the first committee to evalute a piece of property for purchase to as a permanent home.
In 1927, Frances Twitchell served as Matron of Frye House, an "Executive position".
In 1936, the Frances Twitchell Memorial Fund is established to "reduce the indebtedness of the Assembly."
Death
After an illness of 6 weeks, Frances Twitchell on January 23, 1936 in Portland ME, at age 68.