FNCA NEWS!
1/18 6/18
1/16 6/16
1/15 5/15
3/14 4/14
1/13 2/13
4/12 5/12
1/11a 1/11b 5/11a 5/11b 5/11c 7/11a 7/11b 8/11 10/11
8/10
Fryeburg ME - 6/8/18
Work Weekend 2018
by Merrilee Phinney
Pine cones everywhere! FNCA Work Weekend 2018 will be remembered for the pine cones and pitch.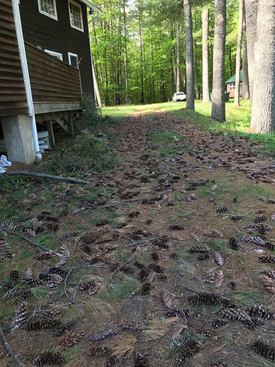 © Nancy F. Little 2018Once again, a great group of dedicated FNCA fans joined together over Memorial Day Weekend, May 25-28, to open camp and prepare our special place for another season along the Saco. Traveling from all the New England states and from WA, too, 20 adults, 2 teens, and 3 kids joined forces, working all over camp and saving our treasury thousand of dollars with people power.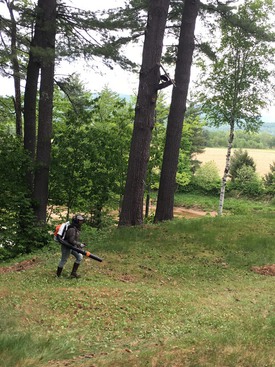 © Beki Greenwood 2018Before much work could begin, however, a dense carpet of pine cones from back to back Nor'easters had to be raked away just to make walking pitch- and crunch-free! Actually, there was raking and pine cone blowing all weekend long, with large tarps full of cones and needles dumped over the edge of the ravine continually.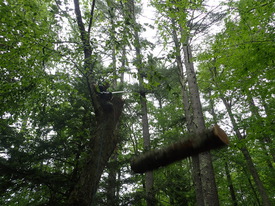 © FNCA 2018Raking topped the To Do List, but there was so much more. Under the guidance of the Building and Grounds Committee, a long list of jobs was completed. Five dead or cabin-threatening trees were taken down, while already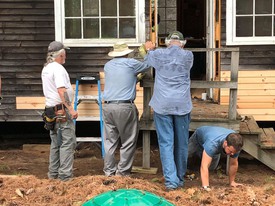 © Emily Woofenden 2018downed trees and tree limbs (everywhere!) were cleaned up and carted away. A new metal roof was attached to the Mack Cabin; the main drain of the Woof Cabin was unclogged; and 4 large porch screens on the Goddard Cabin were replaced along with one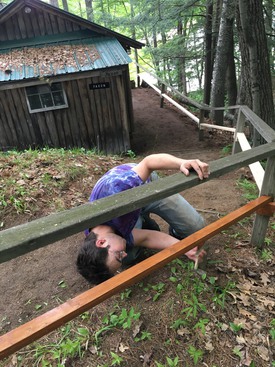 © Beki Greenwood 2018window screen on the Main Building. The play area deck on the back of the Goddard Annex was detached, the rotten wood supporting it replaced, and the deck itself improved and reattached. Parts of the Main Building were repaired in preparation for scheduled painting. The guard rail along the Faxon Cabin was re-enforced for child protection. Many cabins were cleaned, a few needing more than others, while the kitchen and pantry were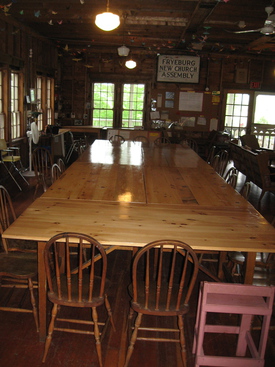 © Trevor 2018thoroughly cleaned. And the mouse-proof closet on the second floor of the Main Building received a much needed intense sorting, tossing, and organizing of its contents. Whew!
Teams helped prepare meals as well as set up and clean up for 3 breakfasts, 2 lunches, and 2 dinners. The meal coordinators, Nancy Little and Beki Greenwood, did a fantastic job planning, preparing, and presenting great food at meal time.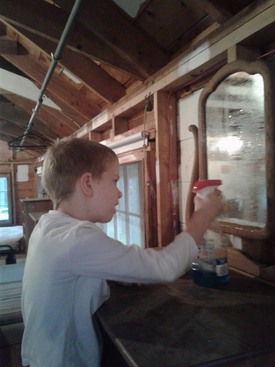 © Jillian Grams 2018Six of the tables in the Dining Hall were pushed together, and everyone — even visiting local members — sat and ate together.
It was another great weekend of hard work, needed work, messy work, and some very tricky work, but also a time of loving and appreciating each other while helping support the special place we call the FNCA.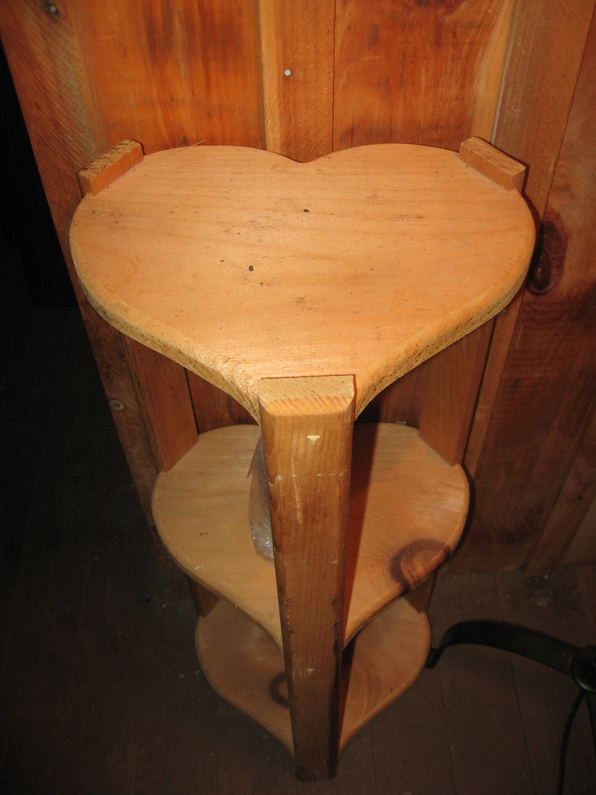 © Trevor 2018
Lalla's Memorial Garden Fund
a letter from the FNCA Board of Directors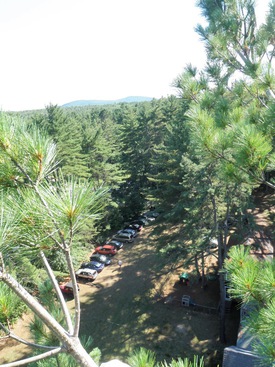 © Ian Woofenden 2011As you may know, Route 302, the state road that we all use to get to the Fryeburg New Church Assembly that runs the long length of the southeastern border of our property, is going to be widened and raised 3+ feet, most likely sometime in 2019. To do that, the State of Maine is going to take a long, narrow strip of Assembly property and, unfortunately, remove the long, narrow stand of trees that has screened our camp from the road.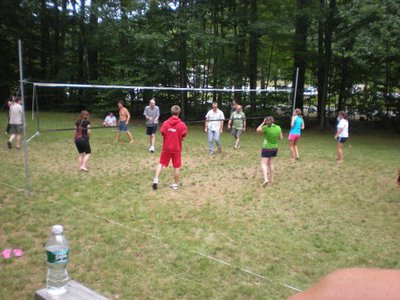 © Cassie Young 2009We do expect to be compensated financially for this taking in accordance with an appraised value of the land, but almost certainly not in an amount sufficient to mitigate the damage to our physical and psychological screening from the roadway.
The Assembly's Board of Directors has studied the effects this project will have on the Assembly experience and value, and has determined a course of action. We will seek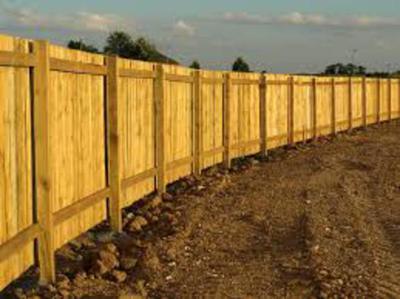 to install wooden fencing at least 7 feet high to partially address noise concerns. We also seek to plant a new border on the Assembly side of the fence primarily to address sight lines.
The new planter bed border is envisioned to be 12 feet wide and would provide foreground interest and beauty, while establishing deciduous and evergreen trees that will gradually grow to provide screening.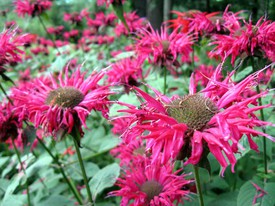 © Nancy F. Little 2009In memory of Cecilia "Lalla" Searle and her lifelong commitment to the Assembly, including her sharing and implementing her horticultural expertise still highly visible and prized today throughout the camp, we plan to call this new planted border: Lalla's Memorial Garden.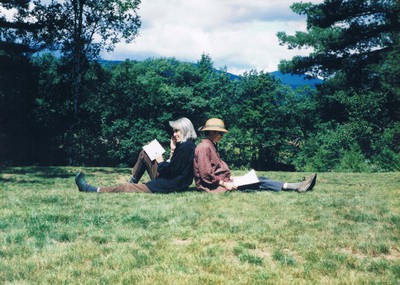 © Shannon Costello 1997Lalla's Memorial Garden will honor the plant selection criteria established in 1990 by Lalla and her sister Tina whereunder "the shrubs and perennials have to be very hardy and bloom in August." For many years thereafter, the two sisters donated and planted several plants each annual Work Weekend and camp session.
We estimate the cost of Lalla's Memorial Garden to be $25,000. This

includes the cost of the plants, the loam and compost plant bed soil, mulch, and temporary irrigation for the first three years. Labor would be provide by the Assembly.
A $2,000 anonymous donation has been received to establish the Lalla's Memorial Garden Fund. We ask you for your financial support at any level in support of this deeply meaningful and worthy project, which will be an important part of the future of the Fryeburg New Church Assembly.
Thank you very much.
The Board of Directors
Fryeburg New Church Assembly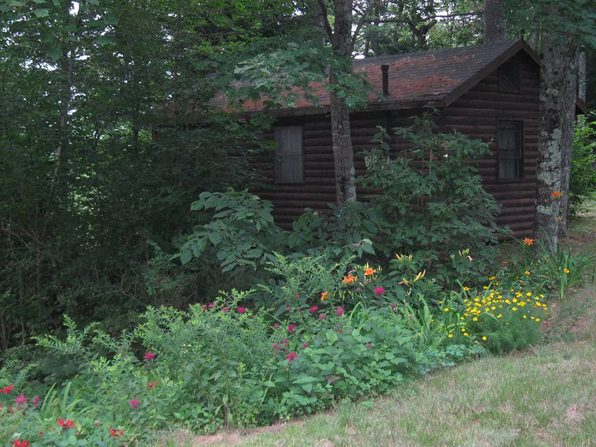 © Jesse White 2014
Fryeburg ME - 6/1/16
A Very Successful Work Weekend 2016
May 28th-30th saw 25 adult campers at the Assembly hammering, sawing, constructing, deconstructing, shoveling, tamping, roofing, plumbing, digging, filling, raking, sweeping, cleaning, tossing, replacing, piling, levelling, sorting, scanning, and cataloging, among other things.
With Building & Grounds Committee members Dave Richardson and Colgate Searle leading the big projects, and B&G member Nancy Little in charge of the rest of the To Do List and meals, everything ran smooth as toast for the entire weekend.
The bigger projects include: finishing up the final work on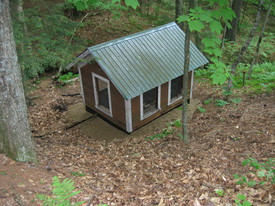 © Trevor 2016the new foundation of the Pump House; putting new metal roofs on the Taft Cabin and the Claxton Cabin; putting a new, wider, Americans with Disabilities Act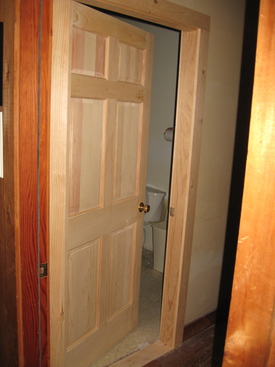 © Trevor 2016 compliant door on the Dole Wing bathroom; adding and tamping down a dumptruckful of gravel to the lead-up to the handicapped ramp on Twitchell South to accomodate a 500 lb high-tech wheelchair; putting two new runoff pipes under the road next to the Goddard Annex in preparation for the new gutters that will be arriving soon; and replacing the water heater in the Laird Cabin. (The links above show the completed work.)
Smaller projects include: replacing the window ropes in the Girls Dorm; fixing leaky faucets and/or showers in Taft, Woof, and Bray South; filling several holes in the loop road and grading the edge of the entrance to camp from Rte 302; putting a new bed in Room 2 in the Perry Wing; cleaning and arranging the Goddard Annex play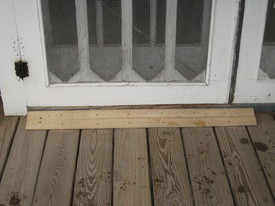 © Trevor 2016room; putting a "wheelchair wedge" at the base of the front door from the porch into the Dining Hall; raking the leaves and pine needles away from cabins; cleaning cabins and the bedrooms in the Main Building; completely cleaning out the walk-in fridge in the Kitchen; cutting a tree that had fallen in the river at the waterfront; painting porch railings; repairing fascia boards on the Claxton cabin; and a host of smaller stuff.
The camp historian and his able helper spent their time beginning a catalog of our old camp files and records. This will eventually became a searchable database. The camp historian also spent many, many hours going through meeting minutes of the "Women's Auxiliary of the Fryeburg New-Church Assembly" dating continuously from 1935-1975, as well as reading extensive correspondence on file dating back to 1912! These 1912 pieces were the original letters between Rev. John Whitehead, Walter A. Robinson, Rev. Baman Stone, and Rev. Herbert Small about starting the FNCA. There will be a report about this project as an Evening Activity during the second week of camp this summer. In the meantime, be sure to check out the brand-new FNCA Time Line which is now in the FNCA History menu.
Everyone at Work Weekend enjoyed the excellent meals, thanks to the planning, prep work, and able leadership of Nancy Little and her crew.
And with all that, there was still plenty of time in the evenings for socializing, various games and entertainments, and both serious and silly conversation among friends old and new.
A great big THANK YOU goes out to everyone who attended Work Weekend 2016! Thanks for your hard work, comaraderie, and cheerful participation in this very important event that saves us thousands and thousands of dollars every year.
Waltham MA - 1/9/16
FNCA Mid-Winter Board Meeting
The FNCA Board of Trustees held their annual mid-winter meeting at Studio Crossings in Waltham MA today. In physical attendance were Colgate Searle, Ben Grams, Bob Perry, Beki & Jason Greenwood, Emily Woofenden, Jesse White, and Trevor. Skyping in were Debbie Cook from Pennsylvania and Dan Dyer, Jon Crowe, Dave Richardson, and Flames representative Liz Dyer from Maine. Absent was Rev. Susannah Currie.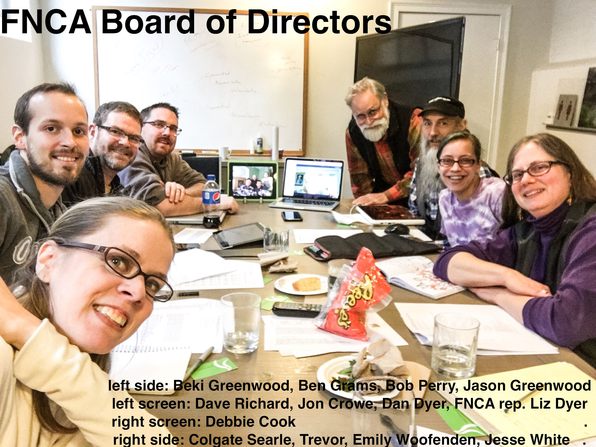 © Beki Greenwood 2016
In the absence of Rev. Currie, Trevor offered the invocation to open the meeting. Then the previous meeting's minutes were acccepted, and all that jazz that you have to do at the beginning of the meeting.
Bob Perry offered his treasurer's report, with the Board discussing two aspects of it: 1. the discrepancy between "camper days" (the total number of campers housed each night all added together) and the number of meals served due to unregistered visitors sharing meals with us but not spending the night, and 2. investment of some or all of the two large donations we received last year.
There were also reports on and/or discussions about:
1. scholarships
2. purchasing waterfront equipment
3. the Dole 3 Miler
4. facility rentals
5. the Outreach Committee
6. creating a Youth Coordinator position
7. membership list and collecting dues
8. doing email outreach during the year using an email contact program like MailChimp
9. fundraising ideas
10. lecture themes will be "Uses" and "The Teachings of Jesus", with which theme which week to be determined later
11. the Rev. Everett K. Bray Visiting Lecturer
12. Opening Weekend Program
13. a new volunteer to record lectures
14. the rates this year will be the same as last year
15 filling the void created by discontinuing the bulletin
16. the Building & Grounds Committee's to do list
17. restoring the Whitehead Hall piano
18. the future work that's going to be done on Rte. 302 starting in 2017 or 2018 and how it will effect our property
19. the property next door that is for sale
20. Work Weekend.
All in all, it was an easy-flowing, productive meeting with smiles and laughter along with the serious discussions and decisions.
______________________________________________
5/14/15
Everyone's Wondering:
What Happened to the Bulletin This Year?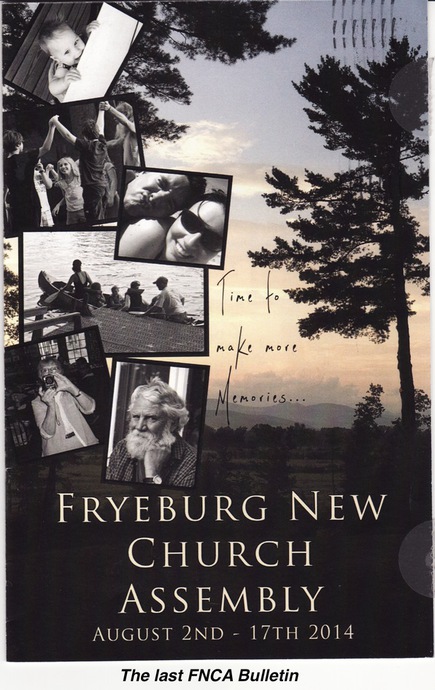 © FNCA 2014Well, here it is straight off and then a very brief bit of history and a list of nine reasons why:
The FNCA Outreach Committee (with the approval of the Board) decided earlier this Spring to discontinue the bulletin.
Through a series of unfortunate events (primarily massive computer failure), the printing date for the bulletin kept being pushed further and further from the traditional late February early March, with no relief in sight. Meanwhile, online registration opened up and camp registrations began pouring in.
Sometime in mid-April, the problems still had not been resolved, and there was still little possibility for the bulletin to happen in even vaguely close to a timely manner... and registrations kept coming in.
That got a few members of the Outreach Committee thinking: Why are we doing all this work every year to produce the bulletin which (prior to the internet) was how we communicated with our membership about registering for camp, if all the information in the bulletin is already online before the bulletin is printed and everyone is registering without it?
So, after an actually rather short online discussion, the Outreach Committee voted unanimously to discontinue the bulletin. Here's nine reasons why:
1. All the info in the bulletin is available on the website, some of it in more depth because there are no space restrictions there.
2. Virtually everyone (pun intended) registers online, a large percentage of them before the bulletin even comes out.
3. The internet has become our primary means of connecting with our membership and friends, via email, Facebook, and our website.
4. Each year, it takes 7-12 volunteers a total of more than 40 hours to produce the bulletin. It's especially a lot of work for the bulletin editor.
5. It costs the Assembly around $1,000 each year to print and mail the bulletin.
6. More than 50% of the bulletin content is the exact same information year after year after year, and — with very few exceptions — is basically only read by non-attendees and potential newbies who are either on our mailing list or else picked up a copy somewhere.
7. Most regulars only look at the themes, the photos, the rates, and a few random pages here and there anyhow.
8. It is very hard to justify the huge amount of work and the sizeable cost of producing the bulletin each year considering the rather negligible results and the fact that all the info in the bulletin is already on our website long before the bulletin comes out.
9. It's just SO last century!
It's time to move on, my friends. Yes, many of us get nostalgic for the Good Old Days (can we please go back to Friday night bean supper on the lawn? Please, please, please, please, please?), but the bulletin has served its purpose and served it well... and that purpose is now better served by other means.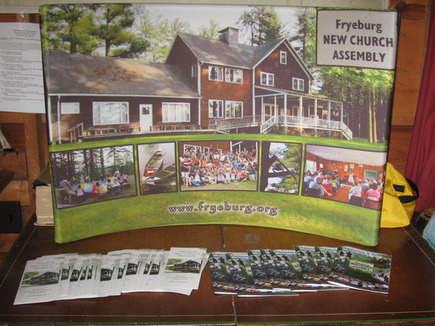 © Trevor 2011There is, however, one thing we've been using the bulletin for that is still valid, and your friendly FNCA Outreach Committee has already come up with a much more practical solution than spending 40 hours of labor and $1,000. The use in question is as a handout with our FNCA Display when it's set up at Convention and various East Coast churches. The solution: A. Update our tri-fold brochure [the white tract in the photo above] making sure that it has enough info for a newbie to get the gist of what camp is all about. B. Each year, create a 1/3 page insert with this year's lecture themes, Opening Weekend Program, rates, etc. to go along with it. The Outreach Committee is planning on having this ready for Convention this summer.
Another thing the Outreach Committee is aware of is that many people just love seeing all the photos in the bulletin and often keep it handy in their homes, leafing through it repeatedly for brief moments of FNCA pleasure throughout the months leading up to camp. So, one idea the Outreach Committee has already bandied about is to create an FNCA photo book for the Sales Table. It could be a yearbook kind of thing published each year with photos from the previous year. It could be something that covers a 5 year span and gets done anew in that many years. It could be a coffee table book that covers our entire history. Don't hold your breath waiting because at this point it's just an idea, but it's a pretty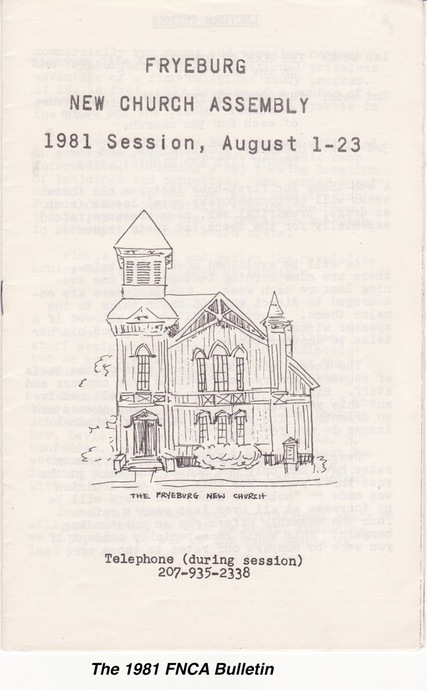 © FNCA 1981good idea so there's a pretty good chance that it may actually happen, especially since self-publishing has gotten so much cheaper and easier than it every was before.
So, please join everyone in waving goodbye to the FNCA bulletin: You have lead a long and useful life and we were glad to know you!
R.I.P.
---
Waltham MA - 1/24/15
FNCA Board of Directors
Mid-Winter Meeting Highlights
The FNCA Board of Directors held their regular mid-winter meeting at Studio Crossing, a coworking office space in Waltham MA. Special thanks to Board member Bob Perry for arranging this. With four member Skyping in from Pennsylvania and Maine, all 13 members of the Board were able to be in attendance despite the snowstormy weather.
All the usual stuff got done: reports from the treasurer and some committee chairs, set the rates, choose the lecture themes, select an Opening Weekend Program presenter, discuss the bulletin, etc. --- all the usual stuff.
So the interesting stuff is: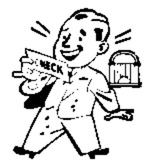 1. The FNCA received an unrestricted $25,000 grant from the Lydia S. Rotch Fund! This fund dispersed a boodle of money as part of transitioning over to management by Convention. Special thanks to Rotch Fund trustee, life-long FNCA member, core lecturer, and former camp director and Board member Rev. Gard Perry for his part in this.
2. The first annual Rev. Dr. George F. Dole Celebration Three Mile Road Race, which was held middle Saturday last year on the rail trail which starts at the Maine Information Center directly across the street from the Assembly, netted about $4,000! Nearly half the people at camp last year participated in the race, and many people we haven't seen at camp for years showed up middle weekend to be a part of it.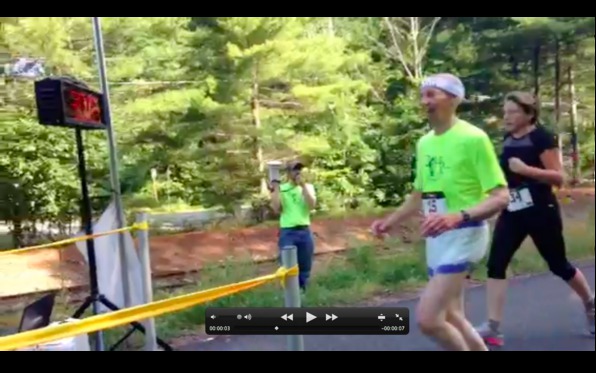 This summer, the race will again be held in the morning on middle Saturday. The Summer Session Committee will be discussing a way to still somehow fit the day's lectures and classes in this year.
Lots of local businesses donated financial support and/or prizes. Six local running clubs sent representatives to participate in the inaugural race last year, and all six told us that they would definitely recommend our race to their clubs! So this year, we expect at least double both participation and donors. Yipee!
Huge thanks to Race Director Jon Crowe and the entire Race Committee as well as to the crowd of local people and Assembly members who helped before, during, and after this huge new event we've started.
And this writer would especially like to give a big thank you to Outreach Committee member Nancy Little who's idea this race was in the first place. THANK YOU, NANCY!
3. The 2015 lecture themes will be Mothers in the Bible and The Doctrine of Life. It has yet to be determined which theme will be which week, but it will appear on the website as soon as that decision is made.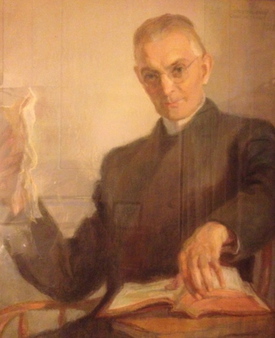 4. The Board accepted a proposal to initiate the Rev. Everett K. Bray (pictured right) Visiting Lecturer Program to pay for airfare to camp each year for one (or more) prominent Swedenborgian scholar(s) who is beyond normal travel distance to camp. There was also talk of establishing an endowment fund for this purpose.

© Anna Rich 2009
5. The Board voted to fully fund a van to bring teens to camp from the Mid-West. This used to happen routinely every year but has not panned out the last few of years resulting in the number of Flames at camp being considerably lower than usual because of that. (Now all we need is a driver.)
6. Hits on the FNCA website more than doubled in 2014 over the year before, in both unique users and total hits. This means that more people are spending more time on our site. One very interesting note is that someone is systematically going through all the Downloadable Lectures and (presumably) listening to them!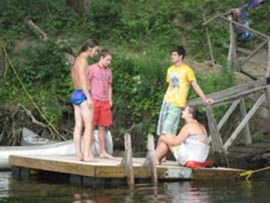 © Emily Woofenden 20107. Our waterfront safety equipment is going to be seriously upgraded this year to meet current waterfront safety standards. Thanks for this initiative goes to our Waterfront Director, Jon Crowe.

8. Did you know that members can rent the facility, anything from a single cabin to the entire camp, for anything from a private vacation to a major function, from Memorial Day to Labor day (except during camp, of course) for a day, a weekend, a week, or longer? Well, the former Non-Session Use Committee, chaired by Board member Beki Greenwood, very suitably renamed itself the Facilities Rental Committee, and the commitee chair is now called the Rental Coordinator. Makes more sense now, doesn't it?
9. Online registration will open March 1st with the bulletin going out shortly after that.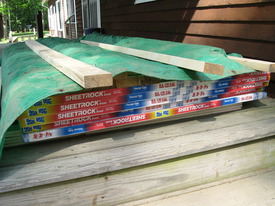 © Trevor 201110. And finally, Work Weekend 2015 will be held over Memorial Day weekend, as usual, from Saturday, May 23 through Monday, May 25. Please join us!
---
Two BIG Announcements!
The Virginia Branston FNCA Flames Scholarship Fund
The Rev. Dr. George F. Dole Celebration Three-Mile Road Race
The Virginia Branston FNCA Flames Scholarship Fund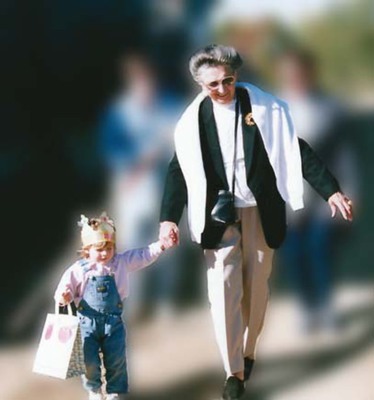 The family of Virginia Flynn Branston is pleased to announce that they have created an annual scholarship fund in loving memory of their Mom, Grandmother and Great Grandmother: The Virginia Branston FNCA Flames Scholarship Fund.
Virginia loved attending the Fryeburg New Church Assembly and shared that enthusiasm with her family. All of Virginia's descendants were taken as Flames by their loving Matriarch to this oasis on the shores of the Saco River. To honor Virginia's memory, the family would like to extend this opportunity to other interested young people ages 13-22.
The scholarship will be open to a minimum of two Flames / Senior Flames per year who request the scholarship. It will be based on stated need, including either two full scholarships or multiple partial scholarships. Preference will be given to newcomers to the FNCA. If more than two people request that Virginia help them attend camp, the FNCA Scholarship Committee will determine who will be awarded the scholarships.
Please accept Virginia's support and love just as her family has been blessed by her strength, wisdom, and relationship with God.
Click here for details on how to apply.
The Rev. Dr. George F. Dole Celebration
Three-Mile Road Race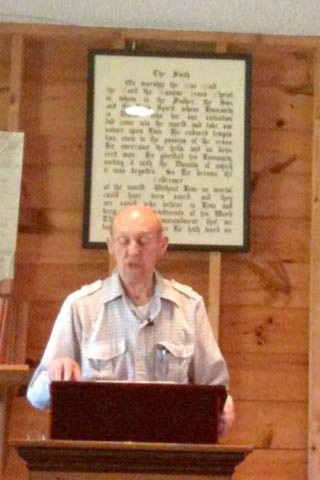 © Anna Rich 2009A little-known fact of George Dole's younger life is that he was a Rhodes Scholar finalist, attending Oxford University in Oxford, England. Having been a strong half-miler while at Yale, George decided to continue running at Oxford.
This choice to compete with the Oxford track team led to an accidental collision with sporting history when, on May 6, 1954 he found himself one of 6 runners in one of the most celebrated athletic events of all time: The first sub-four-minute mile, the record achievement of Roger Bannister.
The Fryeburg New Church Assembly is organizing the "Dole Three-Miler" as a celebration of the life, legacy and good humor of Rev. Dr. George F. Dole, his great love of family and friends, of nature, of running and healthy competition, and his love of God.
Although there will more than likely be harcore runners participating, there will also be a crowd of walkers who just want to support the cause. We will also need a crew of volunteers that morning to help run the race. Either way, please join us.
We are delighted to announce that Rev. Dr. Dole — now in is 80's and still running — will not only be leading off this new race held in his honor, but also will deliver a free public talk the evening before, Friday, August 8th, about that famous 1954 race.
Here's the scoop:
The Dole 3-Miler
Date: Saturday, August 9, 2014 (middle Saturday)
Time: 8:00 a.m.
Where: The Mountain Division Rail Trail at the Maine Information Stand directly across the street from the FNCA
Registration Fee: $20
Proceeds will benefit: Fryeburg New Church Assembly, the Fryeburg New Church, and the Mountain Division Rail Trail.
More information, including registration and sponsorship, is available on the official race website here.
---
Cambridge MA — March 1, 2014
Board of Directors (Finally)
Has Their Mid-Winter Meeting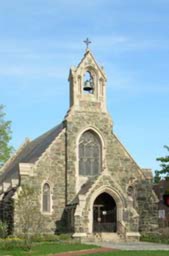 After being postponed twice because of impending snow storms, the FNCA Board of Directors mid-winter meeting, originally scheduled for January 5th, was finally held today at the Swedenborg Chapel (pictured right) in Cambridge MA.
Since some Board members had to leave early, the Board tried to make all decisions requiring a vote before the 1:00 lunch break. This provided for a quick and efficient meeting. Everything was actually discussed in full, but there were no side conversations and very few digressions from each adenda item.
The Board accepted the 2014 Lecture Themes and Opening Weekend Program theme from our Religious Program Coordinator, Rev. Susannah Currie. First week's theme is: "Divine Providence" and second week's theme is: "The Promised Land". The Opening Weekend Program will be on the theme: "Spiritual Practices Open Us to Divine Influx" presented by Jane Siebert.

The Board heard reports from the Treasurer, Camp Director, Building & Grounds Committee, Outreach Committee, and the Non-Session Use Coordinator; set the 2014 rates; discussed the camp pet policy; accepted a proposal from the Non-Session Use Coordinator for a significantly more extensive non-session rate schedule; and discussed other issues as well.
Here's one of the more exciting agenda items: The Board discussed at length a proposal from Jon Crowe of the Outreach Committee to hold the 1st Annual Rev. Dr. George F. Dole Road Race on the rail trail that starts at the information stand across the street from the Assembly! After vigorous discussion, the Board decided to go with it for this summer as a professionally timed race to be held during camp on the morning of middle Saturday, August 9, 2014. A committee consisting of Jon Crowe and the members of the Fundraising Committee (since this could be a major fundraising event) was appointed to iron out the rest of the details.
Due to our much compressed morning agenda, the afternoon part of the meeting was significantly shorter than planned. In fact, the Board set a new record for earliest adjournment ever: 2:42. Wow!
---
February 25, 2013 — A Blast From The Past!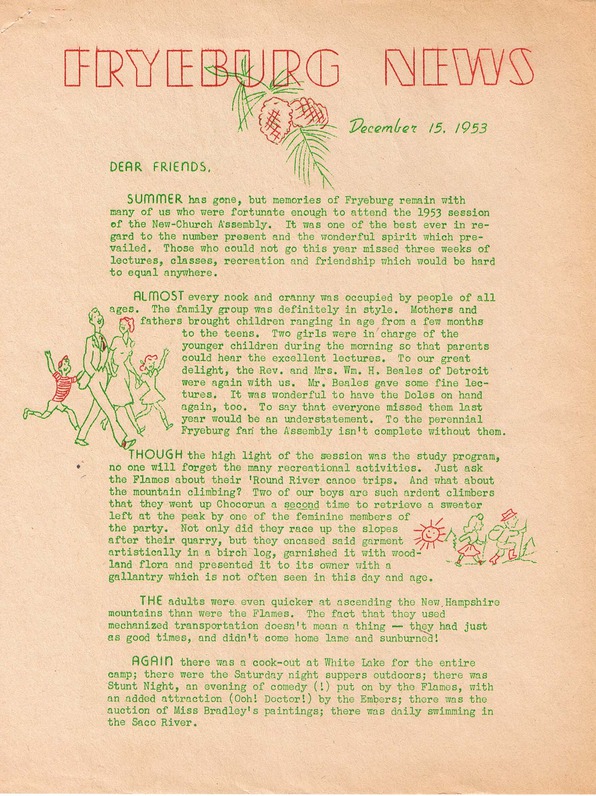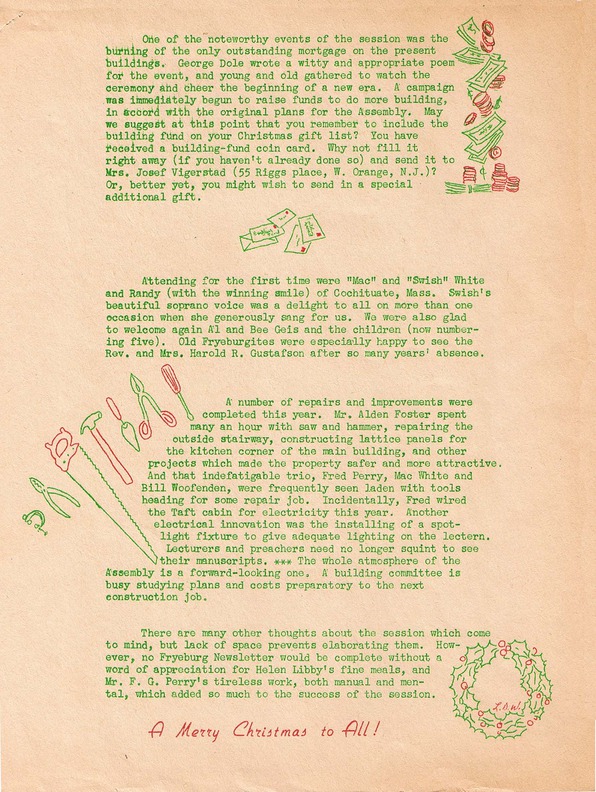 © Louise Woofenden 1953
---
Carver & Waltham MA — January 4 & 5, 2013
Mid-Winter Meetings of the
Summer Session Commitee and
the Board of Directors.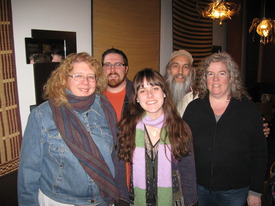 © Beki Greenwood 2012The Summer Session Committee gathered at the home of Jason & Beki Greenwood in Carver MA on the evening before the Board of Directors mid-winter meeting.
After a delicious pasta supper prepared by Nancy Little and Beki Greenwood, we got comfy in the den and dove into the agenda:
1. Positives and negatives of the 2012 camp session
2. A proposal for the Opening Weekend Program
3. Selecting lecture themes
4. Afternoon Book Club book selection
5. Relocation of the camp laundry facilities
6. Staffing concerns
Everyone agreed that the 2012 session went very well with very few snags; we accepted Roslyn Taylor's Logopraxis Workshop proposal for the Opening Weekend Program; picked a couple of intriguing (we hope) lecture themes; heard Rev. Susannah Currie's report that the Afternoon Book Club book selection hinges on being able to get a possible case of her #1 choice in storage from the former Swedenborg Book Room in Boston (she has an alternate in mind if that doesn't pan out); agreed to request that the Buildings & Grounds Committee look into moving the laundry facilities out of the Mack Cabin so it can be more fully used for housing single young men; and discussed several staffing possibilites.
A special thanks to the Greenwoods for hosting the Summer Session Committee overnight in their home.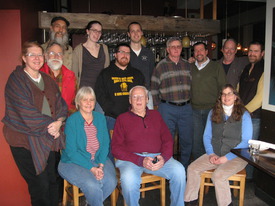 © Nancy F. Little 2013The following morning we all drove to FNCA treasurer Bob Perry's restaurant, The Elephant Walk, in Waltham MA for the FNCA Board of Directors mid-winter meeting. This reporter was thrilled that the entire baker's dozen of Board members could make this important meeting.
The meeting began with an invocation led by Rev. Susannah Currie, asking the Lord to guide us and help us keep in mind the spiritual purpose of our gathering. We heard reports from the treasurer, camp director, registrar, Outreach Committee, religious program coordinator, bulletin editor, Building & Grounds Committee, and the non-session use coordinator. After much discussion, we (finally) set the rates for this year's session.
At last summer's annual meeting, the membership voted to increase our loan from Convention by over 60% to pay for the new metal roof on the Main Building. The Board had a lively discussion around Tina Wood's suggestion last year that a good way to pay down our loan would be to get 12 people to agree to each donate one of our monthly $446 payments. Board president Colgate Searle suggested that it would be even better if we could encourage some of them to make a 3-year commitment so we wouldn't have to find 12 people again every year. This led into an extensive discussion about fundraising in general, something that we've talked about a lot but haven't really put much energy into. The Board as a whole made a commitment to put a concerted effort into this important function, and the FNCA Fundraising Committee was energized to be more active as well.
A very big THANK YOU goes to FNCA treasurer Bob Perry both for hosting the Board meeting as well as bringing in one of his cooks to prepare us a most delicious and nutritious lunch. YUM!
© Trevor 2013
---
Fryeburg ME — May 31, 2012
A Very Successful FNCA Work Weekend!
The Buildings & Grounds Committee gathered about 30 people ages 1-70+ at the Assembly grounds over Memorial Day weekend for FNCA Work Weekend 2012: a 3-day gathering of volunteers to help take care of some of the maintenance and upkeep of the facilities.
Thanks to this hard-working group of volunteers under the supervision of Dave Richardson (assisted by Nancy Little and Beki Greenwood), a very wide variety of projects were completed including: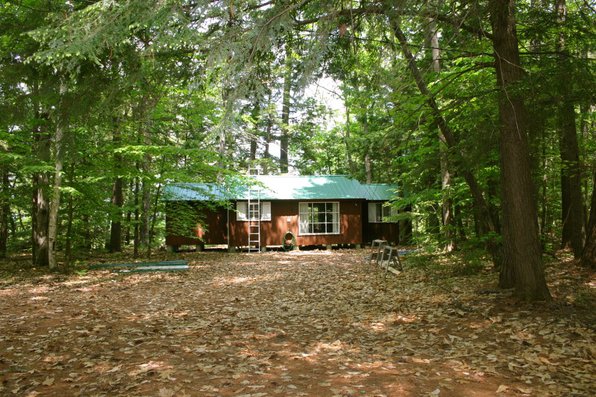 © Nancy F. Little 2012
• a new roof on the Perry Cabin (Ben, Troy, & Ross Grams)
• tree work between the lawn and the river opening up the view from the front lawn as well as around the Twitchell and Perry Cabins (Ian Woofenden, Ben Grams, E.H. Roy, Jason Woofenden)
• branch & brush clearing opening up the view towards the river from several of the cabins in the woods (Gard Perry, Dave Keating, Jason Woofenden, Colgate Searle III)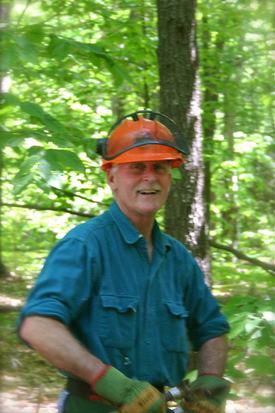 © Beki Greenwood 2012• brush removal (Nina Sasser, Rachel Madjerac, Abbie Reed, Alex Dyer)
• a new door and door frame on the Laird Cabin (Colgate & Colgate Searle, Troy Grams)
• a wide variety of plumbing repairs (Herb Ziegler, Jon Crowe, Jason Woofenden)
• cabin roof sweeping and gutter cleaning (Nina Sasser, Rachel Madjerac)
• Main Building roof cleaning (Ross Grams)
• wood splitting (Dave Richardson, Dave Keating, Colgate Searle III)
• cabin cleaning (Deane & Susannah Currie, Merrilee Phinney)
• wood stacking (teens from the concurrent Swedenborgian Church Youth League retreat)
• finish work on the new wall in the Cook's Quarters (Colgate & Colgate Searle)
• window & curtain inventory of the entire camp (Miriam Lexie, Emily Woofenden)
• cabin furniture arranging and crib building (Alex Dyer)
• Goddard Annex playroom cleaning (Dawn Crowe)
• Goddard Annex play yard clean up (Jon Crowe, Deane Currie)
• Main Building and Girls Dorm cleaning (Merrilee Phinney)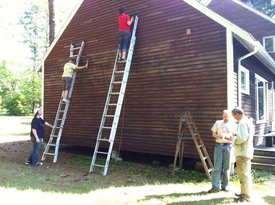 © Nancy F. Little 2012• window glass replacement (Herb Ziegler)
• staining the large outside end wall of Whitehead Hall (Emily Woofenden, Miriam Lexie, Ross Grams, Dawn & Jon Crowe, Jason Greenwood, Alex Dyer)
• video work (Jason Greenwood, Alex Dyer)
• Camp Director prep work (Jason Greenwood)
• dump runs (Dave Richardson)
• cabin cleaning and closing up (Dave & Martha Richardson, Alex Dyer, Beki & Jason Greenwood, Dawn & Jon Crowe).
The food was done a little differently this year. This included:
• meal plans (Nancy Little, Beki Greenwood)
• grocery shopping (Nancy Little, Beki Greenwood, Merrilee Phinney, Emily Woofenden)
• meal prep (Nancy Little, Beki Greenwood, Dawn Crowe, Merrilee Phinney, Miriam Lexie, Abbie Reed, Jason Greenwood, Troy Grams)
• and after meals, lots of people pitched in to help do the dishes as well as the kitchen and dining hall clean up.
Special thanks to Laura & Harold Grams at Flying Pond Farm for their donation of 11 dozen eggs, salad greens, and homemade cheese.
There was a healthy contingent of kids in attendance, and although they didn't do much work, they played well together the entire Work Weekend. It's great that they are welcome and, coincidently, gets them in the habit of attending Work Weekend from a young age. Get 'em when they're young!
You may have noted above that there were teens from the Swedenborgian Church Youth League at the Assembly during Work Weekend. SCYL has been holding it's annual Memorial Day retreat at the FNCA for quite a few years now. It should be noted that it works out quite well having two separate groups (nearly 50 people this year) using the grounds at the same time. Convention Youth Director, Kurt Fekete, said this was one of the best retreat weekends they've ever had.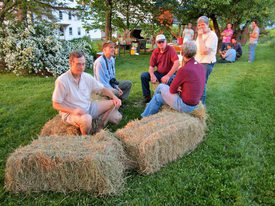 © Nancy F. Little 2012The Saturday evening barbecue at the Richardson's farm was appreciated by all. The food was good, the company convivial, the hosts delightful, the location terrific, the conversations lively, the weather just about perfect, the sunset absolutely fabulous, and lots of barn cats were seen.
It's great to have so many Work Weekend regulars back again this year. The 2012 newcomers are very much appreciated as well. (Welcome aboard!) So a big THANK YOU to everyone who helped make FNCA Work Weekend 2012 so successful. We couldn't do it without you!
---
All Over the World — April 10, 2012
The FNCA Bulletin is in the Mail
For those of you who opted to receive it by mail, the brand-new 2012 FNCA Bulletin should show up in your mailbox very, very soon!
Bulletin senior editor Beki Greenwood once again did an excellent job: this one looks as good as all the others she's done. She successfully juggled several sections around a bit for efficiency and clarity. Full color photos are artfully arranged throughout, giving life to the text. The standard features have all been thoroughly edited and updated. The new material is enjoyable and informative. Not to mention the aerial photography.
---
Anytown EARTH — March 1, 2012
Online Registration Is Now Open!
Your FNCA Summer Session Committee decided to open online registration for camp despite the fact that the
bulletin isn't out yet. In the past, registration opened whenever the bulletin was mailed out, however now that we have online registration, the SSC couldn't come up with any good reason to wait.
Although those who prefer to register by mail will have to wait for the bulletin to arrive in their mailbox, anyone who prefers to REGISTER ONLINE can now do so.
---
Carver MA — January 6, 2012
SSC Starts Planning the 2012 Camp Session!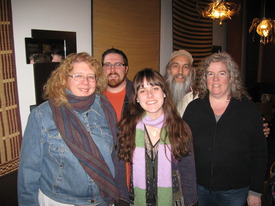 © Beki Greenwood 2012The FNCA Summer Session Committee (SSC) held its first 2012 camp session planning meeting at the home of Camp Director Jason Greenwood and Bulletin Editor Beki Greenwood this evening. The full committee was able to attend: Jason & Beki, plus Religious Program Coordinator Rev. Susannah Currie, Activities Director Trevor Woofenden, Camp Registrar Nancy Little, and Flames Representative Nina Sasser.
Jason's first announcement --- which was met by cheers and smiles all around --- was that Bobby Abesamra, our cook from last year, will be returning in 2012! Finding a new cook is often the director's most difficult pre-camp job, so this is both a relief to our new camp director, as well as good news for the rest of us since Bobby did a good job his first year and is both easy to work with and open to suggestions for improvements to the menu.
Lecture themes for the 2012 session will be:
Week 1 (doctrinal theme): "The "Memorable Relations and How They Speak to Daily Life" covering the inter-chapter material in Swedenborg's Heavenly Secrets describing his experiences in Heaven.
Week 2 (Biblical theme): "Descent of the Holy City" focusing on the Book of Revelations.
Fuller descriptions are on the Lecture Themes page.
We are very pleased to have accepted a proposal by the Rev. Dr. F. Gardiner Perry to lead the Opening Weekend Program this year. The program is titled "Spiritually Integrated Self-Care For Those Who Care For And About Others". From Rev. Perry's description: "Participants in this workshop will integrate their own unique spirituality into a self-care plan to enhance their capacity to care for others and to optimize their own well-being." For more info, go to the Opening Weekend Program page.
On a suggestion from more than one camper, the SSC has chosen Wilson Van Dusen's Uses: A Way of Personal and Spiritual Growth for this year's Afternoon Book Club book. This delightful little booklet "explores practical usefulness and service as a powerful mode of spiritual practice and growth. It is a way of spiritual growth that can be practiced by all --- even those who feel they are useless. Readable, practical, and perceptive, Uses is a long-time favorite among readers of Van Dusen." More info is on the Afternoon Book Club page.
The committee also spent time discussing last year's camp survey. There was a 42% response rate (down from last year's 52%), with several interesting stats and lots of useful comments. Due to campers' responses, among other things, we will: beef up (pun intended) the vegetarian entrees and the salad bar this year, establish a midnight noise cut-off time for parties in Frank Hall, plan the Sales Table Auction and (if there's interest) the Old Lady Canoe Trip for earlier in the week, continue to have special evening activities frequently both weeks, have morning Sing Along lead directly into pre-chapel music without a break in between, and be more pro-active about requiring lecturers to stick to the 40-minute presentation time.
Speaking of lecturers, we also learned from the survey results that although everyone doesn't like all the lecturers (surprise, surprise), all of the lecturers are someone's favorite. We are very glad to learn that due to the wide variety of lecturers and lecture styles, our lecture program is working very well for nearly all the people nearly all the time. We've always thought the FNCA has an excellent lecture program, and now we have concrete confirmation of that fact.
And finally, due to the fact that this is his first year in the position, our new camp director, Jason Greenwood, is requesting that anyone who wants a job at camp this summer --- especially the regulars, since he doesn't really know who you all are --- contact him as soon as possible if you'd like to work again this summer.
---
Newtonville MA — October 2011
FNCA Article in the October Messenger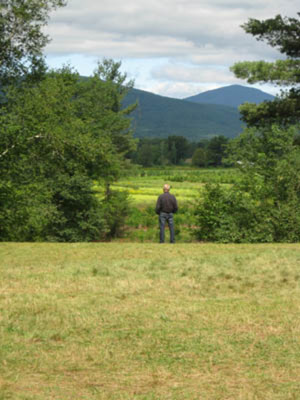 © Trevor 2008Jim Lowe, a newly appointed member of the brand new official FNCA Outreach Committee, has a very nice article about he and his lovely wife Betty's nearly two decade experience at the Assembly in the October issue of the Messenger.
In his article, titled "From Long Island to Fryeburg Maine", Jim describes their involvement with the good old FNCA from their initial inspiration by Adrienne Frank (after whom Frank Hall is named) at the New York New Church 18 years ago to the present day.
His delightful descriptions of daily life at camp are both encompassing and from a noticeably different perspective than most recent Messenger articles about our beloved camp.
Thanks, Jim, for a great article!
P.S. Monthly issues of the Messenger can be downloaded for free here: <http://www.swedenborg.org/library/collateralliterature/libraryperiodicals/messenger.aspx>
If you would like to receive the Messenger in the mail (free to members of Convention), send your name and mailing address to:

the Messenger
Central Office
11 Highland Ave
Newtonville MA 02460
OR
manager@swedenborg.org
OR
call 617-969-4240.

---
Fryeburg ME — Saturday, August 6, 2011
FNCA 2011 ANNUAL MEETING
& BOARD OF DIRECTORS MEETING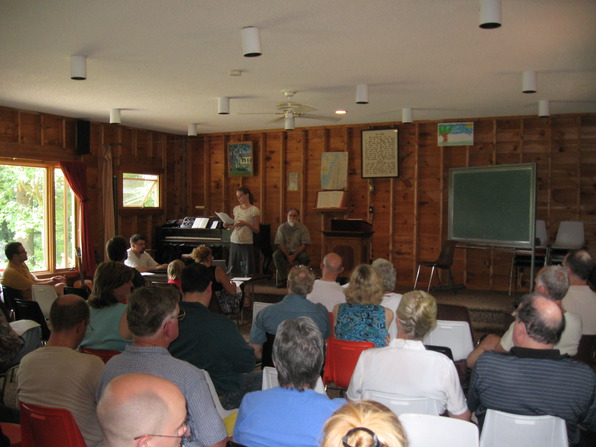 © Trevor 2011
Members and friends of the Assembly gathered in Whitehead Hall at 1:30 today to conduct the Assembly's business at the FNCA's 2011 Annual Meeting. Minutes were read, reports were given, elections were held, but the biggest news is that our beloved camp director of many years, Debbie Cook, is stepping down.
Debbie's cheerful and loving demeanor has led our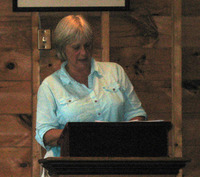 © Trevor 2011summer camp out of tough times and into a period of growth and joyfulness. Her caring manner has shepherded us along safe paths, and her unerring sense of goodness has helped steer us around innumerable stumbling blocks. For her years of excellent service, Debbie received not one, but two standing ovations today!
Introducing our new camp director: Jason Greenwood.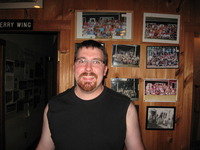 © Trevor 2011 Jason is the husband of Beki (Phinney) Greenwood and has been serving camp for several years in various capacities including Flames Advisor, Flames Representative, Outreach Committee member, Summer Session Committee member, Board of Directors member, and the camp's resident E.M.T. and health officer... most of these all at the same time!
The three outgoing Trustees were all re-elected, so there is no change in the members of the Board of Directors. However, never one to shirk work, outgoing camp director Debbie Cook couldn't stop herself from volunteering to be the Board's new secretary taking over those duties from Jesse White, who ably served in that capacity for a good five years. (Thanks, Jesse!) (Thanks, Debbie, too!)
We heard reports from treasurer, Bob Perry; the chair of the Buildings & Grounds Committee, Dave Richardson; outgoing camp director, Debbie Cook; camp registrar, Nancy Little; Religious Program Coordinator, Susannah Currie; and the chair of the Nominating Committee, Martha Richardson.

© Trevor 2011
The Board of Directors met briefly before the Annual Meeting to take care of some essentials like voting in new Assembly members (so they could vote at the meeting), updating the meeting agenda, etc.
After the Annual Meeting, the Board re-convened to discuss/act on the happenings of the Annual Meeting, as well as to take care of other, less pressing business including: electing officers, filling all Board-appointed positions, other standard Directors' agenda items, and other business old and new.
One new order of business for the Board was establishing the FNCA Outreach Committee as an official committee of the Assembly. Up until now, this group has been operating as an unofficial committee of volunteers. Under the new setup, 7 official voting members appointed by the Board to staggered 4-year terms make up the core of this committee. Everyone else interested in helping with FNCA outreach is welcome to participate as much or as little as they want at their own discretion as non-voting Outreach Committee members.
The members of the FNCA Outreach Committee are the people who bring you the camp bulletin, website, Facebook pages, Messenger articles, and the brand new free-standing portable FNCA display (that some of you may have seen at Convention), among other things. By the way, the Outreach Committee is actively seeking members from any of our various local churches across the continent who may be interested in hosting the FNCA display at their local church for a month or two during the next year.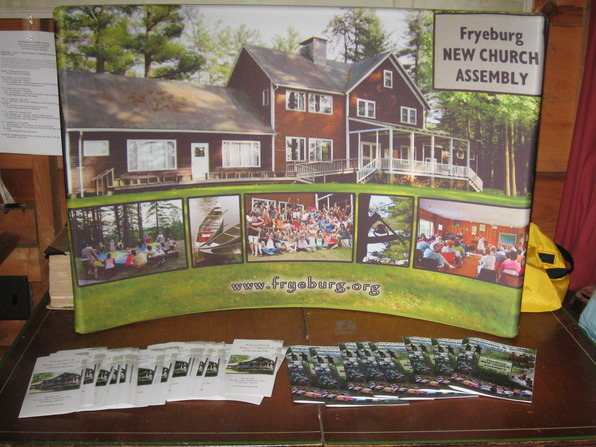 © Trevor 2011
Other Board agenda items included a more active Fundraising Committee; ongoing, systematic replacing of aging roofs; complete replacement of our out-of-date fire alarm system; accessibility of our bylaws; setting up an online spreadsheet to keep track of donations to the Assembly and establishing a built-in system that ensures all the donors get proper thank you letters; as well as other details too numerous to mention.
---
Fryeburg ME — Tuesday, July 26, 2011
GETTING CAMP READY FOR CAMP
The first of the camp set-up crew arrived today, with more showing up tomorrow. The first food delivery truck got unloaded and packed into the walk-in fridge and the dry goods shelves today.
Other tasks that will get done over the next few days before camp starts include: distributing and putting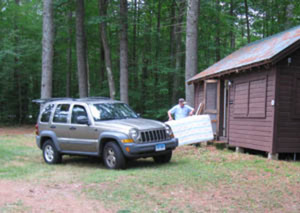 © Trevor 2011 together all the new beds we got from Blairhaven; washing all the dishes and flatware in the pantry; incorporating all the new linens we got from Blairhaven into the Mouse Closet; weeding, sorting, and labeling the Dole Wing book collection; cleaning all the cabins and the Main Building; cleaning all the public
© Trevor 2011 bathrooms; getting the kitchen ready; hauling out and setting up all the porch & deck chairs; last minute plumbing repairs; tuning the pianos; packing wood under the porch; putting in the waterfront dock and ramp, and a whole passal of smaller chores that tend to surface as the crew works its way around the FNCA grounds.
Special thanks to Dave Richardson Sr., Lee Dyer, Jason & Beki Greenwood, Elise & Erin Richardson, Trevor & Nancy Little, Gard Perry, Robitaille's Piano Service, Dan and Josh Cook, Kristina and Rachel Madjerac, Miriam Lexie, Jason Woofenden, and Troy Grams for all their help.
---
South Duxbury MA — Tuesday, July 5, 2011
FREE STUFF FROM BLAIRHAVEN!
With great thanks to the Mass. Association, the FNCA got a couple truckloads of free stuff from Blairhaven before its purchase by the Town of Duxbury this week (who plan on turning it into a town park).
Three weeks ago, a crew (including Rev. Susannah Currie and her brother Andy (Truck Packer Supreme!), Nancy Little, Beki Greenwood, Merrilee Phinney & Martin Vojtko) gathered at Blairhaven and loaded a lot of furniture into a big truck. Rev. Ken & Laurie Turley drove the truck up to camp where a crew from the Fryeburg Church (including Dave Richardson, Dave Keating, and Tom Barrett) unloaded it.
This truckload included: 2 double on the bottom and twin on the top bunkbeds and 6 twin single beds, all with nearly brand new mattresses and box springs; a nearly new refrigerator; outdoor tables and chairs for the porch and deck; an 8' table for the dining hall; lots of commercial-style kitchen equipment including stainless steel mixing bowls, large baking sheets, 2 large cast iron frying pans, and various utensils; as well as fans and lamps and other smaller sundries.
It's worth noting that they saved room in the truck to fit Blairhaven's beautiful upright Steinway piano as a gift to the Turley's, who served as Blairhaven's first resident directors.
Today, a much smaller crew (Trevor & Nancy Little with assists from Herb Zeigler) gathered and filled a much smaller truck with waste baskets, linens, floor lamps, more kitchen stuff, and other smaller things.
So although it is sad for some to say goodbye to Blairhaven, it is nice to know that one of Blairhaven's sister New Church camps will get more mileage out of her estate. So a big thanks goes out to the Mass. Association for sharing, and to all the people who helped make this work.
---
Fryeburg ME — Tuesday, May 31, 2011
A LOT OF WORK GOT DONE!
Over Work Weekend, more than 2 dozen volunteers got a mighty lot of work done fixing up the Assembly grounds! Five big projects and a whole bunch of smaller ones got done.
The big projects were: putting a new metal roof on the Woof Cabin, taking down Pop Woof's old tool shed on the front of the Woof Cabin, building a wall upstairs in the cook's quarters creating a hallway and a private room for the cooks, removing a huge tree that came down across the road to the cabins in the woods, and major updates on this website.
The smaller projects included repairing screens all over camp, patching and sweeping the roof over the kitchen, unloading a 500 lb. fireproof filing cabinet for FNCA records, unloading a foosball table for Chalmers Lodge, moving mini fridges around, cabin cleaning, replacing light bulbs, fixing a door, raking, and plumbing repairs among other things.
WOOF CABIN ROOF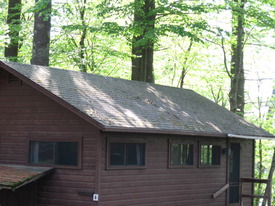 © Trevor 2011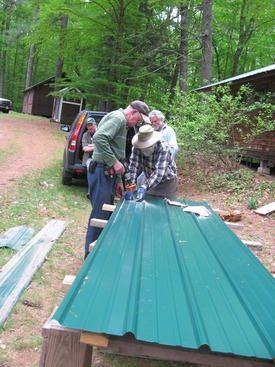 © Trevor 2011
© Ian Woofenden 2011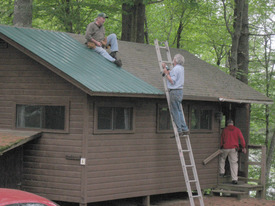 © Trevor 2011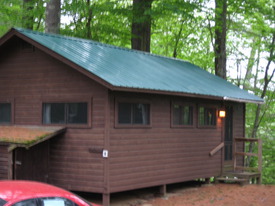 © Trevor 2011
WOOF TOOL SHED
Before: After: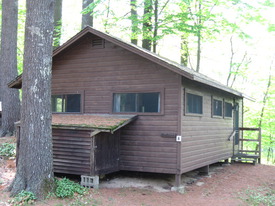 © Trevor 2011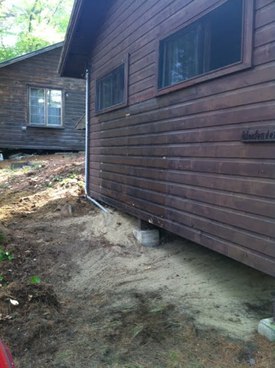 © Ian Woofenden 2011
COOK'S QUARTERS WALL
This column This column
from the north from the south
Before: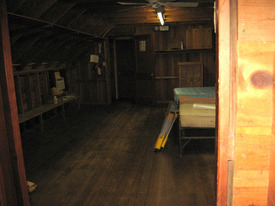 © Trevor 2011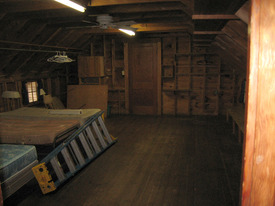 © Trevor 2011
During: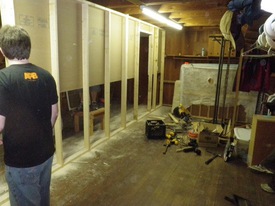 © Ian Woofenden 2011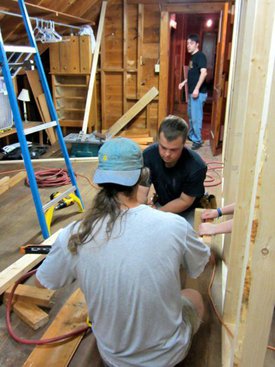 © Nancy F. Little 2011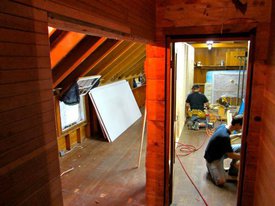 © Nancy F. Little 2011


After:
(It's not done yet so we can't show it to you.)
LOGGING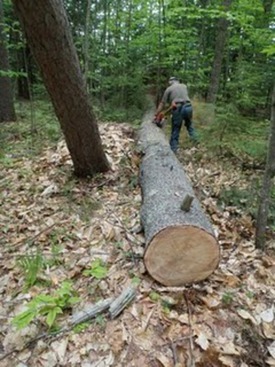 © Ian Woofenden 2011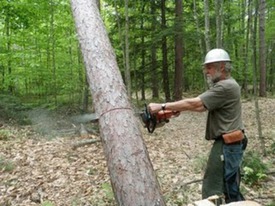 © Ian Woofenden 2011
OTHER PROJECTS: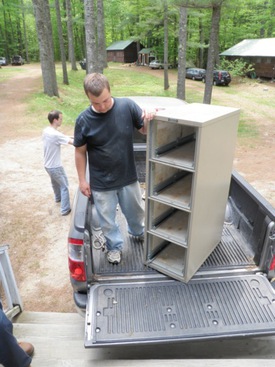 © Ian Woofenden 2011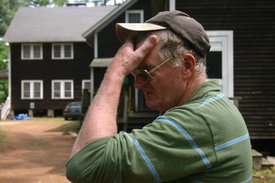 © Beki Greenwood 2011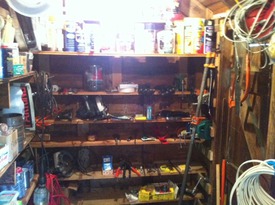 © Ian Woofenden 2011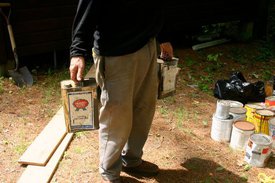 © Beki Greenwood 2011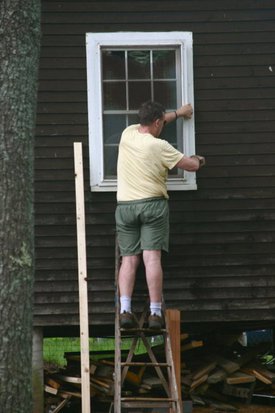 © Beki Greenwood 2011
© Beki Greenwood 2011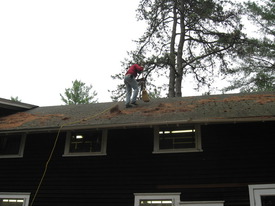 © Trevor 2011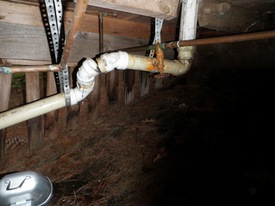 © Ian Woofenden 2011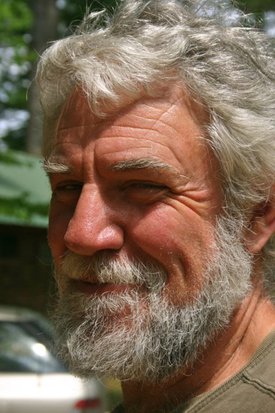 © Beki Greenwood 2011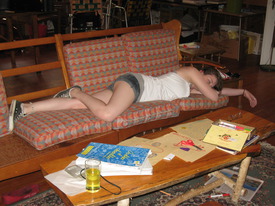 © Trevor 2011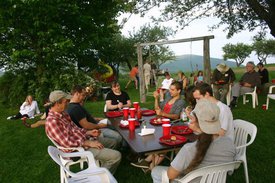 © Beki Greenwood 2011
So a very big THANK YOU to the 2011 FNCA Work Weekend crew: Dave Richardson, Colgate & Cecilia Searle, Ed Schnurr, Dave Keating, Tina & Willis Wood, Myrrh & Joe Brooks, Jason Woofenden, Beki & Jason Greenwood, Merrilee Phinney, Llerena & Josh Enck, Deane Currie, MaryBeth Bernier, Kristina Madjerac, Abbie Reed, Ben Grams, Troy Grams, Ross Grams, Tom Barrett, Ian Woofenden, Gard Perry, Trevor & Nancy Little.
JOB WELL DONE!
---
Fryeburg ME — Friday, May 27, 2011
IT'S FNCA WORK WEEKEND!
22 people have signed up for the FNCA's Buildings & Grounds Committee's annual Work Weekend, May 27-30, and the first of them have already arrived. Them's that knows claim this is the biggest work crew we've ever had, which is good because there's always plenty of work to be done!
Two big projects this year include putting a metal roof on the Woof Cabin and building a new wall in the Cook's Quarters upstairs in the Main Building creating a hallway allowing for walk-through from the Girls Dorm to the rooms at the other end of the building. Besides increasing access, this will also provide another fire exit from the 2nd floor.
Besides these two projects, there's the usual plumbing and electrical work to be done, cabins to be jacked up, furniture to be moved around, cabin cleaning, tree work, and myriad smaller tasks that all together contribute to keeping the Assembly's buildings and grounds happy, healthy, functional, and in good working order.
Also this weekend, the FNCA registrar will be doing an inventory of sorts of all the cabins and rooms to find out where new beds and mattresses, dressers, and other furniture are needed; and the FNCA webmaster will be doing major updates on the FNCA website.
So a big THANKS in advance to our 22 volunteers and to the Building & Grounds Committee for all the work that will be done over the long Memorial Day Weekend!
By the way, it's not too late to participate: anyone else who would like to attend, please contact Colgate Searle at searleandsearle@cox.net or phone the Assembly at 207-935-2338 just so we know you're coming and can be sure we have enough food for everyone.
---
Fryeburg ME — Monday, May 2, 2011
REGISTRATION IS NOW OPEN!
ATTENTION CAMPERS: Registration for this summer's session of the Fryeburg New Church Assembly is now open! The FNCA bulletin is at the printers and will be mailed out very soon.
If you want to register by mail just fill in and return the registration form in the bulletin or down load the appropriate form(s) from the bottom of the How to Register page. Be sure to either include your deposit in the envelope or pay your deposit online.
If you want to register online, we are now taking registrations and deposits online. Just go to the How to Register page and follow the proper links.
---
Fryeburg ME — Saturday, January 22, 2011
The FNCA Board of Directors held its mid-winter meeting at Board member Bob Perry's Elephant Walk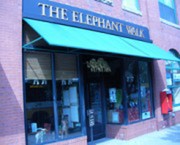 restaurant in Waltham MA. The entire Board was present as well as a few guests. Although there was a very full agenda, it was completed before the scheduled time to adjourn.
As is often the case with meetings, there were lots of details large and small to talk about. Some of the major points of discussion and/or decisions reached include:
• It's now official: Camp dates this year are Saturday, July 30 - Sunday, August 14, 2011.
• The 2011 rates will be $1 higher than last year across the board, and the cabin fee will be a flat $10 per cabin instead of a per person rate.
• Work Weekend will once again be held Memorial Day weekend this year, May 28-30. Please contact Buildings & Grounds Committee chair Dave Richardson if you are planning to attend.
• The Assembly is looking for a volunteer cleaning crew of campers willing to come a day or two early to help with the pre-session cleaning of cabins and the Main Building.
• The FNCA Bulletin is scheduled to be mailed out the beginning of May at which time campers should also be able to register online this year.
• To make Whitehead Hall wheelchair accessible, the Building & Grounds Committee will make a removable ramp for the deck entrance for use this summer until a permanent solution is put in place. They will also look into making the first floor bathroom off of the Dole Wing more accessible.
• In response to their request, the (unofficial) FNCA outreach committee was encourage to submit a formal proposal on becoming an official FNCA committee.
• Jesse White's proposal to do a Yankee Candle Co. fundraiser for the Assembly was accepted.
A big THANK YOU to the Board for all their hard work, their dedication, and for their willingness to donate time and energy to our wonderful summer camp. And another big THANK YOU to Bob Perry for hosting the meeting and serving the Board a most delicous lunch!

---
Riverside RI — Friday, January 21, 2011.
The FNCA Summer Session Commitee(SSC) met at the home of FNCA Religious Education Director Rev. Susannah Currie for 2+ hours this evening. The SSC is the people who put together the camp program each year. The SSC usually meets the evening before the FNCA mid-winter Board meeting. Most of us are also Board members, so it's a convenient meeting time; plus there are usually things we need to discuss before presenting them to the Board.
Our meeting agenda included review of last year's session, the new Opening Weekend Program, the new Senior Flames category, the 2010 Camper Survey results, staffing, food, and establishing a standard agenda format among other things.
Both the the Opening Weekend Program and the new Senior Flames category worked very well, so we will continue these two successful initiatives.
A new addition to our program this summer will be our Afternoon Book Club (ABC). Each day, interested people will read and discuss a book relevant to our church. Rev. Currie has chosen Wilson Van Dusen's Returning to the Source: The Way to the Experience of Go